First Fortnight preview: Loss of sleep is perhaps the first thing we associate with becoming new parents – but what about the mental health strains this brings?
Writer and performer Gilly O Shea has drawn from the experience of friends and family to create her humorous one-woman play, Sally Denver Matthews (Sleep Deprived Mother) that will premiere as part of the First Fortnight, mental health arts festival. Here, Gilly discusses the work…
During my two-year training as an actor at The Gaiety School of Acting, my favourite class was manifesto, which was led by Donal Courtney. The whole idea behind the class was to empower us to create our own work and Donal embraced the ideology of 'give a man a fish, he'll eat for a day; teach him how to fish, he'll eat forever'.
It was in this class that the character of Sally was born. I had received the prompt 'The Kidnapping' and decided to turn the phrase on its head and perform as a mother whose 'kid' will not sleep, let alone 'nap'.
At the time, I did not know where the character had come from as I am not a mother and I enjoy regular, marathon sleep-sessions (apologies to all envious parents). With hindsight, I know that I had been sucking inspiration from the already exhausted, spent, new mothers I know – my sisters, friends and colleagues.
As the character of Sally and her story grew from a three-minute piece to a 45-minute play, I began to consider sharing her story. I knew the First Fortnight mental health arts festival would be the perfect fit for Sally – luckily, the wonderful team at First Fortnight thought so too!
Although I can't speak from personal experience as a new mother, I can speak from personal experience of mental health challenges. I know that many women share many of the symptoms and feelings I have felt in the past. I can only imagine how much these negative thoughts and feelings of inadequacy are exacerbated by isolation, minimal sleep and a thrown-in-at-the-deep-end, life-changing experience.
We do not know whether Sally is suffering from post-natal stress, anxiety or depression, however hopefully Sally's story will prompt conversation around post-natal stress, anxiety and depression. Other women might be able to relate to Sally and say, "that's how I feel too… (now give me hand!)".
Throughout the play, Sally is trying to cope with a lot - the desire to be perfect and do the best job for her child, while also comparing herself to other new mothers (unfortunately she is comparing her whole self to the filtered version of their lives). She is feeling lonely and isolated. She feels judged, she feels like she cannot get her thoughts straight enough to make any decisions. Her relationship is strained; communication is at an all-time low. She feels a huge amount of guilt – she misses her old life, she is not even sure she is enjoying this new mother experience that others seem to adore.
Nutshell? Sally is overwhelmed and exhausted.
Now, all of this may sound like a lot to bear, and it is, but Sally tells her story in a humorous way. Deadpan, dark humour is the delivery of choice. She can still see the funny side of it all - and she hopes you will too.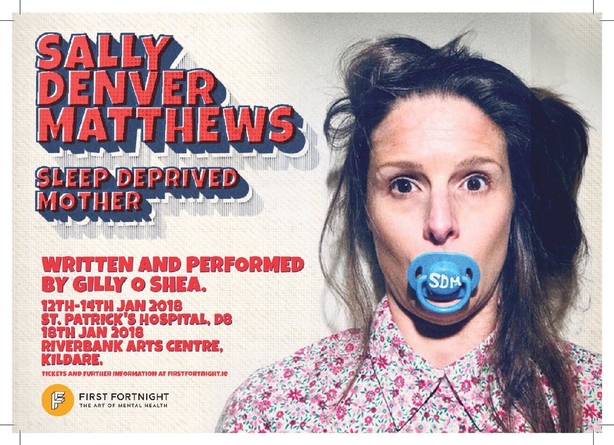 Sally Denver Matthews (Sleep Deprived Mother) will be staged at St Patrick's Mental Health Services, Dublin from Friday 12 January to Sunday 14 January at 6pm with a matinee on Saturday 13 January at 1pm. The play will then transfer to Riverbank Arts Centre, Kildare on Thursday 18 January at 8pm. More details here.