Acclaimed filmmaker Pat Collins writes for Culture about his acclaimed film Song of Granite, a impressionistic biopic of legendary sean nós singer Joe Heaney, which makes its Irish TV premiere on TG4 on Easter Monday.
Watch Song Of Granite now via TG4 Player.
The first time I heard Joe Heaney singing was on RTÉ Radio 1 back in the early 1990s when I was in my early 20s. I was tuned in to Irish traditional music at that time. In Galway in the early '90s there were many great singers – Sean Keane singing The May Morning Dew in Taylors on Saturday afternoons and Sean Tyrell singing Dark Horse on the Wind in Monroes on Sunday evenings. I bought a cassette of Heaney's called Come All ye Gallant Irishmen in Mulligans in Middle Street and one thing led to another, as they say.
We need your consent to load this YouTube contentWe use YouTube to manage extra content that can set cookies on your device and collect data about your activity. Please review their details and accept them to load the content.Manage Preferences
For me, making a film about Joe Heaney was a way of making a film about singing. But how do you make a drama about a person when you don't particularly like biopics? I think Roger Ebert expressed it well when he wrote  "Most biopics shape the enigmatic events of life into the requirements of fiction, so that most lives seem the same, and only the professions and the time periods change". I think most audiences feel that to be true. There's a playing out of expectation. With Song of Granite, myself and co-writers Sharon Whooley and Eoghan MacGiolla Bhríde wanted to convey the music primarily and let the narrative details stay in the background. It was important for us to show the world he came from. How tradition counts for something. The young boy learning from those around him is something that I've always liked the notion of. However, an artist like Joe Heaney though he is working from tradition is also digging up from within. It's the 'within' that probably makes him an artist.  
How do you make a drama about a person when you don't particularly like biopics?
Heaney was a mysterious character who lived for singing. Sometimes it seems like he carried the tradition on his back, from place to place and country to country. Lillis Ó Laoire wrote that 'Heaney is the single most important individual artist to have emerged from the Gaelic community in the twentieth century.' He brought this style of singing into public awareness – at the Newport Folk Festival, through his performances and recordings and teaching. There is no one who has done more to promote it as an art form.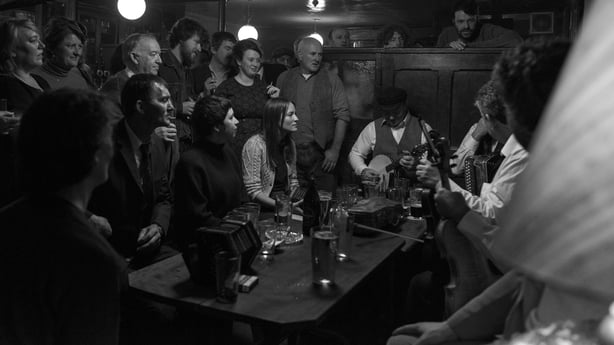 Again, Lillis has written that Heaney created sean nós singing as an art form. It could be seen as a controversial statement because it is clearly an art form in itself -  but in terms of public awareness, no one else has done more to spread the word. Heaney was an artist. No doubt about that. He was both feted and ignored in his life time - if he was around today he would still be both feted and ignored. Most Irish people have no experience of being a witness to sean nós singing - up close, where it is best. It's not an art form that is going to shout for recognition. There's a sense that it is there, being kept alive by hugely talented singers young and old - it's there for anyone who wants to engage with it. But it's not going to come looking for your attention. You have to rise up to meet it.  
Song Of Granite screens on TG4 on Easter Monday (April 2nd) at 9.30pm