How did one Irishman have three funerals? That's the question I set out to answer with this week's Documentary On One: Frank Stagg's Three Funerals.
The story of Frank Stagg is one of suffering, sorrow and incredulity. 
He died aged 33, had three funerals and two burials.
One funeral had no body and one burial was done in darkness.
His life is commemorated on three headstones in Leigue Cemetery, Ballina, Co Mayo.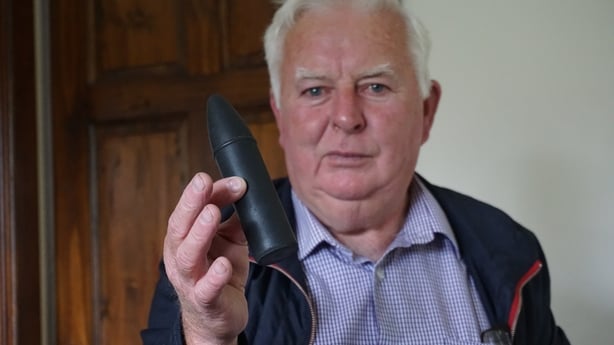 Frank Stagg was a Republican prisoner when he died on hunger strike in Wakefield Prison in England in 1976. He was a native of Hollymount, Co Mayo, seventh in a family of thirteen, a keen footballer and a lovely singer, composing many of his own (often humorous) songs.  Frank eventually emigrated to England where he worked on the buses.
Frank Stagg was a staunch Republican, he was arrested in Coventry in 1973, with others, on conspiracy to commit arson and received a ten-year jail sentence. He sought political status and resorted to hunger strike with colleagues. 
They were all subjected to force-feeding. In 1974, one of the hunger-strikers, Michael Gaughan, died after having been force-fed. His funeral from Dublin Airport to Ballina, attracted thousands of Republican sympathisers.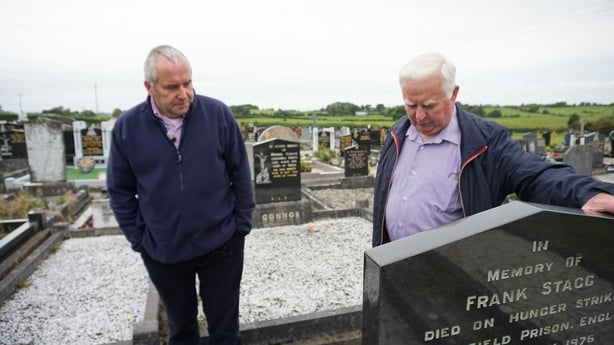 Frank served time in prisons in the Isle of Wight, Parkhurst, Long Lartin and Wakefied. His mother, then in her seventies, and siblings regularly visited from Mayo and were all strip-searched and abused during prison visits. 
Frank died in February 1976 after 62 days on his fourth hunger strike. He wished to be buried alongside his colleague Michael Gaughan in Ballina. This wish caused difficulty among his siblings. Also, the Irish Government did not want a repeat of Gaughan's public funeral that had drawn huge support to the Republican cause.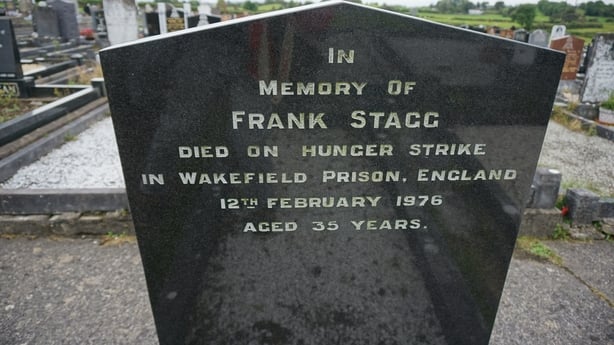 The government ordered Aer Lingus to divert the plane, carrying Stagg's coffin, from Dublin Airport (where his family was waiting) to Shannon. His body was then taken by helicopter to his parish church in Mayo. 
The next day, Gardaí and Army escorted his body to Ballina to be buried in a grave dug by Gardaí – not in the Republican plot, as Frank had requested, but elsewhere in the cemetery.
The following day Republicans held "a funeral without a body" for Stagg in Ballina. At the ceremony, those giving the speeches vowed that Frank Stagg would ultimately be buried in the Republican plot.
To ensure that this would not happen, the authorities poured concrete on Frank Stagg's grave. The grave was also guarded around the clock for over six months. 
However, the authorities, who had ordered the grave for Frank Stagg to be dug, had failed to pay the cemetery for the plot. So, Frank's brother, George, who believed Frank should have been buried in the Republican plot, bought it and the adjoining plot.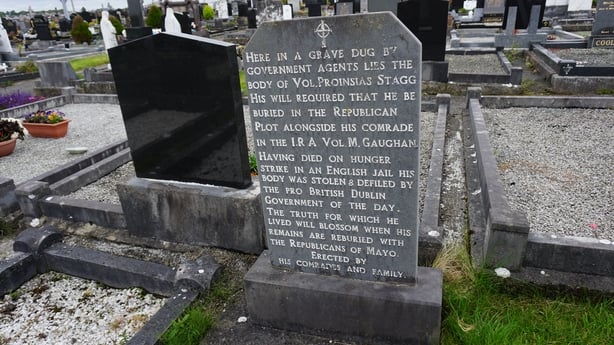 In the adjoining grave, George erected a headstone, castigating the Government for taking and 'defiling' his brother's body.
Forty years ago, 5th November 1977, a dark and wet night, six men met for the first time in Leigue Cemetery, Ballina. They had one job to do – fulfil a dead man's wish. 
They went to the plot beside Frank Stagg's grave; dug down and then across to Frank's grave, underneath the concrete. Frank's coffin was removed, placed on a sheet of plywood, held with ropes and carried to the Republican plot and interred. A decade of the Rosary was recited and the six men dispersed into the night.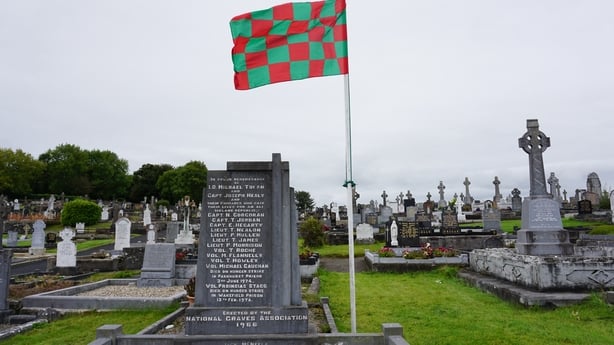 That is how come Frank Stagg came to have three funerals and three headstones.
The three headstones are over the original grave dug by Gardaí, the empty grave next door dug by George Stagg and over the Republic plot. The three funerals were one by the State, one by Republicans and the secret one by friends and family. 
Who were those who carried out the secret funeral and how did they do it. In this week's Documentary On One, we meet them and they speak openly about that wet, miserable, perhaps ghoulish and ultimately proud night, 40 years ago on November 5th, 1977.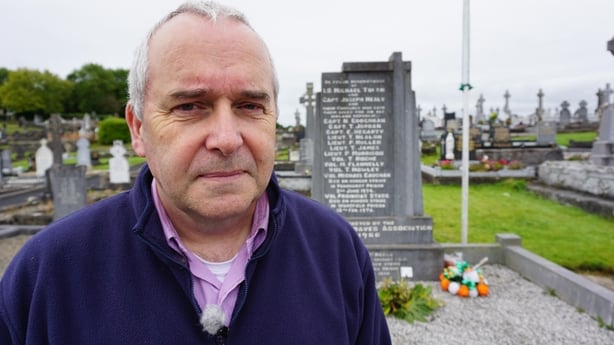 - Written by Liamy Mac Nally, producer of Frank Stagg's Three Funerals with Ronan Kelly and the Documentary On One team.
Listen to The Documentary On One: Frank Stagg's Three Funerals, RTÉ Radio 1, Saturday November 4th, 2017 at 2pm or listen online here.