Critic and broadcaster Cristín Leach selects 21 artworks for RTÉ Culture that define Modern Ireland.
Number 21: Geraldine O'Neill, Boy (2008)
Geraldine O'Neill paints with the skills of an old master. She is a history painter in an era when such a thing seems neither fashionable nor viable. Filling her canvases with many of the basic elements of classical still life and portrait paintings, O'Neill is a realist with the sensibility of a surrealist, a scientific investigator with the heart of a romantic, a cerebral thinker with the hand-eye skill of a painter at the top of her game.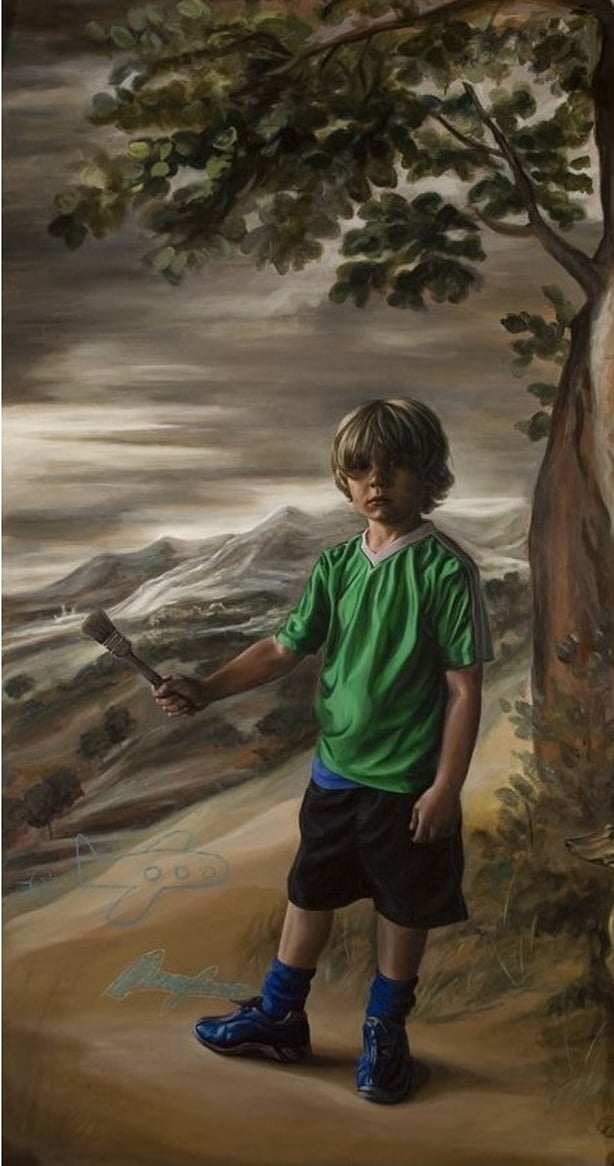 She may be a practitioner of the most traditional of genres, but she has made them new by making them her own. Boy is among the most significant of her works. Part of the Irish Museum of Modern Art Collection, it might seem like an unassuming choice when compared to the remarkable pair of sibling canvases, Age of Unreason (2010 – 2013) and Is Feidir Le Cat Schrodinger An Dá thrá A Fhreastal (2014), but Boy pares what O'Neill achieves in those larger, more complicated works, right down to the basics.
Standing at almost two-and-a-half metres tall, Boy, in oil on canvas, depicts the artist's son, holding a paintbrush as if it were a toy sword, wielding his mother's tool of creativity and purpose with nonchalant intent.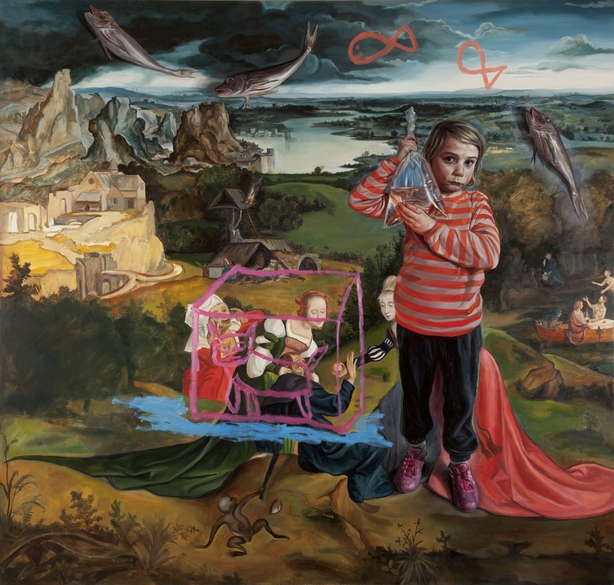 Dublin-based O'Neill blends images from art history with depictions of contemporary objects and people. She mixes references to quantum physics (often painting mathematical formulae and theorems onto her canvases) with persistent nods to the conundrums of mother- and child-hood. Painted dead birds lie atop her photorealistic iterations of children's drawings, plastic toys nestle among foodstuffs in her still life compositions. Her own children appear like time-travellers in recognisably 16th century landscapes. An airplane sketch hovers near Boy's knee, its chalky shadow flattened on the ground near his runners. To the right there is the nose of a dog, just peeking in.
I have literally learned more about painting in 1 hour than I have in 4 years at Trinity with this woman pic.twitter.com/HJpqzwb1Q6

— Harry Bear (@Harry_Birdboy) February 15, 2017
While focusing her eye, and ours, on the detail of a crumpled sheet of paper, the hair on a child's head or some background element taken from a painting by Hieronymus Bosch, O'Neill is all the time painting a bigger picture, about life itself. She is interested in painting as a mode of exploration, of human mortality of course, but also of concepts to do with reality and perception, in particular the Many Worlds Interpretation theory of quantum mechanics, which argues that more than one reality exists simultaneously, and that an infinite web of alternative timelines is constantly branching off and creating new, distinct worlds in every moment.
We need your consent to load this Instagram contentWe use Instagram to manage extra content that can set cookies on your device and collect data about your activity. Please review their details and accept them to load the content.Manage Preferences
Her portrait of John Rocha (pictured above) incorporates some of these elements and is one of the top works in the National Portrait Collection at the National Gallery of Ireland, but Boy is even better. As he stands in a vaguely art historical, apocalyptic-looking landscape, he is a visual proxy for 21st century Ireland, with his determined presence, his green jersey, his nonchalance and his innocence, his failings, his vulnerability and his potential.