In an ongoing series of articles, critic and broadcaster Cristín Leach selects 21 artworks for RTÉ Culture that define Modern Ireland.
Number 20: Sean Hillen - Evidence of Controlled Demolition in the Rose Garden, Tralee, Co Kerry, from the Searching For Evidence series (2007-2009)
Part of a series that includes No Evidence of a 757 Near the Ha'Penny Bridge and Searching for Evidence (of controlled Demolition) at The Silver Strand Co Wicklow, Evidence of Controlled Demolition in the Rose Garden, Tralee, Co Kerry is one of collage artist Sean Hillen's most striking, small-scale, subversive works.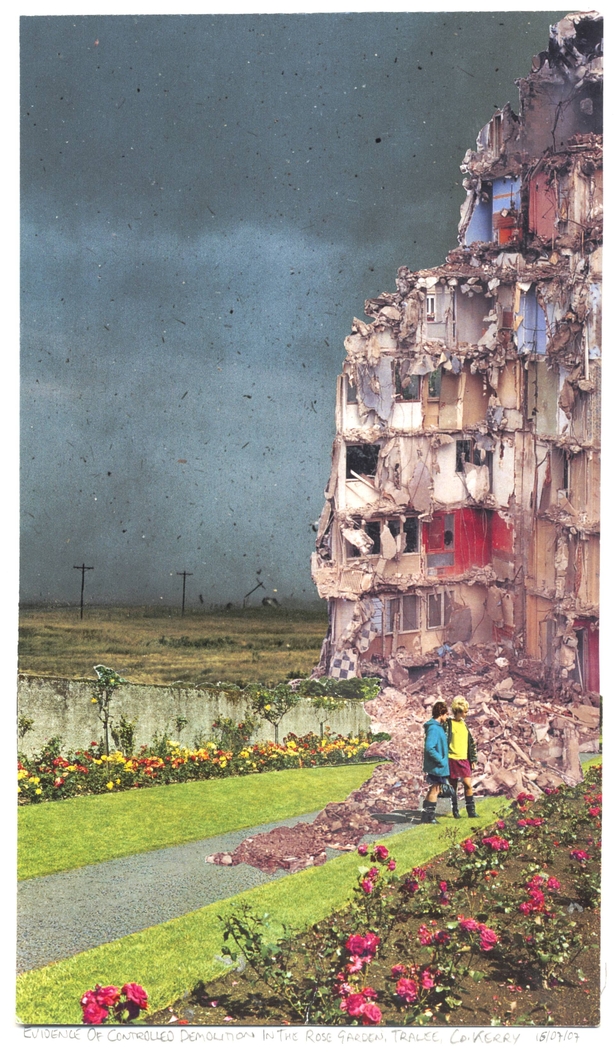 A hurricane background demonstrates the ever-present threat of natural disaster, while a partially demolished building carries echoes of war-torn domesticity as it towers over the figures of two women in 1960s miniskirts and boots admiring the roses in an Irish tourist spot. It's this combination of surrealism, horror, humour and beauty, as a response to anxiety, that marks out Hillen's work.
Listen: RTÉ Arena talks to Sean Hillen:
In 1999, Hillen published a book called Irelantis. It featured postcard collage and photomontage works he had been making since 1992. They were images of visual disruption before disruption became a 21st century buzz-word for marketing edginess, images that were funny in an uneasy kind of way, and politically astute or startling in an era when the western world didn't seem to think it needed to pay attention to that kind of thing. Time has passed to reveal Hillen as a kind of seer, a man ahead of his time. His layered images of ancient monuments and tourist spots blended with John Hinde postcard scenes of an idealised Ireland were always oddly apocalyptic. His recent works continue to act as a warning sign.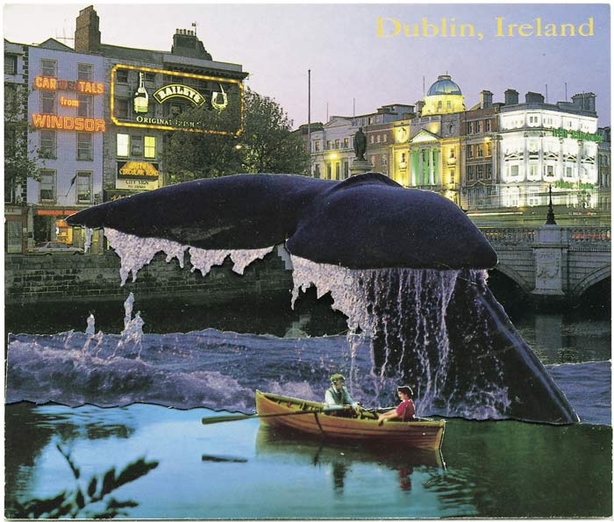 The Searching For series was inspired in part by conspiracy theories around 9/11 involving controlled demolition, but Hillen is also interested in the idea of cognitive dissonance - a neat term for a set of circumstances in which the evidence of our eyes does not chime with our deeply held beliefs - and how our brains react when that happens.
Hilled was born and raised in Newry. In his 'Troubles' era collages made between 1983 and 93 and in his What's Wrong…? series, he sounds a rallying call to look deliberately askance at the world, to be less passive in our consumption of propaganda and information, to literally chop things up and see what new juxtapositions might reveal.
In Evidence of Controlled Demolition in the Rose Garden, Hillen points to the fact that during peace-time we are all moving obliviously through a world on the verge of imminent threat. His skill in sliding cut-outs over each other, allowing elements of one image to invade another, collaging not just in flat but three-dimensional ways, produces dynamic new scenarios, held in place in the moment he glues them down.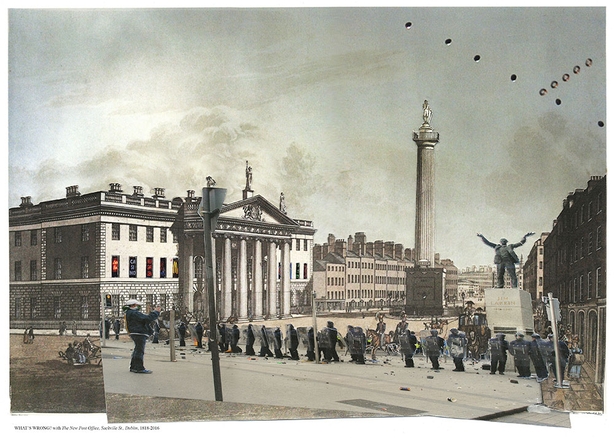 Hillen has always been trying to tell us something is wrong. Every image he makes screams "Look! Something is not right!" He started his Irelantis series long before the Celtic Tiger went boom and bust. Now that his vision has come of age. He combines commentary on world-wide conflict, environmental threat, and the constant cycle of building, destruction and renewal that marks human endeavour, with perhaps his most important message: that blind complacency might just be the most dangerous habit for a human being to form.