Joey Kavanagh, from legendary Galwegian performance and spectacle company Macnas, writes for RTÉ Culture about the company's Halloween parades in Dublin and Galway this weekend.
A little over a year ago, I found myself freshly unemployed after a project I had been working on wrapped up. So, I was relieved to get a message from a friend on Facebook with a lead on some work. "Potential gig with Macnas," she said. "It'll involve a relocation to Galway."
Four days later, I arrived in Eyre Square with my suitcase, not really knowing what I had signed myself up for. I'd seen Macnas perform once before - in the grounds of Collins Barracks, as part of the Dublin Fringe Festival - but had never experienced the Galway institution that is The Macnas Parade.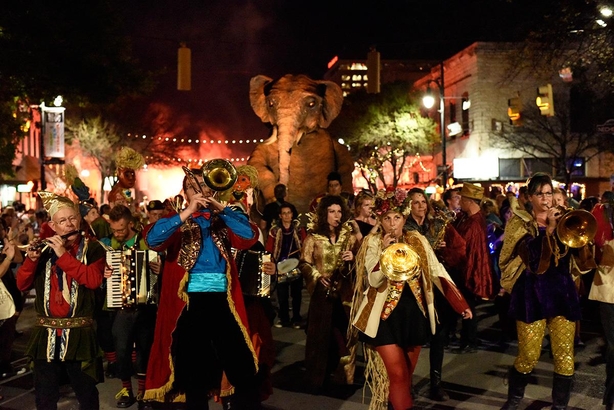 "Little bit daunting, but enjoying it so far," was the report I sent to my friend after the first couple of days. Over the next five weeks, I watched in awe as Macnas artists hammered, welded and sawed giant structures into existence - an owl, a moon, a ferocious-looking witch called the Baba Yaga, a figure in Slavic folklore.
On Bank Holiday Sunday, I saw hundreds of Macnas performers transformed by the costume, hair and makeup teams into 'Insect Revellers', 'Plague Mourners' and other fantastical characters. Volunteers gathered outside the Macnas workshop in the grounds of NUI Galway, chatting excitedly as they waited to be briefed by event managers. And then, at 5.30pm it was finally time: The Macnas Parade.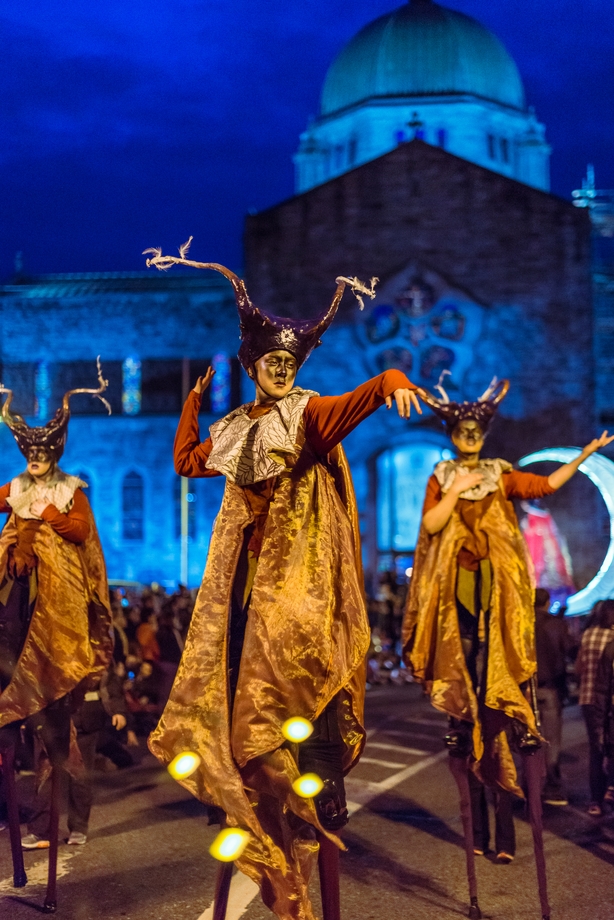 It's hard to explain what happens as the parade makes its way through the streets of Galway's Latin Quarter, but really, it's nothing short of magical. To me it seemed that every man, woman and child from Galway and beyond had lined the streets to marvel at the new Macnas creations and cheer on the performers.
My role with Macnas was primarily to get the performers and crew up to Dublin the following day to do it all over again, with a parade through the North Inner City, as part of the Bram Stoker Festival. The Macnas Parade may not be quite as established in Dublin, but that would have been hard to tell from the huge crowds lined up along Henry Street and Capel Street.
"A stint with Macnas is good for the soul," I decided, after wrapping up my five weeks, tired but completely inspired by the experience. When an opportunity arose to work with Macnas again this year, I jumped at the chance.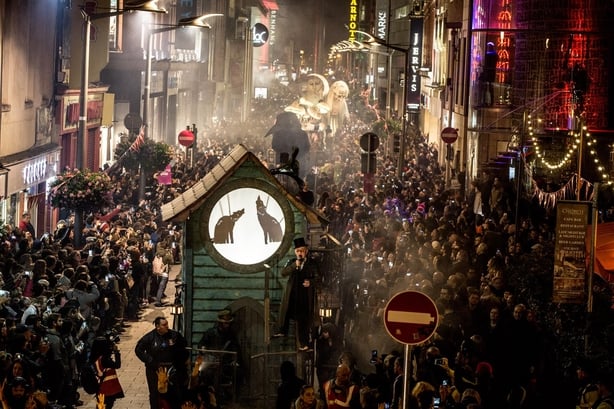 This weekend, Macnas will be going coast to coast once again as they bring new work to the streets of both Galway and Dublin, but the inspiration for this year's parade concept comes from the West. Port na bPúcaí (or Song of the Spirits) draws on the traditions of the Irish Wake, with the beauty of life in the West of Ireland reflected through the eyes of an old man from the islands, as he journeys from this world to the next.
I'm sworn to secrecy about what audiences will see on the streets of Galway and Dublin, but what I can tell you is that parade designer Orla Clogher, costume designer Cherie White, musical director Orlagh de Bhaldraithe and the entire Macnas team have dreamed up a show that is utterly unmissable.
The Macnas Parade, Port na bPúcaí, departs the main gates of NUI Galway this Sunday 29th of October at 5.30pm. Route map and further info are available here.
On Monday 30th of October, Macnas present Memory Song in Dublin's North Inner City, as part of the Bram Stoker Festival. The parade starts at 6pm, with audiences gathering from 5.30pm. Route map and further info are available here.