The first trailer has been released for Paul Thomas Anderson's forthcoming Phantom Thread, the movie which Daniel Day-Lewis has announced will mark his final screen appearance.
Phantom Thread reunites long-term Wicklow resident Day-Lewis with writer-director Anderson after their triumphant collaboration on 2007's There Will Be Blood, which won the actor the second of his three Best Actor Oscars.
Filmed in secrecy earlier this year, the newly-released synopsis for Phantom Thread reads thusly:
Set in the glamour of 1950s post-war London, renowned dressmaker Reynolds Woodcock (Daniel Day-Lewis) and his sister Cyril (Lesley Manville) are at the center of British fashion, dressing royalty, movie stars, heiresses, socialites, debutants and dames with the distinct style of The House of Woodcock. Women come and go through Woodcock's life, providing the confirmed bachelor with inspiration and companionship, until he comes across a young, strong-willed woman, Alma (Vicky Krieps), who soon becomes a fixture in his life as his muse and lover. Once controlled and planned, he finds his carefully tailored life disrupted by love. With his latest film, Paul Thomas Anderson paints an illuminating portrait both of an artist on a creative journey, and the women who keep his world running. Phantom Thread is Paul Thomas Anderson's eighth movie, and his second collaboration with Daniel Day-Lewis.
In June this year, Day-Lewis released a statement announcing his retirement, via his spokeswoman: "Daniel Day-Lewis will no longer be working as an actor. He is immensely grateful to all of his collaborators and audiences over the many years. This is a private decision and neither he nor his representatives will make any further comment on this subject."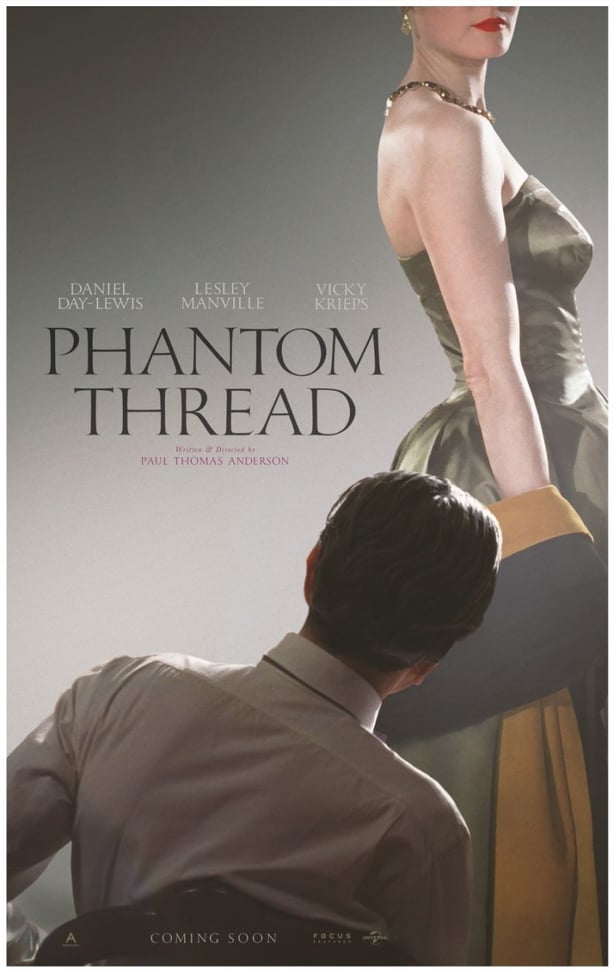 Phantom Thread opens in the US on Christmas Day, with a clear eye on the 2018 awards season, and is scheduled for release in the UK and Ireland on February 2nd.