There's another Sunday Miscellany Live on air this week, with a sold-out event recorded at the recent Red Line Book Festival in the Civic Theatre, Tallaght, with music from The Far Flung Trio (Malachy Robinson on double bass, Dermot Dunne on accordion and Katherine Hunka on violin), members of the Crash Ensemble, clarinettist Deirdre O'Leary and flautist Susan Doyle, and folk singer Hanora George.
Writer Dermot Bolger recalls a raucous poetry evening in Finglas around the time of the Pope's visit in 1979, in his essay, The Night Poetry Came To The Suburbs: "If we thought that bringing art to the masses was difficult, we never knew just how exhausting it was to keep the public safe from the artists!"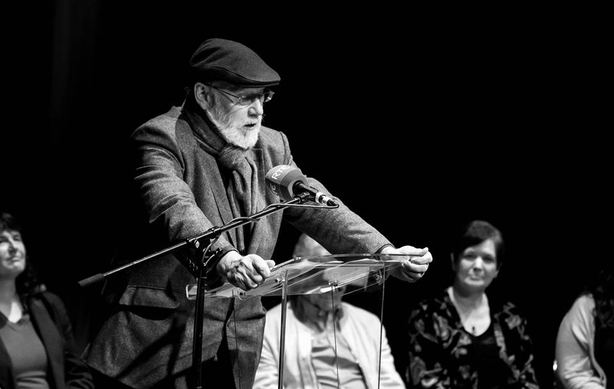 In her essay, The Stolen Tulip, Eileen Battersby explores the life and work of the 17th century naturalist and entymologist regarded by David Attenborough as a titan of natural history: Maria Sybilla Merien.
There are two poignant poems, Are Ye Dancin' and Her Smile, from Sara Shine and Cyril Kelly, respectively; Eileen Casey observes two domestic geese on the lake in Tymon Park, in A Couple of Swells; and Kathleen Lawrence reads Rosaleen McDonagh's moving coming-of-age essay, Synergy, about growing up in London, next-door to a Pakistani family, and longing for romance: "'Am I too disabled?' slipped off my tongue easily and frequently. Other disabled people triggered my awkwardness. Denying my Traveller identity stole my pride." But her mother and the mother next-door had a plan...
Picking up on the wild dance at the end of Rosaleen's script, the Far Flung Trio play a Klezmer set to close the programme.
Sunday Miscellany, RTÉ Radio 1, Sundays from 9.10 - 10am. Sunday Miscellany's next live events come from the Rolling Sun Festival in Westport in November and the National Concert Hall in Dublin in December. Keep an eye here for updates.
Photos: ROSCOT