Arthur's pub on Thomas Street is not somewhere you would expect to stumble across a grand piano. Yet tucked into the corner of the upstairs bar, taking up almost the entire width of the floor, sits this stately instrument in the unlikeliest of places.
After launching her sparse new album, As I Wake, Still I Dream, in the Unitarian Church a few months ago, Úna Keane is touring these elegant compositions around the country in a series of intimate, autumn gigs.
This night in the Liberties venue was the first of a six-stop Irish tour, and the pianist is testing a few things out in front of a live audience. Over her left shoulder is a projection screen. Old footage is mixed in with various nature scenes, which she recorded on her handle-held Canon 700D camera.
"I think I have a bit to go there. I've been working on tidying it up," says Úna Keane as we talk about her latest album. "In Arthur's that was me saying that it doesn't have to be perfect but I'm going to give this a go."
That attitude is central to her philosophy. By experimenting, she is looking to introduce aspects that helped create the music - things like nature, movement, place and time – and see how these strands can be worked into her live performances.
A friend delivers a short poem on the night, while two of the songs are supported by a dance collaboration performed by Elena Degtyareva, whose movement is enchanting and adds another dimension to Keane's piano playing. Just above eye-level over the keys is a looping control pedal which allows her to intersperse subtle layering throughout the pieces.
"It is about sharing a moment and seeing where that goes. It's organic… I like the idea of bringing an echo of what happened into what you're performing and connecting people to that feeling or idea."
All this is reminiscent of the setups regularly used by Nils Frahm and Ólafar Arnalds, two musicians from the Erased Tapes record label who have brought this minimal style of music to a much wider audience. (Nils Frahm's All Melody tour comes to the NCH in Dublin on February 26th.)
"I think it is great to see people who can really play the instruments but who are playing around with the identity of these instruments and opening it up to more people," says Keane of those Berlin-based artists.
"There was an element of loss and pain to that that I wasn't telling people about… I had been holding a lot of other spaces and prioritising other aspects of my life."
"They are making it less staid and less purist. That is what Beethoven would have been doing in the 1800s. They were innovators, and we forget about that, Beethoven was a bit of a rock star...
"Change does seem to be in the air at the moment with the Icelandic and German lads, and here in Ireland with Paddy Mulcahy and others doing interesting work," of course The Gloaming would be included in that conversation.
With Keane in a groove, the audience is brought swirling slower and slower by her crisp, clean piano melodies. As listeners we are reaching for a less frequented pace, for a few moments our modern lives can be put on hold as we simply move from note to note.
***
As I Wake, Still I Dream is the result of a lifelong musician creating space and indulging her talents. It came from a conscious slowing down and a renewed focus, Úna Keane senses that now is a pivotal time for her music.
She has been composing on and off since she was ten years old. Now in her forties, she wanted to press pause on life's complications and instead nourished her first love, the piano.
Everything seemed to click for her musically; by flipping adversity into opportunity she created a record full of calm understanding, filling it with poignant moments that build toward evocative sonic vistas.
"I think it was a sense of determination. Possibly, if I'm one hundred percent honest, I had just separated from my husband. I had come through the end of a ten-year relationship, a marriage, and I felt the need to stand on my own two feet…" she pauses before going on… "Also I had come through four rounds of IVF, none of which had worked. There was an element of loss and pain to that that I wasn't telling people about… I had been holding a lot of other spaces and prioritising other aspects of my life, and doing that for maybe five or six years…
"Friends like Adrian Crowley, Caoimhín Ò Raghallaigh, Kevin Murphy, these friends came to me and said, 'Una, come on, what about your music?"
Buoyed by the encouragement, Keane went to Paris three times over the course of writing the record. She got herself onto the artists retreat programme at the Centre Culturel des Irlandais, promising to pay her own way the first time before getting invited back for a residency where she was given a commission to put music to Seamus Heaney's poem, The Blackbird of Belfast Lock.
"I was given the Chapel, which had a piano… From ten in the morning until two or three in the afternoons I would be locking myself in. Often I would bring a pastry, or some kind of quiche, and I would lie on the ground. I know that sounds quirky, but I did that."
"There was something in me that needed to come out."
She would listen intently to the recordings she'd made of herself. This way she could think through the pieces, looking for that take that best captured an honesty and authenticity of feeling.
"I found that I was able to get into a creative mode of thinking… It was that combination of feeling very in the zone in the space, also having a creative bunch of people who were giving me feedback, and a lack of self-consciousness as well. There was something in me that needed to come out."
***
Keane had watched as her generation of friends succeeded musically and she identified, perhaps with a little jealousy, with the way they managed to make music on their own terms.
This all fitted within a wider narrative. She followed the progress of Nils Frahm and Olafur Arnalds, as well as Max Richter and Arvo Pärt, and was struck by the freedoms these artists employed in their compositions. They weren't confined by classical syntax, strict genre boundaries or in any way afraid to borrow modern techniques in order to create the desired effects in their music.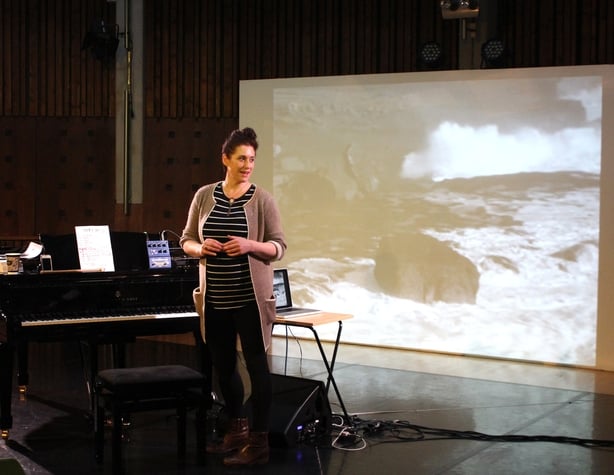 "With them, there was something very authentic and very in line with what I identified with back as a ten-year old playing around on the piano. I remember going off on these little tangents that weren't always appreciated by my teacher. I felt a deep connection and was very much at peace when I would allow myself to play around as opposed to trying to identify what I was doing… So really it was coming back to music from a totally heart-lead position again."
Towards the end of the gig, Úna Keane is smiling warmly as she alludes to her bump. She is six months pregnant, she tells the Arthur's audience. There will be a bit of a break before the next gigs, she says, while one can't help but speculate as to how much of the music can be heard by her soon-to-be-born child. What isn't speculation is that her child arrives into a very talented musical family where playtime will involve a piano.
As I Wake, Still I Dream is out now; find tickets, the album and all other info at unakeane.com