Presenting extracts from the most acclaimed books of 2017...
We're delighted to present an exclusive extract from Ciara's Diary: Sense and Shiftability: 1999-2002, the hilarious new book by RTÉ 2FM presenter Ciara King.
The year is 1999. Connemara is braced for the new millennium. 'No Scrubs' rules the airwaves, bootleg DVDs of Cruel Intentions are thrilling crowds of sexually progressive teens, and if you're not matching combat trousers with platforms, you are nobody.
In the midst of this perplexing world, a girl named Ciara, inspired by her heroes Anne Frank and Aung San Suu Kyi, begins to document her not dissimilar struggles - against pushy parents, mysterious boys and the stubborn non-appearance of boobs.
Based on the cult radio segment of the same name, Ciara's Diary is a fresh and funny trip through the warped mind of a turn-of-the-century teenager.
---
Cousin FIT
Dear Diary,
I know I've said this before, but I think I've met The One.
But alas, true love never seems to run smoothly, does it? Well, especially not for me. It seems we have a modern day Romeo and Juliet situation on our hands. On one side there is me, Juliet, beloved daughter of the Capulets, and on the other side, Romeo (AKA John), son of the Montagues and a cousin of my nemesis and main arch-rival Lucy.
Of all the men in the whole wide world, why did I have to fall in love with Lucy's cousin?!
If this was episode of The Simpsons, I would be Maggie Simpson and Lucy would be the monobrow baby, and my new love would probably live in Shelbyville.
But John is different. Let me tell you about John. A big gang of us decided to hang out in the local shopping centre as we are teenagers, and obviously grown-ups or the government don't know how to cater for the needs of young adults. On a side note, we really are treated like second-class citizens. Do the people in power not realise that we are the next generation, with feelings and emotions and, like, really deep thoughts about
things and stuff. We should really be able to vote for our rights as well. We should be able to shake off these shackles of oppression that have haunted generations of teenagers since the Famine!
Anyway, we were bored and went to the shopping centre. I had heard from one of the girls in my year that there was a leopard print bra in Penneys and I wanted it – no, NEEDED it – in my life. How sexy is that, like? Kat Slater is always wearing leopard print bras in EastEnders, and she gets loads of men.
So we're on our way into Pennys and who do we bump into only Lucy, who is standing with this seriously handsome guy. In my head I was like, 'Please God, don't let this be her boyfriend because are you actually serious, that's so unfair, she doesn't deserve him, she is going to ruin my life some day,' but she introduces Rebecca to him as her cousin John while totally ignoring me at the same time. Not that I cared or anything.
From watching Dr Phil on Oprah once, I was able to suss out this John guy fairly quickly. His bottom lip was pierced, indicating a bad boy element, he was wearing just enough Dax Wax to give off an air of not actually caring that much and he was wearing a Barcelona football shirt with 'Rivaldo' on the back, which obviously pointed to a deep love of Spanish football.
His eyes were deep and brown and I'm sure passionate, and I'm nearly certain he had a quick glance down at my boobular area. It was like somebody had sent an electric shock through my body. Our eyes met and there was this, like, instant connection.
Rebecca said afterwards that it was like I was just standing there staring him out of it. But what does she know? She wasn't in the moment like I was. She didn't know that right then and there I was falling in love at first sight. I knew though that I had to have him, whether he was Lucy's cousin or not.
We had to go then as Rebecca wanted to buy a new CD in Zhivago's called Genie in a Bottle by Christina Aguilera. I have a good sense for these things and reckon she'll just be a flash in the pan. I mean, where is all the real music gone? While I was in Zhivago's I went mooching around and I found this guy called Ricky Martin and his song Livin' La Vida Loca. Now, THAT'S proper music. When I grow up, I'm going to marry him. That's if things don't work out with John obviously.
By the time we met up with the rest of the lads they were being really annoying, quoting some lines from a movie called Fight Club that they had snuck into the cinema to see. Everything we did for the rest of the day was like, 'Welcome to Supermac's, the first rule of Supermac's is you DO NOT TALK about Supermac's,' then they would fall around the place bursting their shit laughing and trying to give each other dead legs. Lads are so immature. I don't get it.
All the time though, I was glancing over at John wondering was he glancing over at me. It was in this fair establishment of fast food where me and John finally bonded over our love for animals. (I really like animals.) It turns out that John is a vegetarian as he disagrees with the cruelty that is subjected on animals every day across the world. He has been to protests against animal testing and everything. I'm SO surprised that someone so, like, cultured is cousins with Lucy!
A security guard kicked us out as the lads were sticking chips up their noses and blowing them out and laughing, and then it started raining so we all had to shelter in a bus shelter, which worked out brilliantly as I could stand really close to John then. At one stage our hands brushed off each other and I thought I was going to faint. This is what real love must feel like, Dear Diary.
Lucy of course had to go and ruin it and started shouting, 'Don't stand too close to her John; I heard you might catch frigidness.' The actual irony here is that there is more chance of catching something off Lucy then there is off me. I threw her daggers but then she and John had to go as Lucy's mother came to collect them. Man, Lucy's mother looks rough.
As they drove away and I watched my new Romeo depart from my life, Rebecca told me once again to stop staring, that it was really weird and that I looked like a sad case.
She was shifting the face of Johnny Limp so I don't even know why she cared really. They have been shifting since the youth club disco where I nearly sprained my ankle doing the moonwalk. They are 'going steady', as the Yanks say. They make a weird couple, what with Johnny Limp's limp and Rebecca's arse, but at the same time they work.
Oh God, I just had a thought. What if they fall in love and Rebecca loses her virginity to him? What if she loses her virginity before me? No, she's my best friend in the whole world; she wouldn't do that, would she?!
Goodnight Dear Diary,
Love,
Ciara X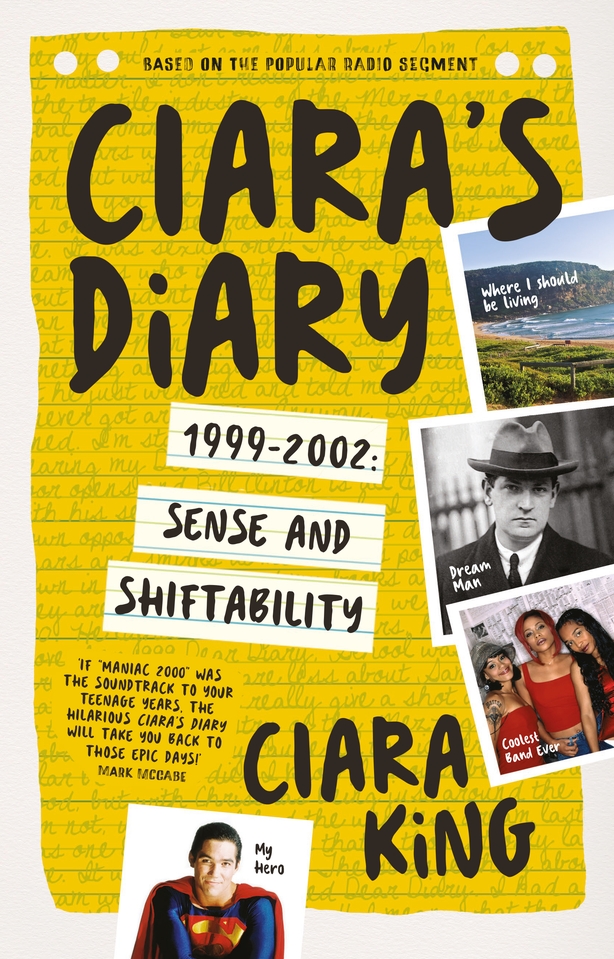 Ciara's Diary: Sense and Shiftability: 1999-2002 by Ciara King, published by Gill Books, is out now.