Tom Murphy is considered by many as Ireland's greatest living playwright, and a recently elected Saoi of Aosdána, an honour conferred on him by President Michael D. Higgins.
Trinity College Dublin is celebrating Murphy's achievement today (Thursday 5th October) with a multiple event: the announcement of the acquisition of his papers by the Library of Trinity College Dublin, the launch of a new book, entitled The Theatre of Tom Murphy: Playwright Adventurer, by Professor Nicholas Grene, and an accompanying online exhibition documenting his life and works.
Renowned for ground-breaking plays like A Whistle in the Dark, Famine and Conversations on a Homecoming, in his ninth decade Murphy remains a prolific and vital force in Irish theatre. His literary activity since 2000 alone has been somewhat prodigious, with recent works including The Wake (revived in a triumphant Abbey production in 2016) The House, the Alice Trilogy, The Last Days of a Reluctant Tyrant and Brigit - drafts of which are included in the Trinity collection, together with a whole range of theatrical materials: promptbooks, set designs, and reviews. There is also a collection of correspondence with theatres, and publicity materials about the staging and reception of Murphy's work.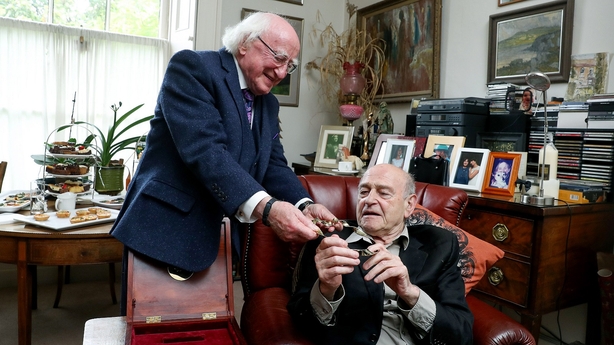 The collection also includes the original typed script of Murphy's celebrated work The Gigli Concert, from 1983. This had previously been given by the playwright as a twenty-first birthday gift to his son Bennan Murphy who has returned it to the collection.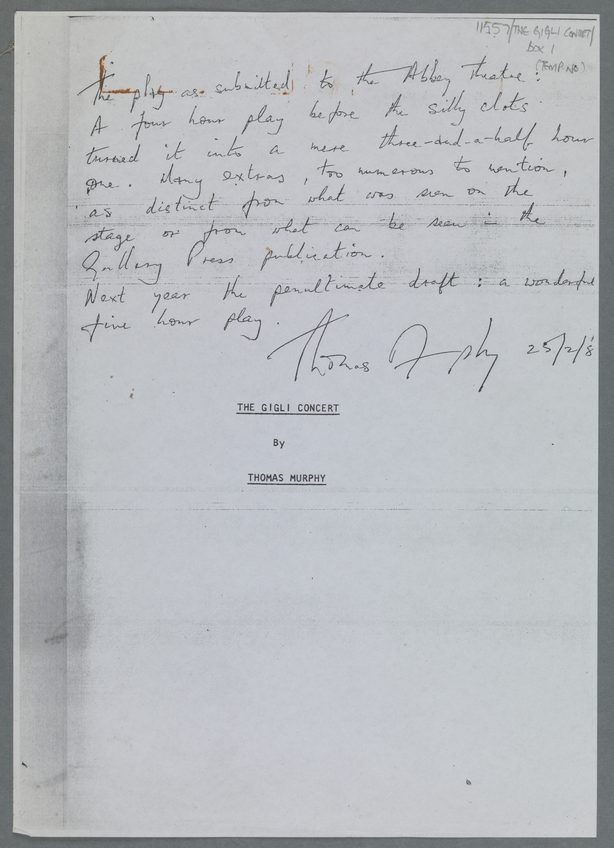 "For over 55 years, he (Murphy) has been pushing the boundaries of theatre with his powerfully disturbing images of Irish life and his haunting vision of being in the world, said Professor Nicholas Grene. "He has spoken of his preferred 'adventure method' of playwriting, as against working to crowd-pleasing dramatic formulae. The result has been a series of plays of astonishing daring, each one a new experiment in theatrical imagination."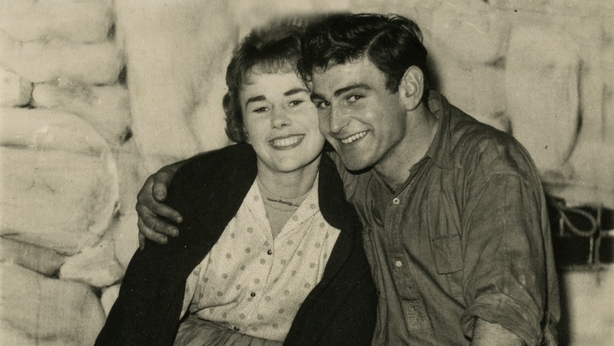 The online exhibition, curated by Grene and Liam Harrison, traces the genesis of Murphy's work from his life as a young man in Tuam (echoes of which feature frequently in his work), the development of his plays through the writing process, and his engagement with staging and production by the Abbey and Druid Theatre Company. Featured in the exhibition are draft manuscripts, a range of archive photographs of productions, and of the playwright himself from an early appearance as Christy Mahon in The Playboy Of The Western World in the Tuam Little Theatre Guild through to the conferral of the gold torc of the Saoi by President Higgins. You can view the exhibition here.
Murphy joins Trinity's other world renowned holdings of literary archives of famous Irish writers, among them Jennifer Johnston, John Banville, John B Keane and Leland Bardwell.