President Michael D Higgins presided at a small private ceremony today, to mark the election of playwright Tom Murphy as Saoi in Aosdána.
The honour of Saoi is bestowed for singular and sustained distinction in the arts and earlier this morning, the President presented Murphy with the symbol of the office, a gold Torc.
Acknowledged by many as the greatest living Irish playwright, Murphy's formidable oeuvre spans over a half century, from his breakthrough play A Whistle In The Dark (1961) to such celebrated and acclaimed works as A Crucial Week in the Life of a Grocer's Assistant (1969), Famine (1977), The Gigli Concert (1983), Conversations on a Homecoming (1985), Bailegangaire (1985), The Wake (1997) and The House (2000). His work has been cited as a key influence on contemporary playwrights such as Conor McPherson and Martin McDonagh; in 2012, Galway's Druid Theatre Company staged DruidMurphy, a cycle of three key Murphy works, to acclaim in Ireland, England and the US.
We need your consent to load this YouTube contentWe use YouTube to manage extra content that can set cookies on your device and collect data about your activity. Please review their details and accept them to load the content.Manage Preferences
Aosdána was originally established in 1981 by the Arts Council to acknowledge artists who have made an outstanding contribution to the arts in Ireland. Members nominate and elect the Saoithe, with no more than seven artists holding the honour at any one time; Murphy joins a present list of Saoithe that includes filmmaker George Morrison, author Edna O'Brien and artist Camille Souter.
A small gathering of the writer's family and close friends joined Murphy to celebrate his election, including his wife, actress Jane Brennan, as well as Druid Theatre co-founders Garry Hynes and Marie Mullen, Druid alumni Sean McGinley and Arts Council Director, Orlaith McBride.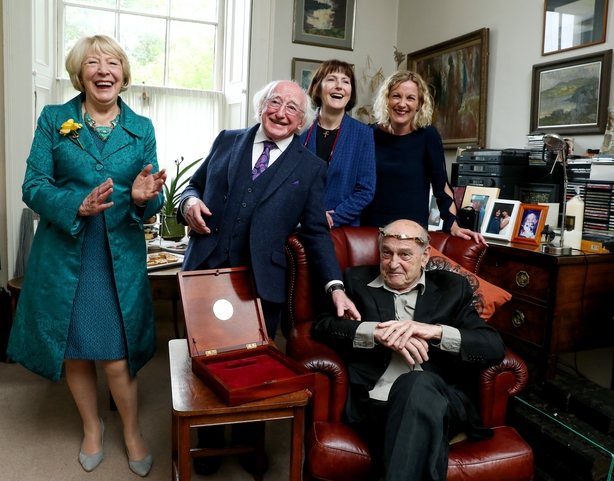 Statement by President Michael D. Higgins on conferring the Aosdána Torc on Tom Murphy:
"It is a great honour to bestow the Golden Torc and the title of Saoi on one of Ireland's greatest contemporary playwrights, Tom Murphy. The title of Saoi is Aosdána's highest honour, which recognises the achievements of the recipients and signifies the high esteem in which they are held by their peers and fellow artists.
Tom Murphy's contribution to Irish theatre has been of an immense and unique kind. From the early beginnings of his writings, in Tuam, Tom Murphy has produced an outstanding body of work. He has been above all the great playwright of the emigrant, more than anyone capturing in a poignant, creative and provocative way the transience that is at the heart of the emigrant experience.
The uncertainties and contradictions experienced by migrants informed his great early plays, which drew furious critical responses when produced on the stage in the London of the 1960s. It was clear, however, that a new brilliant playwriting talent had arrived.
Tom Murphy would go on to produce a body of work of extraordinary brilliance. In that work, there is something that sings to us, a beauty is emerging, through the work of a genius willing to take all the risks - such is the contribution of great theatre, and Tom Murphy has been a master in that regard.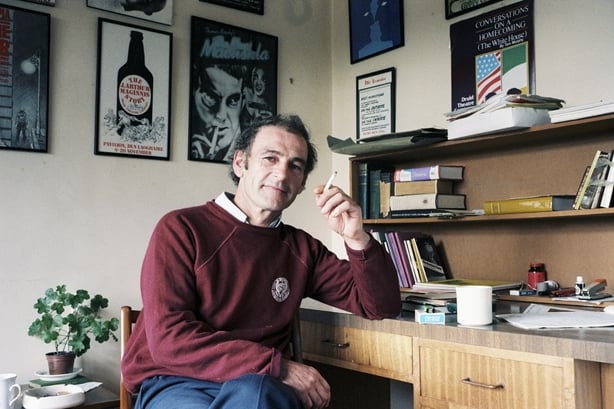 Showing himself to be ever capable of experimenting, Murphy challenged the limits of the genre and showed himself to be, in particular, a master of dialogue.
Tom Murphy's creative passion, and his constant will to push beyond the boundaries, have gifted us works that constitute a major contribution to Irish art and theatre. Tom Murphy has not only invited us to engage with the past, but also to confront themes that we may have neglected. In doing this, he has made particular use of the tool of memory, an approach which he shares with writers such as Eugene O'Neill but, frankly, one in which Tom Murphy has excelled above all others.
It has been such a pleasure, on every occasion, to meet Tom so many times over the years, and a particular pleasure for any of us who have been privileged to call him our friend.
Sometimes, those meetings have been abroad. I was delighted to attend the opening, in London in 2012, of a new production by Druid of a Murphy trilogy, which on this occasion received numerous ovations.
Reflecting upon a lifetime of outstanding creative work, which continues, it is a pleasure to congratulate him on being chosen by his peers in the world of arts and culture for this honour, and as President of Ireland to thank him for all he has given, and continues to give to our society.
Tréaslaím leis agus guím rath agus beannacht ar a chuid oibre agus ar a shaol."