Theatrical dynamo Little John Nee writes for Culture about his latest unique creation, Radio Rosario, which plays at this year's Dublin Theatre Festival.
I have a day off to reflect and consider what has just occurred. Our new show Radio Rosario has just premiered and completed a week of sell out shows at Druids' Mick Lally Theatre. I say "our" new show although it is promoted as a Little John Nee show and it is a one person show that I have written, it is very much a work of collaboration with a gang of brilliant artists and I am humbled to be part of it. One of these brilliant artists is Laura Sheeran. She directed it with me and the work is infused with her creativity and sensibility. This is as much her show as mine.
Initial notions of a show called The Marconi began just over a year ago. I was fortunate to get a place on a Druid FUEL Residency with four other artists to develop our distinct and individual projects. It has been one of the best things i ever participated in.
I like old radios. I like valves and their sepia glow. I like listening to stories and I like radio as a medium. I have a fondness for vintage radio dramas such as Rocky Fortune starring Frank Sinatra as the unemployed Rocky who takes a variety of jobs that always lead to trouble. I was intrigued by the fact that Marconi had built a station near Clifden for wireless broadcast across the Atlantic. So many avenues for research; so much masterful storytelling; Orson Welles' War of the Worlds, Under Milk Wood and on and on. Music! Revolutionary music! Quirky advertisements with quirky music. Perspectives that now seem strange, absurd or sick. A narrative of reality where women are all housewives whose main purpose in life is to please their husbands and buy things. Historic broadcasts and news bulletins. Where to start and where to end?
Marconi became a member of the Italian 'Fascist Grand Council' in 1923. That didn't endear him to me. To be honest, I've yet to find a fascist that I like. Around this time, Donald Trump became president of the United States; I was touring with a show at the time in Hungry, Croatia, Slovenia, Czech Republic and Austria, there was a sense of 'What is this historic madness - and where will it lead?' I returned to begin an intense week in The Mick Lally Theatre developing my show.
It is about being here for some precious few years, and the danger of missing the best of the experience. It's about an underlying fear that it's too late. It's about love and imagination. It's about ten minutes shorter than we originally intended. We're happy with that.
Laura Sheeran joined me for a couple of days. We worked on a sound collage. It's spooky to listen to Neville Chamberlain tell the British people that Mr. Hitler assures him that Germany has no ambitions to extend its borders. I had written outlines and developed some characters but I was leaving space for a couple of characters who I felt were waiting in the shadows until it was safe to step forward. Then out stepped Rosario and The Marconi became Radio Rosario. We edged forward.
It was now evident to me that the show I had hoped to premiere in 2018 could not wait that long.
I presented Radio Rosario as a work in progress at the Galway Theatre Festival with a temporary soundtrack I had composed and it worked. I knew that if I didn't get funding, I could at least go ahead and tell a story.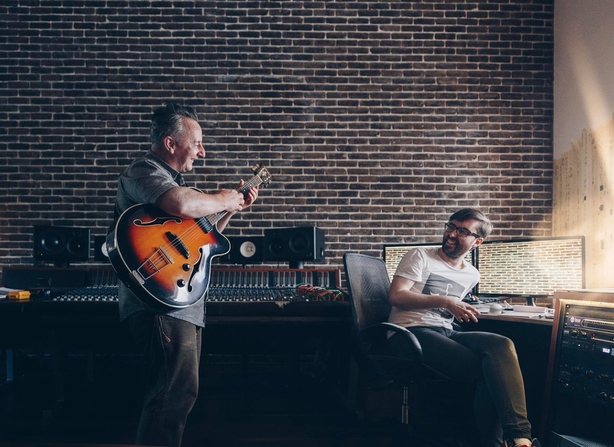 The show got funded. Now it could be made with a dream team of collaborators. Neasa O'Callaghan became our producer. It began leisurely with Tommy McLoughlin and myself working on some soundtrack at Attica Studios. Next came meetings with Triona Lillis where she began to craft her vision of the overall design. Then Laura Sheeran came on full-time and it kicked-off for real; she is a multi-disciplinary compulsive creative visionary. When we work together, 'playing it safe' is not an option. Triona and myself visit scrapyards in East Clare and talk notions in the car and another character subtly begins to introduce herself. That night, I dream of Polly Tunnel. The genius lighting designer Sarah Jane Shiels is given a script that is changing every day and is unperturbed. Raymond Keane is our consultant director, and on the phone daily. Rehearsals begin at The Mick Lally Theatre on a bank-holiday Monday; my dear friend Jane Talbot is stage manager, we begin rehearsals dancing to Bowie. Mike O Halloran is the production manager whose job is to keep the magic real.
@littlejohnnee @laurasheeran making the most beautiful show Radio Rosario. @DruidTheatre I know cause I just saw it. pic.twitter.com/Yz8fhTh6I9

— Raymond Keane (@iaclown) September 2, 2017
We work to make a show set in Galway in the near future; it is about being frustrated by the demands of a reality that is unreal, it is about narratives that deny essential truths. It is about being here for some precious few years, and the danger of missing the best of the experience. It's about an underlying fear that it's too late. It's about love and imagination. It's about ten minutes shorter than we originally intended. We're happy with that.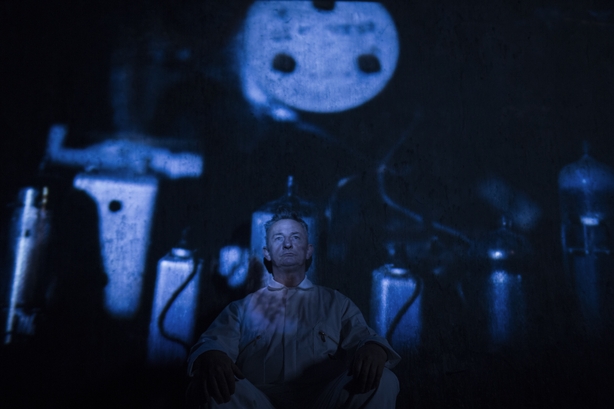 It is inevitable that creating a work about love and imagination will have its share of doubt and frustration in the making. That's what gives it muscle. We brought our grief and anger, we brought our best bright ideas; we went to the sight of the Marconi station at Derrigimlagh where the sky is wide with mountains on one horizon and ocean on the other and the boggy earth and sheep are unconcerned with any homo sapien grandiosity.
Additional artists joined us. Anne Marie Deasy sunk microphones in bog pools, Philip Lindey became Tony Visconti for last minute music recording! There was welding and hammering, paint and piano, microphones, cameras, sewing machines, bits of paper; in fact there is a small universe went into the making of this show Radio Rosario.
We bring it to axis: Ballymun for the Dublin Theatre Festival. I hope you can come and enjoy it.
Little John Nee's Radio Rosario is at axis:Ballymun from Sept 28-29 - more details here.