Dublin Fringe Festival Preview: Alison Spittle writes about her new show, Worrier Princess - well, truth be told, she writes about everything except her new show. But we'll let her take it from here...
Trying to explain how I write stand-up is hard, my process of writing jokes is that I wait to be struck by inspiration. I lay the flypaper out rather than swatting for jokes. It's a lengthy, humiliating process. You write an hour of material, test it out on an audience, realise you only have twenty usable minutes and write again, you repeat until it's done.
This is my third show with Dublin Fringe and although I'm procrastinating loads, I feel good about it. I think it's way better then my two previous shows. It's more confident in what it is trying to achieve. It felt easier to write and connect with and hopefully it will show. 
I thought I would write this blog about a day in the life of my creative process, here is an honest depiction of what I did yesterday, preparing a stand up comedy show for the Dublin Fringe Festival. 
I sit here with a box full of note books and an open laptop, its been seven hours.
I was woken up by road works outside my bedroom window, the drilling vibrates my toilet which is a weird sensation.
Brushing my teeth I decide to leave the house, get a coffee and have a walk, I can't possibly work in these conditions. 
As I look for my keys the drilling stops, it starts raining hard and I decide nice coffees are a waste of money anyway.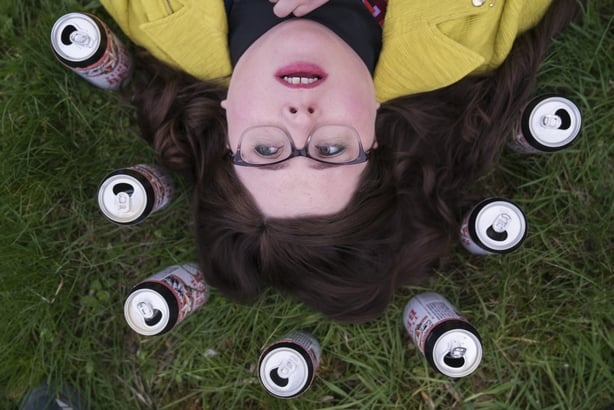 My flat is on the third floor, it faces directly into the windows of the flats across the road from me. 
I flop on the couch and put on the kettle.
An auld lad leans on his balcony on the second floor smoking a fag in a vest, he's the only one who has flowers on his balcony the rest of the balconies hold drying racks. I look at him for ten minutes he never spots me I feel like a spy.
In the flat next door, there's a happy three year old, bouncing on the back of couch, reaching for the window handle constantly. I see an anonymous arm yank the toddler away out of sight. Two minutes the baby is back at the window bolder then ever, the arm comes back and it plays out like a higher stakes game of peek-a-boo. 
I then wonder can a toddler propel itself out a window? it's finger tips can reach the handle but is it tall enough to get out? Then I think would I survive a fall of two stories? would a baby? I hear they're like cats. I then google 'cat bone density'. 
Cat bone density is a bit too wordy, so I look up cat videos on YouTube, I'm not mad about cats so I then look up Barry from Eastenders clips.
We need your consent to load this YouTube contentWe use YouTube to manage extra content that can set cookies on your device and collect data about your activity. Please review their details and accept them to load the content.Manage Preferences
I've a quick look on Twitter, there's been another terrorist attack, I then ask myself would I survive a terrorist attack, I think of every possible terrorist attack and decide 'No, I'd die in every scenario'. I then feel sad for the people that died, then I feel guilty for feeling sad second and wonder if I'm a psychopath. 
I google 'The Psychopath Test' and come to the conclusion that I'm not. I answer one work email, I feel smug at my work so far and go get breakfast. The notebooks remain unopened.I feel sleepy after breakfast So I watch an episode of The Wire while I digest, that turns into two episodes. It's now the afternoon.
I look up my ticket sales for the Dublin Fringe and panic. I look at other more successful comedian's social media accounts, how do they get bums on seats? I spend two hours laughing at other comedian's Twitter accounts. I refresh my ticket sales report, No change, I curse under my breath. I open my notebook, I scan the previous days jottings, I find it difficult to read my own hand writing. I suddenly remember my bathroom sink is disgusting and needs to be cleaned. I pull off my rubber gloves, the whole bathroom is sparkling, open my notebook and listen back to recordings of my previous stand up shows. 
I cringe hard at hearing my own voice and start to draw cartoon birds wearing top hats with speech bubbles abusing me.
I stare out the window looking for inspiration, the 'auld man is back on his balcony smoking a fag, he's caught me looking. I can hear keys open my front door, my partner is home. I run in to the hallway delighted my partner is home but also half afraid the 'auld lad has taken offence to me staring at him and is crossing the road with a knife ready to seek bloody vengeance. I tell my partner that I've worked really hard on a work email all day and we should invest in blinds. Twenty minutes later, I tell him the truth that I didn't work at all and I watched two episodes of The Wire without him, skipping ahead in a box set is the ultimate betrayal. He tells me not to worry and we eat dinner and watch a film. Then at 11pm I'll think of something funny and take out my notebook. I write and get an adrenaline rush and think about my theme. I vow to buy a white board and be more organised. 
I write until nothing makes sense anymore and then I sleep knowing I'll do the same thing tomorrow.
Alison Spittle, Worrier Princess runs at Bello Bar, Portobello Harbour, Sep 11 - 17, at Dublin Fringe Festival 2017 - details here.