We sat down with comedian Alison Spittle to chat about her start in comedy, her favourite places to gig in Ireland and what she'll be doing at this year's Vodafone Comedy Festival. You can watch the full interview above.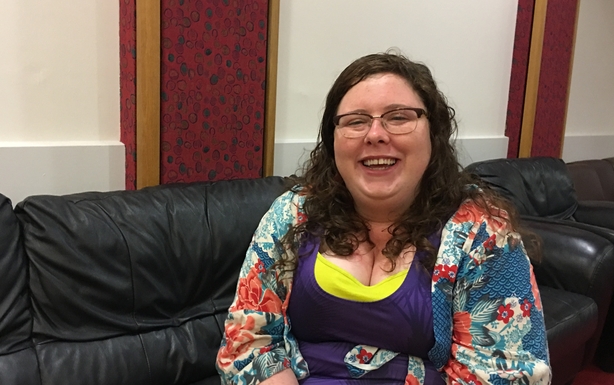 Wearing a colourful ensemble complete with rainbow handbag, Spittle is as animated in person as her on stage persona. Bubbly, chatty and quick to laugh; Alison is the kind of comedian you want to hang out with as soon as she steps off the stage.
I've to write a bio about myself, I've had two energy drinks., here's what I've come up with - She's a crisp sandwich in human form

— Alison Spittle (@AlisonSpittle) March 6, 2015
Don't let her laid back demeanour fool you though, this Westmeath woman is a grafter fueled by ambition and a tireless work ethic. With numerous upcoming projects as well as gigging new material and hosting The Alison Spittle Show, a podcast that she hosts live from The Workman's Club, Alison Spittle is fast becoming a household name.
This year will see her presenting RTÉ's Culchie Club, a documentary that follows interesting people across the Irish countryside including, the now internet famous, Bradley Brock as he attends Mayo's Pride Parade.
#MayoPride was a triumph. So proud of Ireland. Can't wait to go see the dirty circus tonight. pic.twitter.com/HgZW3sWOGh

— Alison Spittle (@AlisonSpittle) July 22, 2017
Additionally, Alison is working on Nowhere Fast, a female-led comedy about life in the Midlands starring Clare Monnelly (Moone Boy), Cathy Belton (Red Rock), Mark Doherty (A Film with Me in It) as well as Alison herself.
The comedian joined Nicky and Jenny on RTÉ 2fm to discuss her upcoming projects as well as her most embarrassing work moments. Watch it below:
She's here!@AlisonSpittle is LIVE with @NickyByrne & @djjennygreene right NOW!https://t.co/o2ImSznLEU

— RTÉ 2FM (@RTE2fm) July 24, 2017
You can catch Alison at the Vodafone Comedy Festival as she MCs Tommy Tiernan in The Big Red on Thursday. You'll find her in The Laughter Lab on Friday, she will be on stage in The JokeShop with Maeve Higgins on Saturday and on the panel of The Guilty Feminist on Sunday.
The Vodafone Comedy Festival is running from Thursday 27th of July to Sunday 30th of July. Check out the full line-up and get your tickets here.