In a new series of articles, critic and broadcaster Cristín Leach selects 21 artworks for RTÉ Culture that, in their own unique fashion, define Modern Ireland.
Number Eight: Aideen Barry - Weapons of Mass Consumption (2009)
Aideen Barry is a performance artist who also makes animations, films, drawings and sculptures, including a series of polished aluminium Weapons of Mass Consumption, one of which was the poster image for the Crawford Gallery's well-timed survey show, Terror and the Sublime: Art in an Age of Anxiety, in 2009.
Galway-based Barry is best known for her brilliantly unsettling, psychologically astute video-works, many made in direct response to her diagnosis in 2006 with Obsessive Compulsive Disorder. This manifested in an obsession with cleanliness and germ-free environments, a kind of "war on germs". The sculptural objects from the Weapons of Mass Consumption series were created as part what she refers to as her Dystopian Domestic investigations.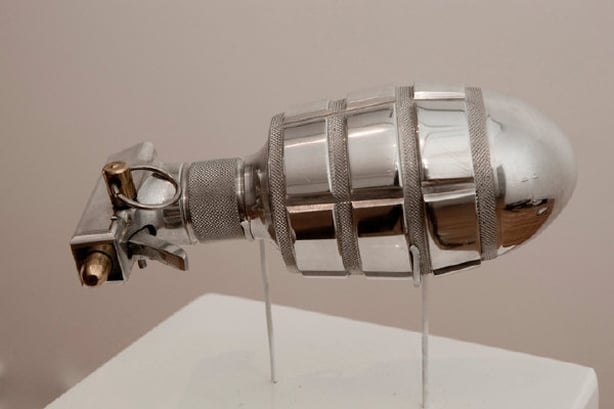 Spray Grenade (SG09/3#01) is a domestic-cleaning-object/weapon-hybrid, but to other eyes it could also be a hairdressing product, or houseplant watering implement, as hand-held bomb. Barry plays around with ideas to do with the uncanny and manipulates what is familiar to shift it towards the bizarre or disconcerting. Her work consistently forces viewers to observe heightened behaviours and to question their definition of normality.
Barry's spray grenades were a part-result of her residency at Kennedy Space Centre in Nasa, during which she shot a film in zero gravity. These works were made as the Celtic Tiger ground to a halt, around a time during which Ireland's ideas about consumption had peaked and suddenly, overwhelmingly troughed.
On one level, they are a shiny testament to the glittering, dangerous attraction of that time, on another they are implements produced as part of Barry's intelligent visualisation of a personal battle with the demons within.