In a new series of articles, critic and broadcaster Cristín Leach selects 21 artworks for RTÉ Culture that define Modern Ireland.
Number Seven: Gary Coyle - The Penitent (2014)
Gary Coyle began recording his daily swim at Dun Laoghaire's Forty Foot in the summer of 1999. The documentation-art that has come out of that ongoing project, including photographs, a water collection, notebooks and performances, are likely to constitute his masterwork.
But Coyle also makes remarkable, large-scale charcoal drawings that pulsate with ominous duskiness, and lurk on the verge of conscious nightmare territory. Feelings of anxiety, aloneness, stillness and unspecified danger are captured in these black-dust-textured compositions.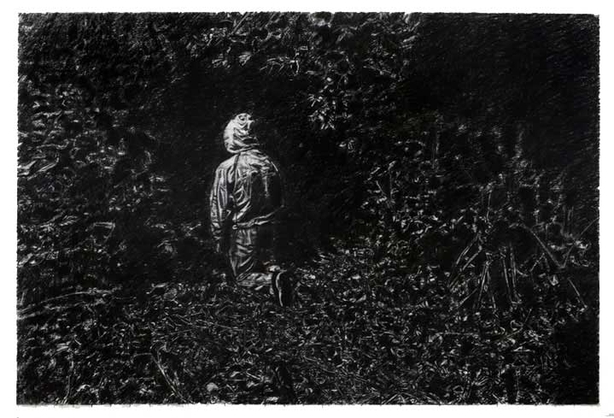 The Penitent is from 2007, a 116 by 140.5cm-wide scene in which a figure in a hooded tracksuit kneels at the edge of some undergrowth. This is one of a number of drawings by Coyle that feature a hooded male, or a shrouded human figure with their back to the viewer. The title piece from Hello Darkness, his 2012 exhibition at the Kevin Kavanagh Gallery in Dublin, contained an image of a similar youth, captured this time in a charcoal-drawn oval, like a mirror, surrounded by a pattern like feathers, or scales.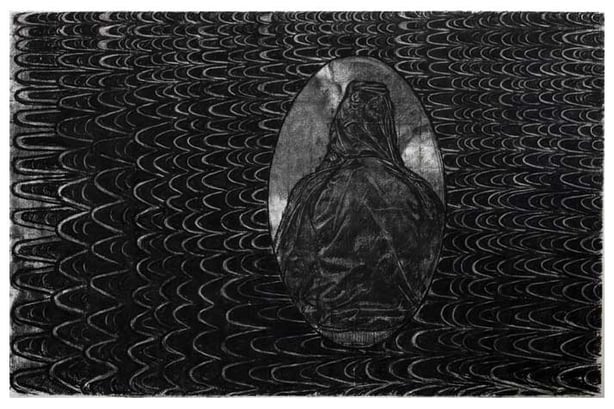 Coyle's art is rooted in his homeplace of Dun Laoghaire. His territory is South County Dublin, the duality of which he has continued to explore. In charcoal-drawn images of Moran Park or The Stillorgan Dual Carriageway, he applies a 'sublime Gothic' filter to his home neighbourhood, capturing a sense of disconnect or disjoint. The kneeling figure could be praying, hiding, waiting, begging for forgiveness, threatened or a threat.