John Kelly writes for Culture about the Albums That Will Save Your Life...
Hardly a radical choice but it seems apt at a time when, thirty years on, U2 is re-presenting the album on tour. In fact, as I write this, they're onstage at Soldier Field, proving it all night that these songs really have stood the test of time, even those songs that may have been missed the first time around. By that I mean, a fair chunk of Side Two.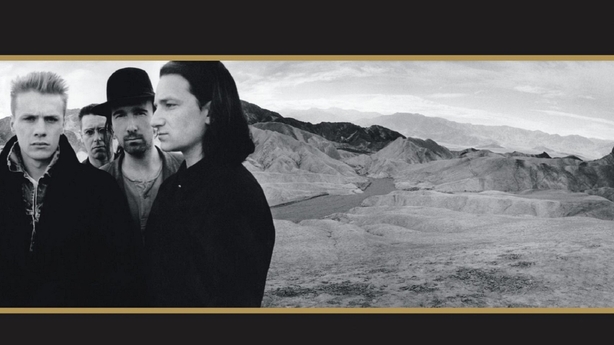 I was actually present on the night The Joshua Tree was launched – in the audience at a BBC taping of The Old Grey Whistle Test. Did any of us know then that the album would go platinum in two days? Or reach number one in twenty-two countries? Or be the first ever Irish number one album in the States and make U2 the biggest band in the world? Looking back, I suspect there were only half a dozen people in the room who could see quite so far ahead – and four of them were on the stage.
I interviewed the band just a few weeks ago, and we talked a little about what the 80's were really like – especially that mid-eighties period characterized by an aloof, self-regard. Open-hearted idealism was not exactly the order of the day, and being 'cool' tended to involve being as grim as possible. But the music on The Joshua Tree was wide-open, ecstatic, rapturous and big. It was, as Bono sometimes puts it, "gauche" – utterly out of step with the period. And so it's all the more remarkable that, for so many people around the world, it turned out to be an album that defined the era.
Speaking for myself, I was in real danger of becoming a total cynic in those days. But, in the end, U2 cured me of that. They played their songs with such utter conviction and carried themselves with a self-belief that didn't come naturally to the rest of us. They just weren't going to take no for an answer. And why should they? The first three songs were Where the Streets Have No Name, I Still Haven't Found What I'm Looking For and With Or Without You. It was very hard to argue with that. And it still is.
The Joshua Tree has just been reissued in various editions and deluxe formats – but the great thing is that the original copy still sounds just as amazing as it did in 1987. Thirty long years ago.
The John Kelly Ensemble is on lyric fm, Monday-Friday @2pm.