June 1st marks 50 years since The Beatles released their iconic Sgt. Pepper's Lonely Hearts Club Band and to celebrate, The Ryan Tubridy Show travelled to London this morning to broadcast live from the Abbey Road Studios.
They're letting him in! @AbbeyRoad @UniMusicIreland pic.twitter.com/JVTLARE5re

— Ryan Tubridy Show (@RyanTubridyShow) May 24, 2017
There they spoke to Giles Martin, son of The Beatles legendary producer George Martin. Giles was given the daunting task of remixing the entire album under the supervision of Paul McCartney, Ringo Starr, Yoko Ono and Olivia Harrison, for a new edition that will be released in the coming days.
As he explained, he wasn't entirely convinced the album needed a facelift.
"My first thought was 'Why?'. It's not an album people think doesn't sound good…but The Beatles asked me. It wasn't me grabbing the tapes at Abbey Road. You have to think about the privilege, and then I started to think creatively about how we could do it."
The actual piano @PaulMcCartney played Lady Madonna on! 😱@AbbeyRoad @UniMusicIreland pic.twitter.com/DWKvIjZBYr

— Ryan Tubridy Show (@RyanTubridyShow) May 24, 2017
Giles' father, George, originally produced and mixed the album. During his senior years, as his dad was losing his hearing, Giles served as his father's ears.
"He needed someone because he didn't want to tell people he was deaf. He went deaf when I was about 13 or 14 and so I would be with him in studios and he would look at me and I would know what he was thinking."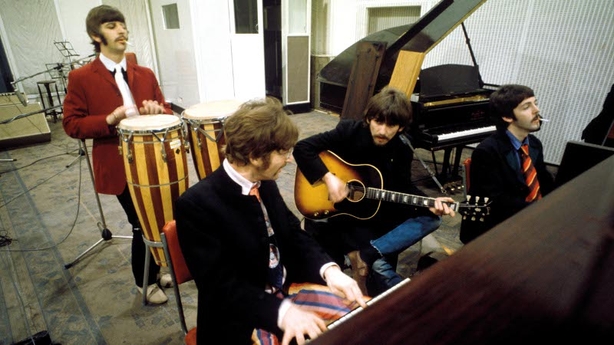 George passed away last year, aged 90. The remix is as much a tribute to his father as a tribute to the band. "He was a lovely man," he said, "I miss him."
Ryan also spoke to Melanie Coe, the inspiration behind She's Leaving Home, and Howard Goodall, who has made an upcoming BBC Two documentary called Sgt. Pepper's Musical Revolution.
You can listen to those interviews and get more from The Ryan Tubridy Show here.