I'm Louisa Sanfey from Bez Kinte Theatre Company. Recently I wrote and directed the radio version of our stage play Breaks for RTÉ Drama On One.
Click above to listen to Breaks.
The play explores the incredible true story of Gesche Gottfried, known as the Angel of Bremen. In the early nineteenth century she systematically poisoned everyone in her life: parents, children, lovers and friends. As the body count mounted, she layered herself in thirteen corsets, disguising herself as the image of a perfect woman. Finally, in 1831, the authorities caught up with her and she was executed for her crimes – but despite interrogation, she never revealed her motives.
Breaks is unusual for a radio play in that it comes from a devising process. Myself and actor Erin Gilgen wanted to make a feminist show as our response to #WakingTheFeminists. We were fascinated by Gesche's story, which touches on many issues that still affect women today: eating disorders, sexual violence, societal pressure and gender performance.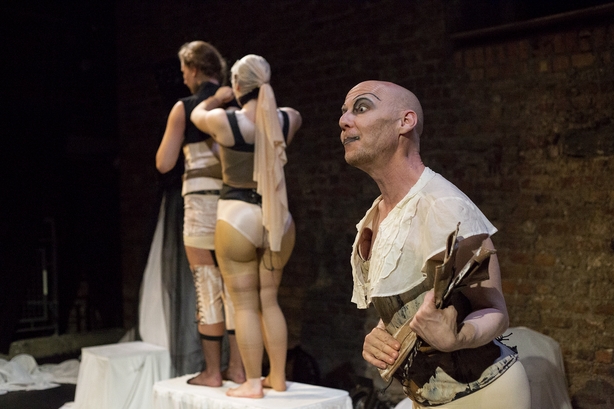 We started making the show over a year ago at the Barbican Open Lab in London with a team including myself as the director, Erin as the lead performer, Emma Hughes as dramaturge and Naomi Faughnan as designer. Later we brought on board the two further performers that you hear in the show: Louise Wilcox and Morgan Cooke. We wanted to work in a way that valued everyone's talents and allowed ideas to come from all corners, and in the stage version which we presented at Tiger Dublin Fringe in September last year, this could be seen in the combination of text, music, movement, costumes and design – every element combined to create a collage effect rather than a linear narrative.
When RTE producer Kevin Brew first approached me about turning Breaks into a radio play, I thought he was a bit mad. How on earth could we make a show that included dance pieces, opera and where costume was a character in itself into an audio piece? But I was up for the challenge and set out to re-write the play for radio. I streamlined all the elements that went into the stage version, compressed, edited and clarified.
Morgan Cooke, who had written an opera score for the stage, came up with more glorious music to tie scenes together aurally, and Louise Wilcox put her mind and muscles to the task of translating her stage choreography into a foley score. In the end, our sound engineer/wizard Damian Chennells used several mics to record Louise as she performed the movement score, alternating between wide range and close-up to convey her body's motion. It's definitely not your average radio play!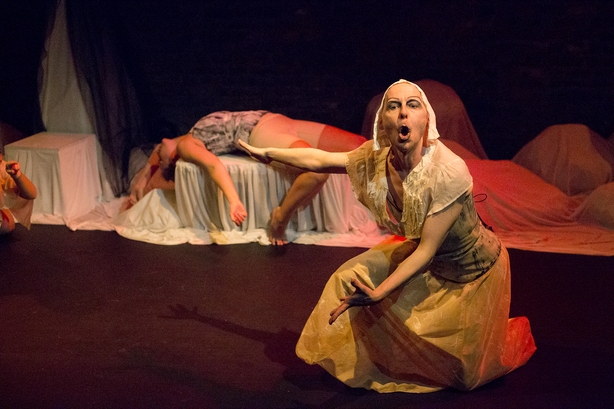 With this show, we want to discuss some serious points about sexism and gender roles in today's society, but we also wanted to entertain and tell an amazing, little-known story about a woman who you wouldn't accept a meal from, but who nonetheless inspires a certain admiration, even sympathy. Nobody at Bez Kinte would advocate becoming a serial killer as a life choice, however we all have our breaking points, and this show tries to understand what might drive a woman to carry out the unthinkable. When you can't bend any more, you break….
Pictures: Moira Reilly