It's hard to believe that it's been just a year since #WakingTheFeminists came into being.
The grassroots campaign sprang from the anger and frustration voiced by thousands of people at the Abbey Theatre's male-dominated 2016 programme. In twelve short months it has fundamentally changed the Irish theatre community. That's not something anyone imagined was possible, though for those of us who threw ourselves into working as hard as we could during the year, it is proof that change can happen when the will is there, and when we stand up for each other.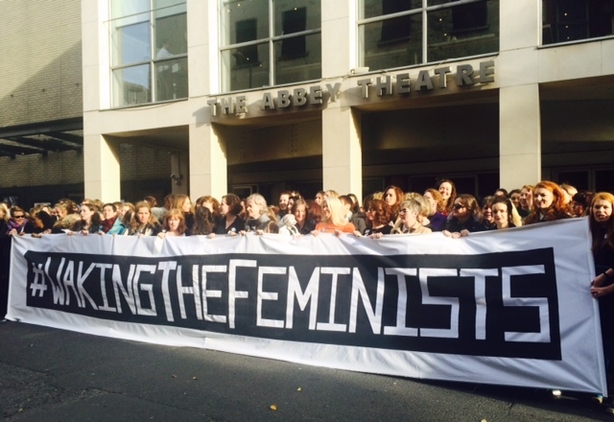 While the Abbey's programme was the catalyst, it soon became clear from the testimonials by women theatre workers that flowed in from across the country and further afield, that the problems of sexism didn't end there. The small group of volunteers that became known as #WakingTheFeminists quickly brought the major publicly funded theatre organisations and the Arts Council into the conversation. We knew straight away that if we worked collectively, the positive impact on a small but very visible and vocal community would have a powerful ripple effect, in Ireland and abroad.
And how right we were. By last September when the Abbey announced its forward thinking and far-reaching Guidelines for Gender Equality, #WakingTheFeminists had already changed the way women artists and arts workers are talked about, and had become a byword for successful campaigning. We had won awards in Ireland and New York in recognition of our achievements. The campaign continues to be looked to by those striving for gender equality and visibility of women in our society – not least across the arts, in the media, in business, and in politics.
Great turnout for NI #WakingTheFeminists meeting taking place right now at the Lyric! pic.twitter.com/jQepfGubkC

— LyricTheatre Belfast (@LyricBelfast) October 26, 2016
In this year of commemorations for an event that sought to fundamentally redefine our society, #WakingTheFeminists has stood out as an echo of these aspirations. Who gets to tell the stories of our nation, and what kind of stories do they get to tell? Whose voices are being given a chance to be heard, and who makes these choices?
For the first time ever, thanks to research funding from the Arts Council, we will be able to outline statistics later this year that will begin to help us answer these questions, and to measure the positive changes that we know will happen over the coming years. We will continue to work with major theatre organisations on improving their working practices to include and champion more of our great women artists. Change must come from the top, as well as from the grassroots.
Meryl Streep and Christine Baranski supporting #WakingTheFeminists ❤️❤️❤️❤️❤️ pic.twitter.com/xHzm7qoUjO

— Róise Goan (@roiseg) November 12, 2015
However, what I find most inspiring over the past months, is how individual women around me in the theatre are using their voices. Like never before, we are respectfully but firmly insisting we be listened to. We are standing together and supporting each other. The change in our community is palpable, and exhilarating. We know now the power that comes when each of us takes responsibility, in whatever small way we can. And that's a lesson none of us will forget quickly.
#WakingTheFeminists present One More Thing at The Abbey Theatre on November 14th - the event is already booked out, but will be streamed via Periscope and Facebook Live and live tweeted. More info here.