In a new series of articles, critic and broadcaster Cristín Leach selects 21 artworks for RTÉ Culture that define Modern Ireland.
Number Three: Psychosis by Dónal Geheran, pen and ink drawing
Dónal Geheran's pen and ink drawing, Psychosis, was included in rugby pundit Brent Pope's exhibition of outsider art, Beyond, which showed in Dublin and Cork towards the end of 2015. Pope's public face and the associated TV programme were a publicity boost, but what really sold this exhibition of forty works by eighteen artists was the quality of the work. Dublin's Copper House Gallery recorded unprecedented footfall and the exhibition sold out.
Outsider, or Brut Art (L'Art Brut), is broadly defined as art made by artists operating beyond the established or mainstream art world. Geheran explores repetition in his work and says he draws, "for the escape". Psychosis is an intense composition in which words and symbols repeat in letters so tiny they become pattern. There are x's and o's alongside the words "three", "seven" and "cloud" and Geheran's own name hidden in there.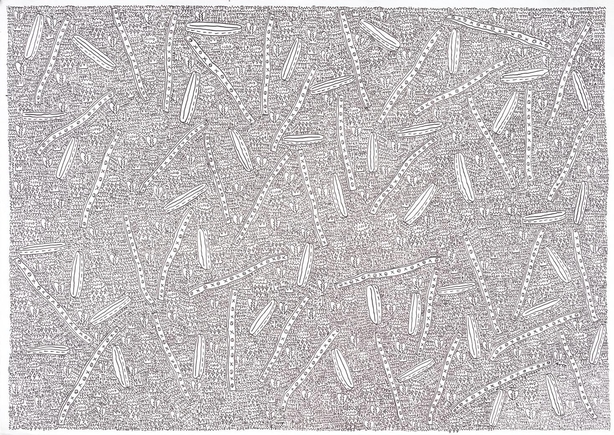 There are skulls, crowns, broken hearts and the phrase "OM". Several of the Beyond artists make work with medical themes. There's a tendency to dismiss some of it as art therapy because of the context in which it is made, but there are artists making strong work in this space outside the mainstream. Psychosis contains a personal and universal message about mental health, medication and, not only living with psychological challenges, but channelling them into art.
Geheran went on to have a piece included in the RHA annual exhibition in 2016.