RTÉ Player has launched a new on-demand Culture collection, featuring an eclectic mix of documentaries and performances from the worlds of Music, Arts, Film & TV and Literature.
Each week, the RTÉ Player team suggest a 'must-watch' from the Culture collection. This week the focus is on Brent Pope: Inside Out.
Best known for his rugby punditry on RTÉ, Brent Pope has a lesser known enthusiasm for 'Outsider Art', a passion he has brought with him to Ireland from his native New Zealand. 'Outsider Art' is created by people outside the influence of mainstream establishments such as art schools or galleries with no formal training. They are often people who have lived on the margins or have experienced disadvantage.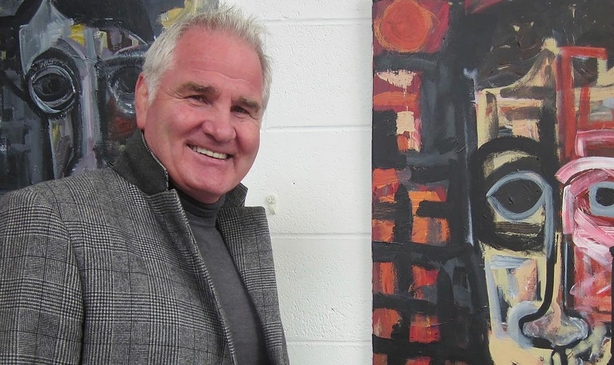 As he prepares to stage the largest Irish-only 'Outsider Art' group exhibition ever held in this country, Brent Pope: Inside Out takes him across Ireland as he meets the artists and hears their stories. From his passionate call out on radio to the nation for submissions, to enlisting the help of art historian Catherine Marshall to help finalise the selection, through meeting some of the artists, to launching the opening night with the support of leading contemporary artist, Dorothy Cross. In this intimate and engaging documentary, Brent's journey brings us into the world of the Outsider artist who share with him the challenges they face on a daily basis and the vital role their art plays in their lives.
We meet Ailbhe Barrett, a 41 year old with Down syndrome from Shanakiel, Cork, who has been artist-in-residence at Mayfield Arts since 2009 and who has recently started teaching art in primary school. Alan Doyle, a 31-year-old painter from Bray, Co Wicklow who suffers with anxiety and panic attacks and who says his art is the one thing that "centres" him. Alan Tarpey, a 34-year-old from Knockcroghery, Co Roscommon, who loves to get on his bike and cycle long distances, taking photographs of buildings and townscapes for inspiration. Eoghan O Drisceoil who has come through periods of poor mental health, alcohol problems and homelessness to settle and paint full time in Kilkenny. And Lisa Butterly, who was diagnosed with schizophrenia when she was 16 and spent the following eight years in and out of psychiatric care but whose recovery has centred on a return to education – right up to PhD level – and her pursuit of art.
"I want the world to see what I see. That Irish 'Outsider Artists' are amongst the most creative and inspirational in the world," said Brent, "I want and hope that those watching the documentary and visiting the Exhibition will feel the emotional connection that I felt so many years ago and will look into the souls and journeys of these truly gifted artists. To me, they represent what art should be, not about our acceptance, validation or about personal financial reward but about the immense pride and daily pleasure they derive from splashes of brilliant colour or, minuscule detail painstakingly rendered. These art innovators are truly uncooked by culture".
Watch Brent Pope: Inside Out now on RTÉ Player.