Avril Hoare reviews the new novel from the Pullitzer Prize-winning author of Olive Kitteridge and My Name Is Lucy Barton.
One thing I remember from Leaving Cert Economics, is The Law of Diminishing Returns. In very simple terms (I scraped a 'C'), the second slice of cake never tastes quite as good as the first slice.
I thought about this when I picked up Elizabeth Strout's new book, Anything is Possible, a follow up to My Name is Lucy Barton. I loved that book, its pages filled with love, sadness, disappointment and hope. It was poignant and beautiful. It hovered around in my memory long after I finished it. Could Anything is Possible be as good?
Yes is my emphatic answer. It is less a novel than a series of connected stories set around Amgash, Illinois. Characters dip in and out, their stories revealed through different perspectives like a rich and satisfying jigsaw. These people are linked by their past, by poverty, loneliness, loss. Some stories are startling, others painfully ordinary. Lucy Barton crops up throughout, memories of her and her family are scattered across the book. She is remembered with pity by some for the struggles her family endured. By others, including her own sister Vicky, she is recalled with resentment and envy - she got out, she got away.. In one of the stories, she comes back. Her brother Pete is still in the family home and fearful of what she might think, he sets about cleaning it up, buying a new rug, seeing it how he imagines his successful sister, the one that got away, will see it.. dirty and rundown. He is anxious about her coming back. It turns out so is she. Then there's their sister Vicky. Angry and jealous at being left behind, when needed, she proves that the bonds of family run deep. Memories are shared but personal, perspectives are different. But still, there are the ties that bind.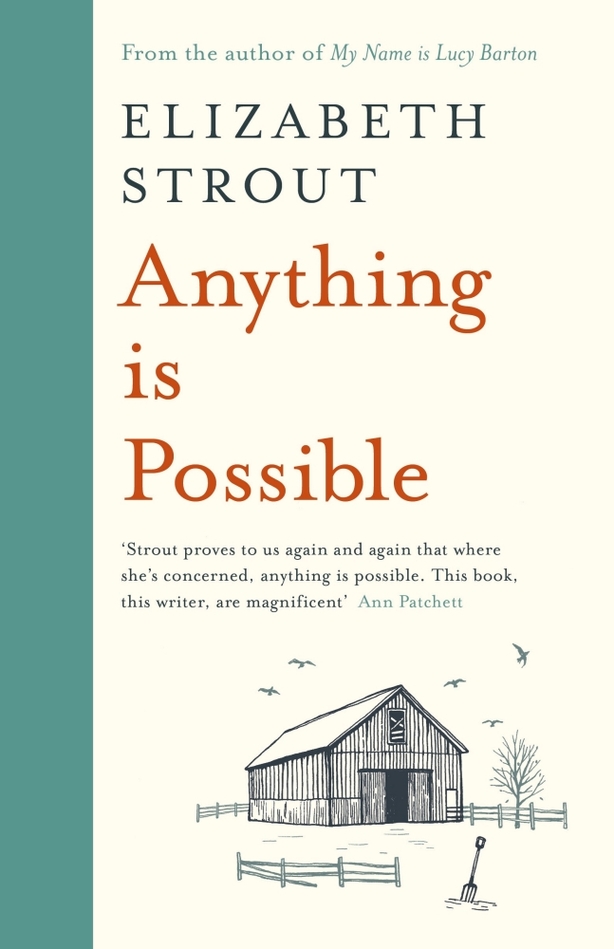 Compassion features a lot in Anything is Possible. Not icky or homespun, but the kind that comes from common experience.. loneliness, disappointment, resentment, resignation. Characters recognise it in each other, because they feel it themselves. Elizabeth Strout's language never misses its target. It can be devastatingly simple, sharp and spare, in other places, rich and vivid. Her writing is intimate and nuanced.
The character that stood out most for me was Charlie Macauley, a Vietnam vet suffering with PTSD, in pain, trapped. "...because he was Charlie, and not someone else, he could not say to his son: You are decent and strong and none of this has anything to do with me; but you came through it, that childhood that wasn't all roses, and I'm proud of you, I'm amazed by you. Charlie could not even say a watered down version of whatever that feeling would be. He could not even clap his son on the shoulder in greeting, or when saying goodbye." This is a man who is desperate to feel something, anything, even pain. And he is afraid that he won't even feel that "..He waited and he hoped, he practically prayed. O sweet Jesus, let it come. Dear God, please, could you? Could you please let it come?". His pain jumped off the page and grabbed me by the throat, It winded me. Praying for pain just to feel something at all.. Astonishing writing. 
Another character, Mary, imagines telling her daughter about her loneliness "..Mary looked at the high ceiling and thought that what her daughter could not understand was what it had been like to be so famished. Almost 50 years of being parched." Imagine the ache of that? The choice of the word 'parched'is so evocative.
What Elizabeth Strout does with such humanity, is show how messy and complex life can be. There is shame, compromise, dark secrets. But there are moments of tenderness and imperfect love too, when the light punctures through in shards, here, and there.
 Anything Is Possible by Elizabeth Strout is published by Penguin. The author will be appearing at the International Literary Festival Dublin on Monday, May 29th - details here.