Paul Markey is a man with a mission - travel to NYC and seek an audience with one of his celluloid idols, Woody Allen. And if it's Monday night in Manhattan, then's there's only one place to be - the Cafe Carlyle.
Never meet your idols, they say. I mostly agree.
I was born of the so-called 'Generation X' so selfies are not a natural act. Selfies with celebs, more so. I'm also ambivalent about the whole area of 'meet n greet', where you actually cough up a few quid for a handshake and portrait with your hero of choice, usually at conventions and concerts.
I would never deny the living that many artists make from this. And judging by the numbers, it can be huge. It was with great joy I attended the reunion of Monty Python a few years ago in London. Post show, the queue snaked around the venue for the paid-for photo-ops. Those tickets were upwards of two grand sterling. The thoughts of being thrust artificially into the presence of five of my comedy heroes, flash-flash grin-grin, say-no-more, NEXT!... depressing. Yet still, part of me wishes I had the nerve, let alone the cash. 
I generally maintain a restraining-order philosophy when it comes to the presence of the famous folk I admire: Keep your distance, but get an eyeful. There are a handful of exceptions to this, but as my idols and I age, they are growing fewer. The best way, ideally, is to observe them in the wild. When it comes to actors and film directors, short of being privileged enough to see them do their thing on a film set, what is one to do?
With Woody Allen, there has always been a way.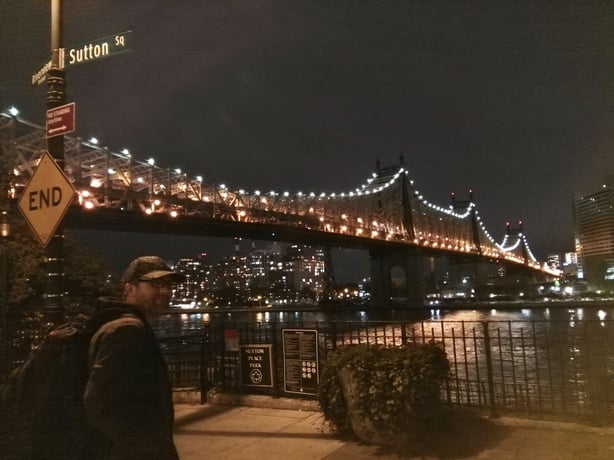 Every Monday night, for the past thirty years plus, Woody plays his clarinet in a bar with his mates. First at Michael's Pub, these days at Manhattan's chic Cafe Carlyle hotel. Like many film lovers of my generation, Woody has been in our personal pantheon of living Movie-Gods for as long as we can remember. His Monday night jazz sessions are part of that legend.
One day, I promised, we'd make the pilgrimage. Ten years ago, my good friend Derek and myself finally pulled this off when I came to visit him. Still jet-lagged, he dragged me across the Hudson into the Carlyle and sat me down on a stool at the bar. It was one of the sublimest moments of my life. And I don't have a single photograph. Times really were simpler back then.
We need your consent to load this YouTube contentWe use YouTube to manage extra content that can set cookies on your device and collect data about your activity. Please review their details and accept them to load the content.Manage Preferences
A decade later, it was my partner Fiona's turn. We bonded over Woody when we first met. Now, with him turning 81 and all those sudden passings in 2016 offering a heightened scene of mortality, I made the call - we've got to get ourselves to New York, and now. No sitting on a bar stool this time, either, We booked a table months in advance - though without realising the Monday we choose was the same night as NYC's most fabulous occasion, the annual Met Ball.
Suitably tarted up, we headed to the Carlyle early for our pre-gig dinner. Since Woody plays there every Monday night when he's not shooting a picture, we knew that the velvet-roped mill of press and public at the entrance couldn't be for him. So with our restraining-order prudence, we carefully observed things unfold from a distance, as Lea Seydoux climbed out of a black SUV and the paparazzi went wild.
I promptly offered to give my companion a fireman's lift across the threshold of the Carlyle - at the very least, I figured we definitely would get photographed by the assembled paps. But she demurred. Instead, resplendent in my TK Maxx sports jacket ensemble, I was led by the hand to jazz heaven. You couldn't choose your table, but I swiftly realised that we'd scored big. A decade previously, the bar man tipped Derek and I off to where Woody sits in preparation for his set. Famous for his habits, nothing had changed: it was the table right next to us. Or behind me, but in front of Fiona. We grinned and chit-chatted over our martinis. Here we were, finally.
And suddenly there he was.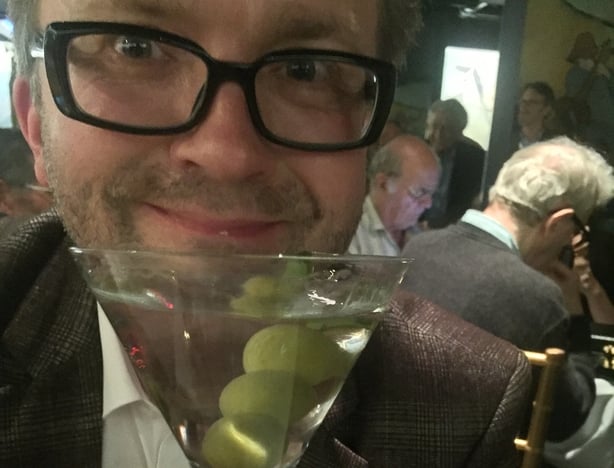 I didn't have to turn around to know when he'd arrived. All I had to do was look at Fiona's expression. Woody, one of his daughters and a friend of hers all settled in at the table as he prepared his clarinet, taking off his glasses to focus on the reed. The girls soon disappeared out to the lobby to ogle the Met Gala guests, to be replaced by Eddy, Jerry and Conal of the Eddy Davis New Orleans Jazz Band, of which Woody is a member. One by one, the band wandered over to the handful of chairs set up in a line near the piano.
What followed was ninety minutes of old-school ragtime jazz from one the movies' last living legends. In that famous scene in Manhattan, Woody's character Isaac asks his tape recorder 'Why is life worth living? That's a very good question.' Indeed, it is. Isaac realizes that it's Mariel Hemmingway's face. That night, for me it was Fiona's. Watching her shine with joy is something I will forever remember. Also - the bill. But lets not bring the Credit Union into this. 
We need your consent to load this YouTube contentWe use YouTube to manage extra content that can set cookies on your device and collect data about your activity. Please review their details and accept them to load the content.Manage Preferences
When the band stopped playing and Woody made his way back to his table, he came right by me. Completely unpremeditated, I reached out, touched his arm, and said 'Thank You.' Not an original line, I grant you, but I meant it on so many levels. He was too busy politely declining a selfie with a middle-aged uber-fan who had loudly clapped his way through the set to acknowledge me. But that's aright. Because, never meet your idols, right?
Four vodka martinis to the wind, we half stumbled through the lobby - there's Rihanna surrounded by goons, and Alexander Skarsgard coming out of the men's room - we made it back out onto the sidewalk, filled with New York's finest late night looky loos. There are no stars in the New York sky, said Andy Warhol. They're all on the ground.
And for one night, at least in the movie of our lives, we shined with them.
A re-release of Woody Allen's Manhattan is currently screening at the Irish Film Institute, Dublin.