Colm Tóibín's new novel House of Names depicts the house of Agamemnon as it is torn apart by violence. Paddy Kehoe met the author to discuss his reinvention of the Greek myth.
At one point during the writing of House of Names, Colm Tóibín didn't know what to do with his Clytemnestra character. So he put her in the ground for three days, with a rock rolled over on top. "Just throwing water down on her regularly, " he muses. "I needed to do something with her and I thought, if they just put her in a hole. . ."
In another passage, Orestes goes on the run, once he has escaped his captivity at a kind of Spartan school where his incarceration had been ordered by Aegisthus. This school or prison, Tóibín reveals wryly is based on memories of dormitories in St Peter's College in Wexford town. St Peters was then a boarding school, an institution which this writer also attended in the 1970s.
These sequences are discussed with amusement but he is serious when he talks about how he moulded his characters. "The problem I had was how to make convincing the idea that somebody who was not a psychopath would murder his mother,'' the author says of his matricidal Orestes. "So almost from the beginning of the book, I'm building up images of Orestes so that you are with him, you are seeing his relationship to his father, his wanting (as a boy) to sword fight with his father.
---
In House of Names, Iphigenia is sacrificed by her father King Agamemnon to gain fair wind for his boats as they prepare to depart the legendary Greek city of Mycenae for Troy. On his return from battle nine years later, Iphigenia's mother Queen Clytemnestra takes her revenge on her husband. Clytemnestra and her lover Aegisthus plot in careful detail how they will overpower Agamemnon- it is Clytemnestra who kills him - and secure their joint rule of Mycenae. Aegisthus orders the banishment of Orestes, the son of Clytemnestra and Agamemnon.
Meanwhile, the vengeful Electra, sister to Orestes, remains in the palace, as silent witness to her mother and Aegisthus's power-mongering and blood-lust. She awaits the return of her brother who she will duly manipulate to slay their mother. The family story is universally known from the Greek sources, in the works of the dramatists, Aeschylus, Sophocles and Euripides. The author has added in extra dimensions to the story, chiefly the sections concerning Orestes on the run with his friend, the forceful Leander, which character is in fact a new construct.
---
"You see everything about him just building up slowly, so that act (of killing his mother) at the end of the book seems explicable rather than being the act of a psychopath or a hero. It has to make absolute sense what he did.'' The aftermath of the killing too must appear reasonable, Toibin declares. " He feels vaguely guilty but not especially so."
Because he has his sister Electra's implicit support? "Yea, but Electra doesn't fully support him, she doesn't go near him that easily, she leaves him on his own while she's immediately taking advantage of what he did, she's moving into the mother's room. She's not going to do anything for anyone, Electra, she's terrific, the amount of what she does in the book, I mean these are very powerful people."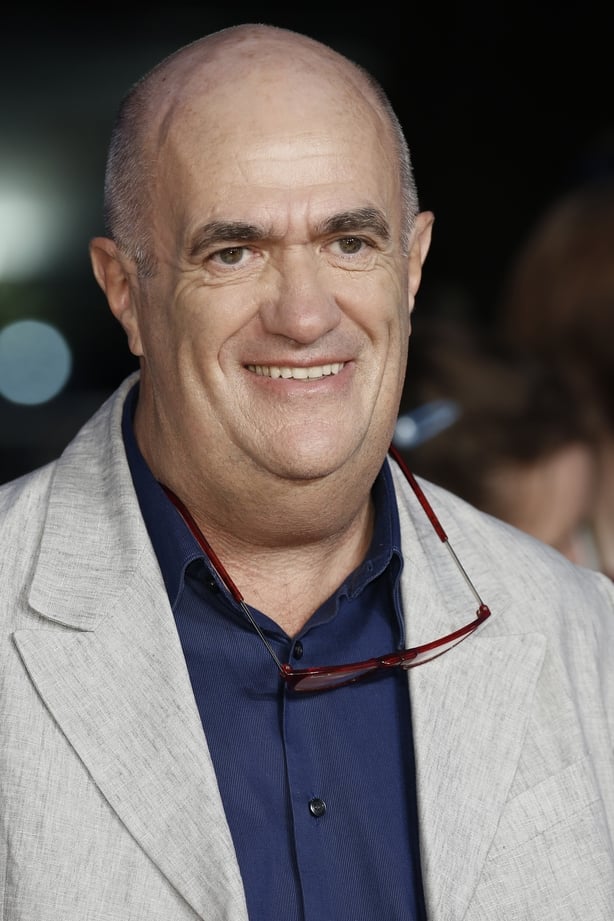 I once suggested that the author, much of whose fiction has a Spanish setting, should write a book of short stories set entirely in that country. One story perhaps set in Bilbao, another in Murcia, one in Madrid, one in Barcelona, say, other locations. To me, the idea still sounds rich with possibility. "You know with that sort of thing," he slowly reflects, " it takes me years to think it up, to come up with something. I have the beginning of a Spanish thing, but it's a few years ago and I haven't touched it since. "
In order to write such a piece of fiction, Tóibín must have a firm schema, the hard seed of an idea which might come after careful thinking or, if not, as a kind of vision or epiphany. (He once revealed he got the idea for a story in the length it took him to process through a roundabout in his car.) Not for him so much, in other words, incidents or events that are random or serendipitous. The idea that wherever he happens to be, or whatever chance thing he might encounter, today or yesterday, might determine what he might write is not how it works. It seems more likely to be something from his childhood or from years ago that returns in a flood of memory.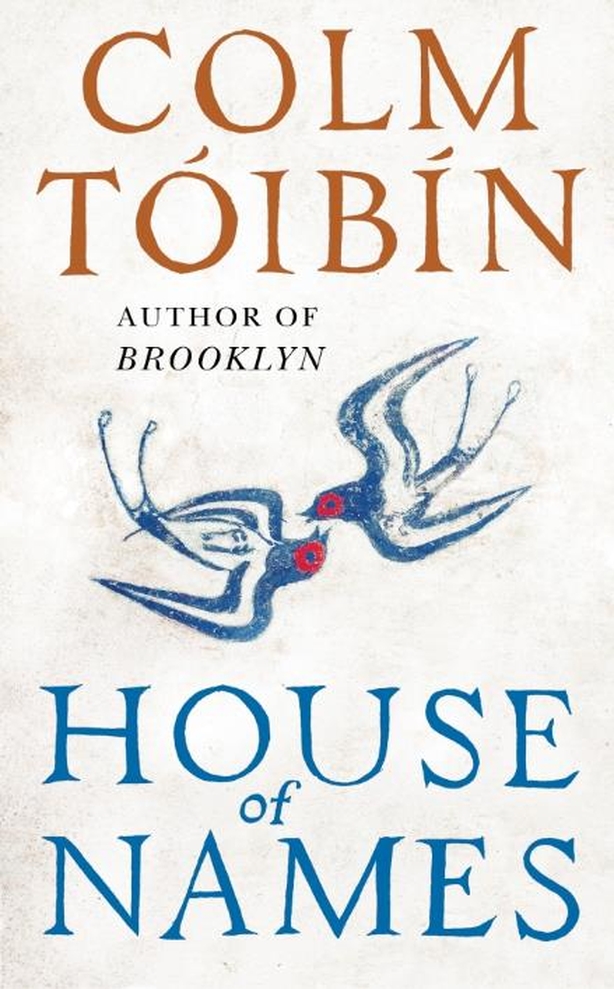 Trying to establish how his modus operandi might be different from a new confessional tack that has crept into fiction - the Norwegian Knausgaard being perhaps the best exemplar - I mention two novels from a proposed trilogy which have appeared in recent years from the Canadian-British novelist Rachel Cusk. These two novels are fiction-as-reportage, stuff that has the feel of real workaday experience, featuring in each case a middle-aged woman similar to the author in age and disposition. Outline appeared in 2014 and Transit in 2016.
Outline follows an unnamed woman on a flight from London to Athens where the woman will teach a creative writing course. Once set down in the teeming city, she begins to reflect on the absurdities and quirks of human existence as refracted through the stories of the students she meets in Athens, stories which appear to run one into the other. It is useful to bring up the name of Rachel Cusk in an attempt to illustrate what Tóibín, as writer, is not.
"Rachel Cusk writes about herself, doesn't she?" he begins, deadpan." `Writer goes to Greece on her holidays, writes about all the things she thinks about' - he pauses - "that must be lovely..." There you have the author at what might be called his withering heights. No gloss needed on the acerbic put-down, this is literature not actually worth talking about. So, as the Cusk apparition vanishes into the afternoon bar crowd noise at the Conrad Hotel, I put it to him that he is not a confessional writer. He concurs, although in truth I am not sure he is right to say he isn't, given how much his own family story informs Nora Webster.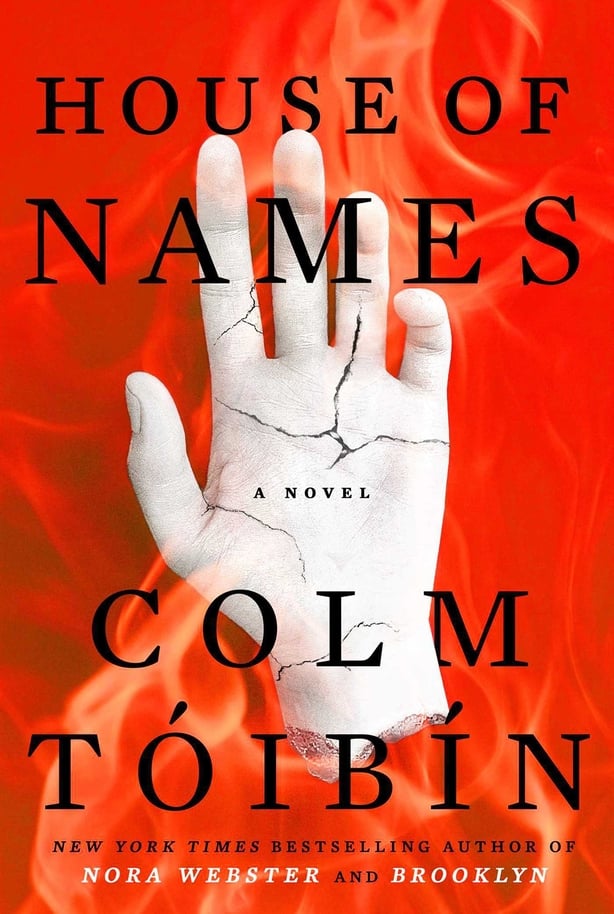 House of Names is told in five sections, each of which deal with the individual stories of the wife and two children of Agamemnon. Clytemnestra's calculated blood-lust begins the book and the final section is also devoted to her. Tóibín began the first section in New York, where he teaches part of the year, and finished it in Spain. "The ghost (of Clytemnestra) and the Electra sections probably in Wexford and I wrote the two Orestes sections in Los Angeles." I find it hard to see how a writer could steadily conjure his ancient mythical kingdom of Mycenae in such disparate locations. "It doesn't matter, " he says, he can get his characters into his head-space no matter where he is.
The novelist recently revealed that he had not written anything fictional since he estimates, November of last year. He has no problem with that, however, and doesn't look worried either over the possibility of writer's block. Whatever the case, the novel which he had been working on - the novel that "needs work," as he says - is set in contemporary Germany and New York. In the story so far, Ireland hovers into view only when a German character visits Inis Meáin. Cautiously, we can perhaps expect this to be the matter of the next novel.
The writer doesn't believe, however, that his native Enniscorthy is finished as a source of inspiration. We can therefore expect further stories from the place that continues to haunt him.
House of Names is published by Penguin in hardback, trade paperback and eBook