The great American director, Martin Scorsese, arrived in Ireland last month cresting on news that will be noted as hugely significant when the history of modern cinema is written.
Scorsese's next picture, a long-awaited reunion with friend and close collaborator, Robert De Niro (and also set to star Al Pacino), is being financed and released, not by a Hollywood studio, but by the godfathers of streaming themselves: Netflix. This $150 million gangster epic, The Irishman, based on the life story of self-confessed mob-hitman Frank Sheeran, will simply pop-up on your Netflix menu one Friday night after work.
There may be a limited theatrical release to qualify for awards season, and he certainly isn't the first filmmaker to follow this route, but... this is Marty Scorsese, not Adam Sandler. This means that, some weekend in late 2018, cinema, as I know it, will cross the Rubicon and the 'big screen' will truly be done.  
We need your consent to load this rte-player contentWe use rte-player to manage extra content that can set cookies on your device and collect data about your activity. Please review their details and accept them to load the content.Manage Preferences
In the beginning, a movie's tree of life was fairly truncated. It was released to theatres for a time, to burn brightly in critical or audience adoration, or swiftly disappear into obscurity. It didn't really matter if the movie was a hit or not - once its run had ended, the movie prints themselves were often abandoned or incinerated. As shocking as it sounds in our digital age, the prints were considered spent and of no further commercial value. It didn't help that the nitrate film stock turned out to be highly flammable. In fact, one of my dad's regular tasks as a member of the Dublin Fire Brigade in the early 1960s, was to run around the cinemas collecting the 'used' film prints for safe disposal. All that ephemeral drama, romance and comedy would burn brightly one last time, in a bonfire at the rear of Tara Street fire station. The nitrate glow must've been visible from Phibsborough.  
As a result of such short-sighted practice, it's estimated that roughly seventy-five percent of silent cinema has been lost forever. The decades of neglect would have continued unabated if it wasn't for the blossoming of post-war American consumerism. The struggling movie studios realised they could preserve their products, post release, and sell them in packages to their erstwhile enemy: television, a medium in dire need of something, anything, to show in between commercials. So even in those early days, the future of film, fifty years hence, was sealed.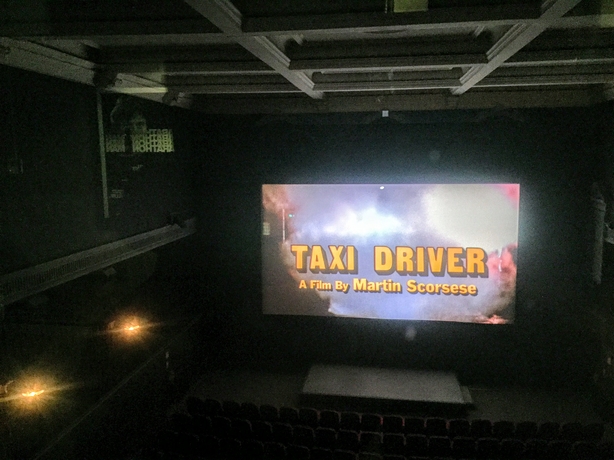 But first there was video. Initially, commercially-released Super8 and 16mm cinema for home consumption was a big industry in itself. But it took the VHS tape, and to some extent newly emerging cable TV, to achieve total worldwide household penetration. Cinema's longevity was now in its golden age of major theatrical release, followed by premium cable television, followed by network TV premiere, then video rental, leading to the biggest cash cow of them all: your home video collection. Twice over, if you included all the DVDs you bought to replace those grainy tapes. We were thrice shy with Bluray, though, a medium that never truly connected with the mainstream consumer. By then streaming was on the scene, along with a whole new generation of film-goers whose 'big-screen' was even smaller than a 1950s television set.
Will this really mark the end of my cinema experience? I have a home theatre set-up, plasma TV, seven speakers and a sub-woofer, and I'd still rather have my head in a vice than watch Mr. Scorsese's next film for the first time on my couch, on the bus, or stuck in traffic on the M50. Not a chance. It's the cinema for me, surrounded by as many people as possible, for as long as it lasts.
The Irishman is scheduled to be released (to Netflix, with a simultaneous limited cinema release) sometime in 2018.