Via TradConnect: Winsome Ways is the debut album from Dublin songwriter Maurice McGrath.
Veteran folk broadcaster Mike Harding describes Maurice as a "rare gem," and says that the album "delivers beautifully crafted songs made from wit and wisdom and a huge dose of soul."
Based in Dublin, Maurice plays guitar, banjo, mandolin and low whistle, and his influences include Christy Moore, Andy Irvine, Martin Carthy and Niamh Parsons. He is also influenced by the singers at traditional singing sessions in Dublin and around the country.
A number of his songs have already been recorded by other artists including a song with a Christmas theme called All The Valley Down, which was recorded by Joanie Madden and Cherish the Ladies. In 2015, his song The Road To La Coruna was included on Niamh Parsons and Graham Dunne's album Kind Providence.
We need your consent to load this SoundCloud contentWe use SoundCloud to manage extra content that can set cookies on your device and collect data about your activity. Please review their details and accept them to load the content.Manage Preferences
Willy Clancy and the Pipes tells the story of a man from Miltown Malbay, County Clare who, along with many thousands of Irishmen in the nineteen-fifties, emigrated to London to seek work as a labourer.  
Maurice says: "Life was rough for these men, with early starts, heavy work and harsh weather. Some of them married and had families, but some of them grew old on their own, still renting bedsits in places such as Kilburn High Road. I could see them still there in the early nineties when I was in London. Drinking was an escape from the harsh realities of labouring long hours on the new motorways. Irish music, then as now, reminded people of home. The wild sound of the pipes must have seemed exotic in 1950's London. Willy Clancy was a renowned Uilleann Piper from Clare who himself took the boat to London. He played in pubs such as The Crown in Cricklewood."
Influenced by songwriters such as Ewan MacColl and Eric Bogle, Maurice's songs have a timeless quality. They draw on an interest in past generations, and are set in historical contexts. Shackleton tells the story of polar explorer Ernest Shackleton and how he and a small crew of six navigated through stormy seas for 800 miles to find South Georgia and save the crew of his stricken ship the Endurance. At the helm, Shackleton's Irish crew member Tom Crean was said to have sung songs to pass the time.
Ballad Of Luke Ryan tells the true story of an extremely successful pirate from Rush Co Dublin who terrorised the high seas in the late 1700's. His success was noted and his ship was chosen by Benjamin Franklin to operate as a privateer in the American War of Independance.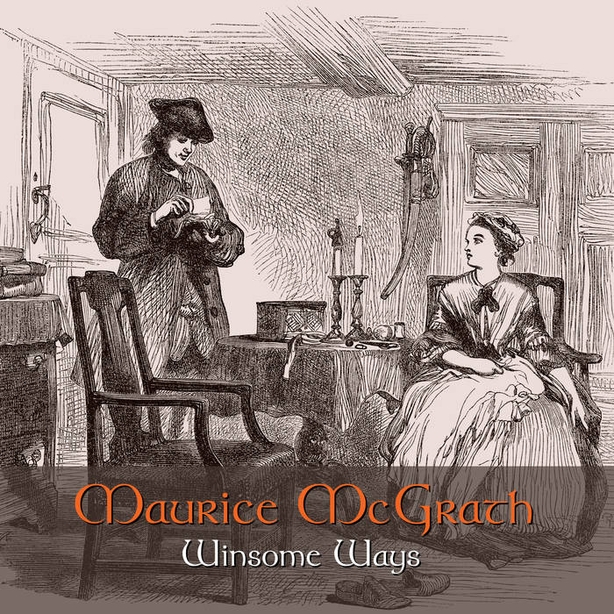 Other songs are set in Dublin, including Strawberry Beds which is a picturesque spot near Chapelizod village on the outskirts of the city. It was a popular excursion area for Dubliners in the early nineteen-hundreds. Jaunting cars and charabancs carried young couples and families out there and were met by strawberry vendors and musicians. Strawberries were sold on lettuce leaves from the cottages along the way. The melody and first few lines of this song came to Maurice one Sunday afternoon as he was driving through the Strawberry Beds.
The album is self-engineered and mixed. Maurice plays all the instruments including low whistle, guitar, mandolin, bass and organ. Michelle Burrowes adds backing vocals and the album was mastered by Darrell Walker. The album is also influenced by the singers at the various traditional  singing sessions such as Song Central and Bray Singing Circle.
Winsome Ways is now on release and can be purchased from Maurice's website. For all the latest trad news and tunes, visit www.TradConnect.com