Composer and RTÉ lyric fm broadcaster Ellen Cranitch has adapted James Joyce's short story The Dead into an opera, currently touring to venues nationwide. Here, she discusses the genesis of the project. 
It started  in Paris over un petit verre ... a conversation between myself and playwright Tom Swift about how James Joyce was coming out of copyright in 2014, and wouldn't it be nice to create a musical offering from one of his short stories?
Not exactly Lion King, but definitely not anything that would frighten the horses either. The Dead seemed just the job, a well known, well loved story, written when Joyce was only 24 ( dammit! ) and which many have spoken of as the finest short story ever written. No pressure, so.
First task was to get really familiar with the story. We spent a day reading it aloud, punctuated with much coffee and Jaffa Cakes, and figuring out who all these characters were, what made them tick or not tick, and how best to represent them musically. We also discovered how hilarious it is. Not something usually emphasised, but there is a lot of comedic potential, both in the characters, and the words they say. And we can't resist a cheap gag.
Over the course of a few months, we'd meet and I'd bash out a few ideas on the piano, Tom would supply me with beautifully presented script drafts, and I scribbled on Domino's Pizza fliers, and gradually a structure emerged. We decided to score it for four actor/singers, who would play a variety of parts, and a string quartet, all on stage for the duration of the piece. There are quite a few musical references in the work (as with much of Joyce's writings), so these were a kind of portal into the style of what we were after... It''s a little bit drawing room, a little bit grand opera, a fair bit of chilly 'snowesque' writing, and a generous  dollop of slapstick.
We need your consent to load this YouTube contentWe use YouTube to manage extra content that can set cookies on your device and collect data about your activity. Please review their details and accept them to load the content.Manage Preferences
So we are in 1914, the elderly Misses Morkan are holding their annual 'great affair' – a party for friends , including the Conroys, Gabriel and Gretta, around whom most of the action revolves. One of the most striking things about the story is how we can see the inner anxieties and insecurities of each of the characters, and how this causes them to behave the way they do. And this causes us to empathise greatly with them, and to regard them with affection and a degree of understanding. So loads of colour, cadence, and combination of intensity and levity.
We needed superbly skilled actors to convey all these layers, and also to be able to sing, and lepp about a fair bit. Clare Barrett, Ruth McGill, Kate Gilmore and Rory Musgrave are more than capable, and bring  warmth, energy, humour, and huge creativity to the work. The ladies of the string quartet, Katie O'Connor, Aoife Durnin, Karen Dervan, and Delia Lynch are the picture of elegance, virtuosity and versatility - their eclectic workload in recent past taking them around the world with the likes of Glen Hansard, The RTE Concert Orchestra, Ennio Morricone,  DeclanO'Rourke , and The Messiah. NB: Not the ACTUAL Messiah...
And now the tour is up and running, we all are having a blast, and the show has been enthusiastically received all over. The Deadheads are on the bus, and at a Q&A last night in Glór, we were paid a delightful compliment by a lady in the audience who suggested that James Joyce would approve.
We're grand, so.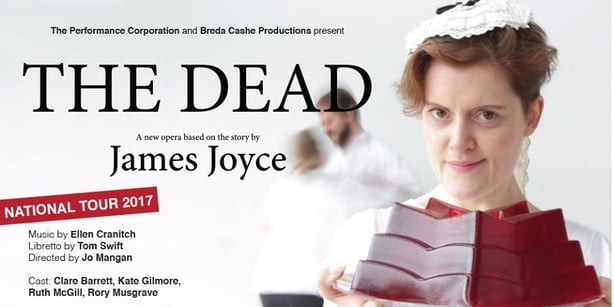 The Performance Corporation production of The Dead is playing at venues nationwide through March 4th - find out more here.