Dublin Oldschool started playing to crowds of just fifty people upstairs in Bewley's Cafe Theatre as part of the Tiger Dublin Fringe Festival back in 2014. There is a lot to be said for humble beginnings.
We need your consent to load this YouTube contentWe use YouTube to manage extra content that can set cookies on your device and collect data about your activity. Please review their details and accept them to load the content.Manage Preferences
That is over two years ago now and the momentum behind the show continues to build via word-of-mouth and a string of four and five-star reviews: Cork, Body & Soul, The Project, Electric Picnic, the Edinburgh Fringe and Bray - it has won fans everywhere it goes.
#DublinOldschool opens tonight at @NationalTheatre London. It's been a wild ride getting here! #DoubleDrop #Sausagefest pic.twitter.com/y6UyRsWS3s

— Philly McMahon (@McMahonPhilly) January 24, 2017
All this week, on the second leg of its 2017 tour, Emmet Kirwan's gritty gem of a play has sold-out a 450-seater space in the National Theatre, London. And while the reviews can't resist making that trite comparison to Joyce - which happens in England (and often in the Irish media too) whenever a new Irish writing talent demonstrates an impressive linguistic facility - the critics are glowing in their praise of director Philly McMahon's production:
"Everything is described in language of raucous vigour, a torrent of words that perfectly conjure each place and every emotion in the argot of the streets it is describing, turning Jason's odyssey into a kind of drug-ravaged Ulysses or an Irish Trainspotting," said the four-star review from WhatsOnStage.com
The UK Independent gave it four stars too, and yes, they did make a Joyce joke:
"The odyssey over very precise locations in Dublin; the mock-heroic pitch ("Epic. In small ways") and the purposefully limited time-span naturally – and outrageously – put one in mind of Ulysses. The lost weekend trope is reminiscent of fellow Irish dramatists, Conor McPherson and Mark O'Rowe. I think that all three of these authors (Joyce had the gifts to be a killer rapper, if not quite the temperament) would get a kick out of Dublin Oldschool which is Kirwan's first play."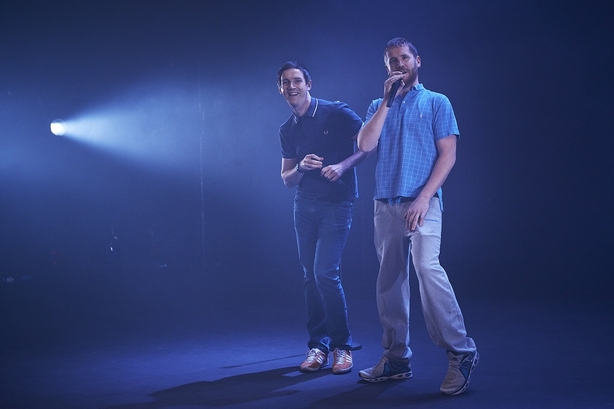 In a story of brothers reunited, the verbal acrobatics of this two-hander (played by Ian Lloyd Anderson and Kirwan himself) summons a haze of hedonistic scenes which flow seamlessly into one another as the writing confronts issues of homelessness, addiction and isolation in a way that's resonating with audiences.
Both funny and poignant, a spoken-word and rap feast, as a debut it proves that Kirwan's pulse as a writer is keenly attuned to the disaffected beats of the Dublin streets and those that walk them.
#DublinOldschool is now #SoldOut
Call 01 4627477 to go join our waiting list pic.twitter.com/s7qxgNZotM

— Civic Theatre (@civictheatre) January 26, 2017
The tour returns to Ireland for a series of February shows at the Project Arts Centre (3-4th Feb & 13-18th Feb), The Civic Theatre Tallaght (6-8th Feb) and The Mac in Belfast (10-11th Feb). All those tickets are nearly snapped up too. If there's any left at this stage, RTÉ Culture advises you to buy a ticket and take the ride.
Below: Emmet Kirwan performs his monologue Heartbreak:
We need your consent to load this YouTube contentWe use YouTube to manage extra content that can set cookies on your device and collect data about your activity. Please review their details and accept them to load the content.Manage Preferences