Director Conor Morrissey explores the inspiration (and often all-too-brutal reality) behind RTÉ2's acclaimed docu-series Generation F'd.
Watch all three episodes of Generation F'd here.
Ireland's millennials – those in the 25-35 age bracket – are a generation that have already experienced the best and worst of times. They grew up in a country powered by an extraordinary economic boom where expectations of what life could offer soared but by the time adulthood came beckoning they had to deal with the fallout from the worst financial crisis this country has experienced.
Generation F'd is a portrait of this generation. Filmed over six months, it follows a diverse range of characters as they set out on their adult lives. As a starting point we looked at the societal milestones that have traditionally signalled the beginning of adulthood – buying a house, getting married and starting a family – and then we explored how accessible these milestones are for this generation.
Housing is the fundamental building block of society and it was in exploring this area that we quickly realised that this generation is in deep trouble. The idea of owning a home has become a pipedream for all but the lucky few, leaving the vast majority with no choice but to rent for the foreseeable future. With rents in Ireland at an all time high this means many are forced to stay living in the family home. In such a climate is not surprising that homelessness rates have soared.
Colin and Ciara – who we meet in episode one – are a couple who found themselves homeless after losing their foothold in the private rented market. For six months they had to sleep rough in the abandoned psychiatric hospital St Ita's in Donabate. It is an experience that has scarred them for life but, like so many participants in the show, they have not allowed adversity to stop them from striving towards a better future.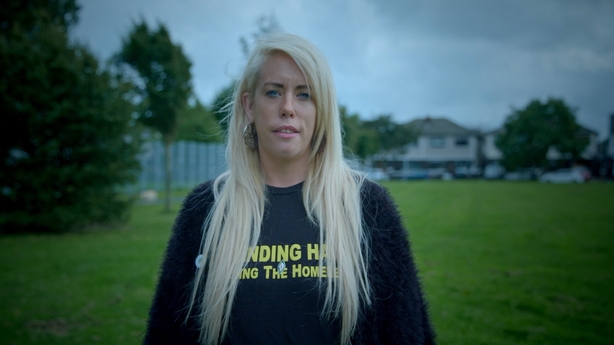 As we developed the show and engaged in discussions with this generation it became clear that many now face a job market where the securities and safeguards that their parents took for granted no longer apply. Over the course of the three episodes we meet PHD students, teachers and retail workers whose working lives are all marked by the complete absence of security.
Existing on a series of zero-hour contracts is now a fact of life for many of this generation. What were regarded in the past as short-term and transitory – internships, job schemes - are now becoming the accepted norms for those starting their working lives. Many are finding that working life does not necessarily bring the hard won freedom and security they feel they are owed.
Generation F'd is, by necessity, an angry programme but it is not a negative one and, in shaping the series, we wanted the final episode to be a more hopeful one, one where we explored how this generation is actively trying to re-imagine a better future for itself. It is a generation whose circumstances have forced it to re-engage politically and agitate for change in the country. I want to thank all the participants for allow us into their lives and for their courage in sharing their personal stories.
While the journey was sobering, I was left with the feeling that big changes are afoot in this country and that this generation, out of necessity, will be agents of change.
It is a fascinating moment for the country. Something is definitely in the air.
Listen: The stars of Generation F'd talk to Sean O'Rourke: