Another year, another January and JMW Turner's watercolours are back like an old friend at the National Gallery of Ireland.
The 1900 Vaughan bequest of 31 paintings and preparatory sketches came with a stipulation that they would be shown, free of charge, only during this month when the light is at its weakest.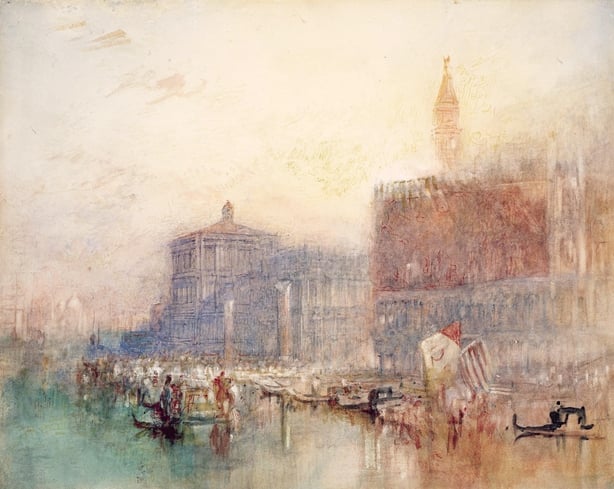 Turner's last words are said to have been, "The sun is God". It was certainly one mantra by which he made his art. A fellow artist reported, with a mixture of shame and admiration, how he spotted the Englishman still sketching in a gondola in Venice as the sun set, while he himself was relaxing at the day's end with a cigar in another boat nearby. Turner was, by all accounts, indefatigable in his pursuit of the light, and a good composition. One traveller who shared his carriage in Italy in 1829 described how the artist was "continually popping his head out of the window to sketch whatever strikes his fancy, and became quite angry because the conductor would not wait for him whilst he took a sunrise view of Macerata. "Damn the fellow!" says he, "he has no feeling." Sunlight, and feeling, are the two driving forces in Turner's work.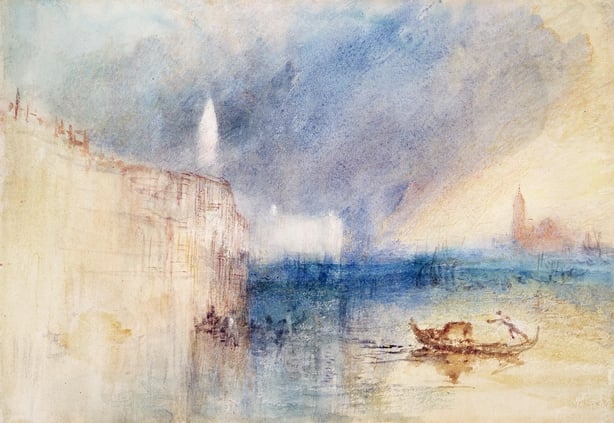 The first time he visited Venice, in 1819, Turner made colour notes in his sketchbook: "Blue – Masses of Light – White – Sky Purple – water green – and dark blue." At the National Gallery, all of this can be seen in works such as The Doge's Palace and Piazzetta, Venice (c1840), and the watercolour sketches he made as a form of visual note-taking for more detailed paintings to be produced later: Storm at the Mouth of the Grand Canal Venice (c1840) and San Pietro di Castello at Sunrise (c1840).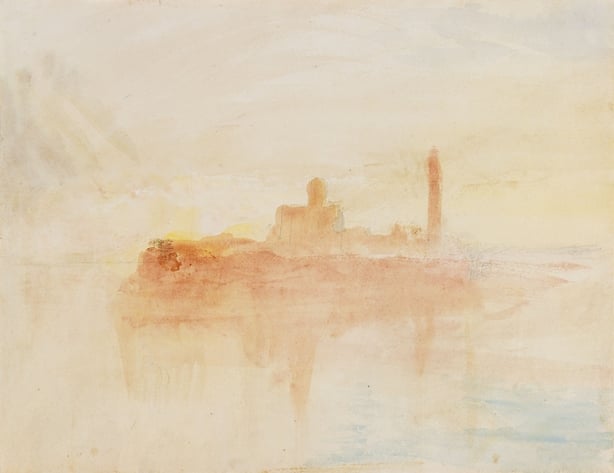 Turner was a mix of traveller-adventurer and artist, a pioneer of techniques his contemporaries didn't always understand or admire, and also something of a showman. He claimed to have stuck his head out a train window for more than nine minutes during a rain storm, to observe the effect of speed and wind. Aged 67, he had himself tied to the mast of a steamboat for four hours in a blizzard, to experience the elements directly and produce one of his most famous paintings, Snow Storm - Steam-Boat off a Harbour's Mouth. On his first trip to Venice, in 1819, he was reported to have walked waist deep in snow to escape from a carriage trapped during an Alpine crossing.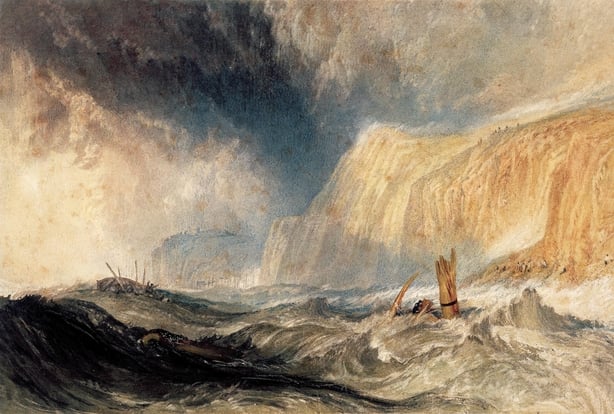 Experimental and spontaneous in his approach, Turner painted the atmospheric feeling as much as, occasionally more than, the scenery of every place he visited. He found drama in mountains and cliff-faces, in weather formations and stormy seas, in sunrises and sunsets, capturing not just what it looked like, but what it felt like, to be there.
JMW Turner's watercolours can be seen at the National Gallery of Ireland from 1-31 January 2018. This year, Turner's work is accompanied by a series of etchings and drawings by Irish printmaker Niall Naessens, constituting a meditation on landscape.