Mayo novelist Mike McCormack has won the £10,000 Goldsmiths Prize for Fiction for his third novel Solar Bones, triumphing over a shortlist which also included Irish writer Eimear McBride and Irish-Canadian writer Anakana Schofield.
He is the third Irish writer to win the award following Kevin Barry's victory last year for Beatlebone and McBride in 2013 for A Girl is a Half-formed Thing.
McCormack received rave notices for his winning novel, which takes place on All Souls' Day in Louisburgh, Co Mayo and is told largely through the recollections of Marcus Conway, a middle-aged civil servant.
"I feel terrific, I'm absolutely thrilled to win the Goldsmiths Prize." Here's Mike McCormack just after winning the #GoldsmithsPrize2016. pic.twitter.com/3g5SjkgTnR

— Goldsmiths (@GoldsmithsUoL) November 9, 2016
Solar Bones, which was written in a single novel-length sentence, was published last May by independent Irish imprint Tramp Press and this year is the first time a title from an Irish publisher has been short-listed for the Goldsmiths Prize.
McCormack thanked Tramp Press for backing him during his "long and difficult adventure" as a writer. "I didn't think I was going to win," he said at the prize-giving ceremony in London on Wednesday evening.
" It would have been too much of a fairy tale on top of a fairy tale of getting the book published and it being critically well-received. That was it: I didn't think it was going to go any further but it has."
McCormack also called on more publishers to take risks with experimental authors, saying: "It's about time the prize-giving community honoured experimental works and time that mainstream publishers started honouring their readership by saying: 'Here are experimental books'.
"Readers are smart. They're up for it. That was what the people at Tramp Press taught me - they're up for it. There are readers out there and they have been proved right."
#MayoAbú pic.twitter.com/hangqnJtRN

— Tramp Press (@TrampPress) November 9, 2016
Goldsmiths Prize Chair of Judges Professor Blake Morrison said of Solar Bones: "Set over a few hours in a single day, and told in the first-person voice of a middle-aged engineer, Mike McCormack's Solar Bones transcends these seeming limits magnificently.
"Politics, family, art, marriage, health, civic duty and the environment are just a few of the themes it touches on, in a prose that's lyrical yet firmly rooted. Its subject may be an ordinary working life but it is itself an extraordinary work."
The winner of the #GoldsmithPrize2016 is Solar Bones by Mike McCormack! pic.twitter.com/cbfQFU1smW

— Goldsmiths (@GoldsmithsUoL) November 9, 2016
The novel is McCormack's third, following Crowe's Requiem and Notes from a Coma, which was shortlisted for the Irish Book of the Year Award in 2006. He has also published two collections of short stories, Getting It In the Head, winner of the Rooney Prize in 1996, and Forensic Songs.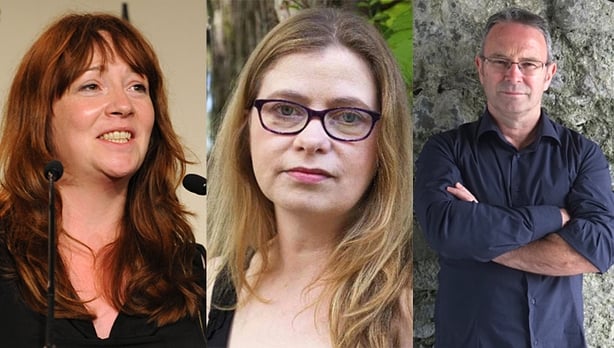 Eimear McBride (left) and Anakana Schofield were also nominated alongside McCormack for this year's Goldsmith Prize
McBride was in the running again this year for The Lesser Bohemians along with Schofield for her third book, Martin John.
Transit by Rachel Cusk, Like a Mule Bringing Ice Cream to the Sun by Sarah Ladipo Manyika and Hot Milk by Deborah Levy were also on this year's shortlist.
Earlier this year, the much-acclaimed Solar Bones failed to be long-listed for the Man Booker prize because, as an independent Irish publisher, Tramp Press was not eligible.
Alan Corr @corralan