70 years to the day after the first electricity pole in Ireland was erected, this week's Documentary On One tells the story of rural electrification in Ireland: tales of fear and hope, love and loss as the nation became illuminated.
Then There Was Light flicks the switch on these first hand accounts and the making of modern Ireland; stories from a time when a quiet revolution banished the darkness from the land and replaced it with brightness and hope. Here, documentary maker Joe Kearney tells the story behind a real labour of love.
You can listen to Documentary On One: Let There Be Light in full here.
I am a child of Rural Electrification.
I was 6 or 7 when the candles were snuffed, the paraffin lamp quenched and the electric switch thrown for the first time in our house in very rural Kilkenny. My grandfather, whose house I grew up in, was adamant that no wires would ever connect him to a central generating station. His fear was that some, to quote himself, madman would drop a bomb  on Shannon and 'we would all be blown up in our own beds'. The man had to die before my Grandmother could sign up and allow the two obligatory bulbs and one socket be installed.
I can recall the transition vividly. We all seemed a little shy of one another in the new naked light.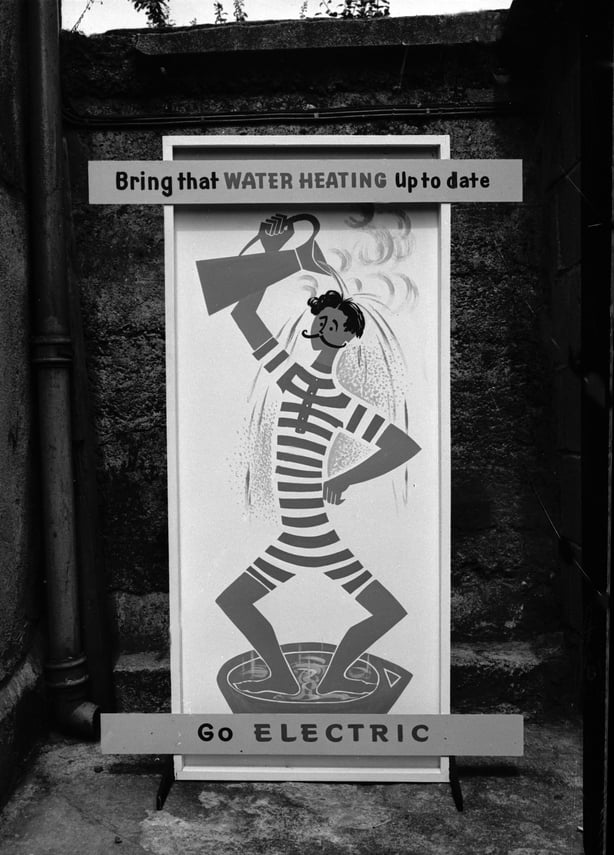 When I came to realise that this November marks the 70th anniversary of the first baby steps in the process that came to be known as the Rural Electrification Scheme, I wanted to mark the event in some way. I had written previously about the transition from darkness to light and was aware that there were many like myself who had living memory of the miraculous benefits that transformed an entire generation. Following consultation with the ESB we set about  collecting oral and written story and testimony from customers and ESB employees across the country and the islands. This volume of contribution was huge. It seemed that literally hundreds of people had stories to tell. Although there was often common themes in these tales, some extraordinary stories emerged. These would become the backbone of a radio documentary.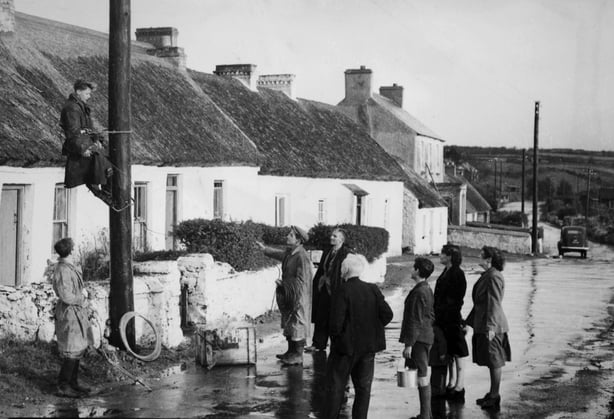 An electricity pole is erected at Rosses Point, Co. Sligo
Then There Was Light contains tales of mischief and Herculean feats of labour, side-by-side with stories of love and heartbreaking loss. Men travelled the country and seemed to defy gravity when they strung 75,000 miles of wire between one million poles. Their impact and the impact of this new energy would have a profound effect on rural society. Over a period of three decades Ireland slowly emerged blinking into a land of new enlightenment. I grew up in that time and wanted co capture a flavour of those giddy years. For many, like myself, this is a trip down memory lane, however, for an entire generation, who have never known a world where power does not flow from a socket or switch, this will be a revelation.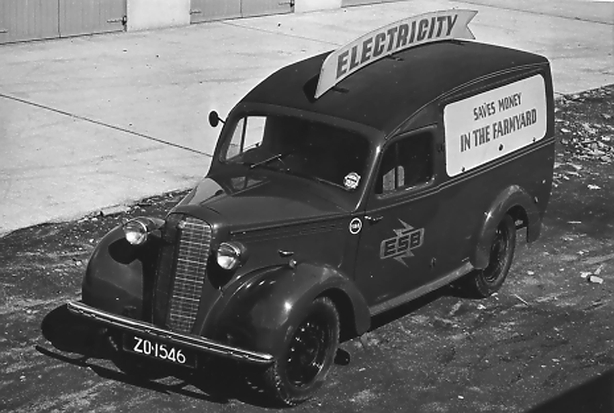 An ESB van, circa 1940s
Listening to testimony, I soon realised that rural women and farm wives were huge beneficiaries from electricity. They were the 'hewers of wood and the drawers of water'. They cooked, washed and ironed clothes and managed the farmyard in ways that had not changed for a hundred years. It was a life of back-bending drudgery. Economic efficiencies would lessen that burden and would help, to quote President Higgins, straighten women's backs.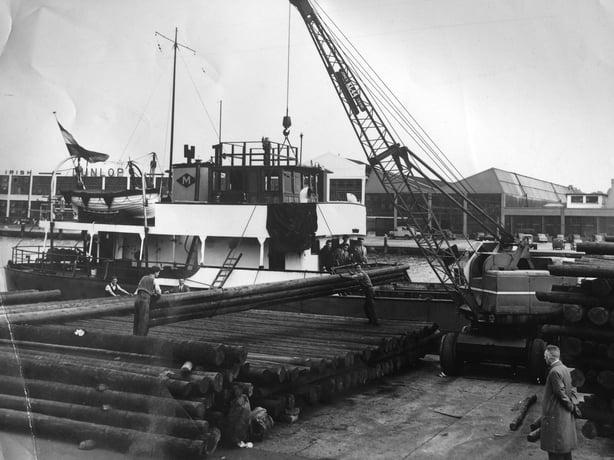 Electricity poles are shipped in for use in the Rural Electrification Scheme
For me, making this documentary was a labour of love. It allowed me to re-engage with my early memories through listening to all those rich first-hand accounts and revisiting those milestones that marked the implementation of the ESB's Rural Electrification Scheme, arguably the greatest social revolution ever experienced in this country.
Documentary On One: Then There Was Light - Saturday November 5th @2pm on RTÉ Radio 1, with a repeat on Sunday November 6th @7pm on RTÉ Radio 1. 
Joe Kearney and PJ Cunningham's accompanying book Then There Was Light is available in all bookshops and directly from Ballpoint Press.