Every week, we'll be asking a notable culture vulture to make some choice recommendations for your delectation. First up, writer and broadcaster Sinead Gleeson, who returns to the airwaves this Saturday with a new series of The Book Show on RTÉ Radio One.
Film
I've long admired Mark O'Halloran's work as an actor, but he's turned out to be many-tentacled when it comes to talent: from his writing contribution to the play Lippy and his screenwriting work on Garage. So I'm looking forward to seeing Viva, his film about Cuban drag queens, directed by Paddy Breathnach. Aoife Kelleher's One Hundred Dubliners was a poignant and informative look at Glasnevin cemetery, so I really want to see her documentary about Knock, Strange Occurrences in a Small Irish Village.
Music
This summer, I'd still been listening to Roisin Murphy's Hairless Toys from 2015, when she went and released another album last month. Murphy is so inventive and risk-taking as an artist, and with Take Her Up To Monto she's at her most uncompromising. And while we're talking talented Irish women making music, Lisa Hannigan's gorgeous voice has never sounded better on her just-released album At Swim.
Book
There's been some exceptional non-fiction writing published this year, (including Amy Liptrot's The Outrun, a tale of living on Orkney and later a descent into alcoholism in London) but I'm reading Lauren Elkin's just-published Flâneuse: Women Walk the City about the experience of wondering in cities like New York, Paris and London. It's a fascinating meditation on exploration, looking, architecture, and nomadic urban strolls.
Play
Northern Irish writer Lucy Caldwell is adapting one of my favourite Chekhov plays, Three Sisters – but with a twist. It's set in the 1990s, and transposed to Belfast, and I can't wait to see what Caldwell will do with this updating, having read her short stories and novels. It opens at Belfast's Lyric Theatre on October 15th.
Television
If I'm allowed to cheat and say Netflix, I recently binged on the excellent Stranger Things. Set in small-town America in the early 1980s, this spooky series owes a massive, fangeek debt to Steven Spielberg (The Goonies, ET) and Stephen King (Carrie, The Body – later filmed as Stand by Me - and Firestarter). It's part homage, almost litigiously so, but it's scary, fun and features an impressive cast of young actors. Eleven might be one of my new favourite TV characters – and you can never have too many telekinetic girls on screen.
Gig
Last year Colm Mac Con Iomaire, a talented fiddle player who plays with The Frames, released his long-awaited second album, The Finnish Line, and it's one of those rare records that I keep going back to. Beautiful tracks and evocative tones are all anchored around his magical way with a fiddle. He plays Clifden Arts Festival next month on September 15th.
Art
The best thing I've seen this year in a gallery is Aideen Barry's Brittlefield (pictured below) at the RHA. It's just finished, but it has really stayed with me. Through video installations (both on large screens, and in boxes that can only be watched by one person at a time), Barry explores ideas of domesticity, gender, working life and mundanity. She's an exceptional artist, whose work is both inquiring and humourous.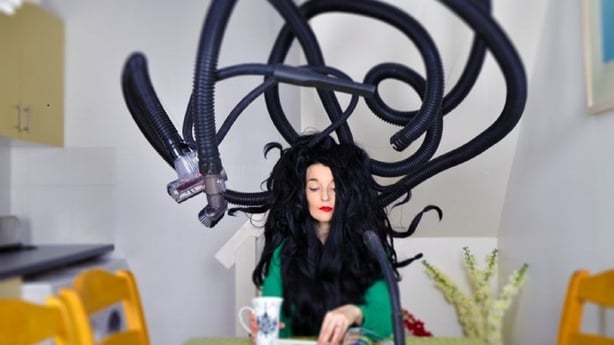 Radio/Podcast
I've become addicted to two particular podcasts: The Black Tapes, a supernatural mystery, which sounds real, but is a scripted drama, and You Must Remember This, about the bygone days of Hollywood, focusing on specific films, actors or news stories. Both are highly recommended (and there are over 80 episodes of the latter). Closer to home, there's Juvenalia, which features guests discussing a pop culture love from their youth, from Dirty Dancing to The Den.
Tech
One app I haven't gotten tired of and try out wherever I go in the world, is SkyView. You point it at the night sky and it pinpoints and names any star, galaxy – and depending on the time of year – planets. Even if it's cloudy, it still picks stuff nebula and constellations. Ideal for keeping small children amused on the dark, autumn evenings ahead.