As the temperature starts to drop and autumn sweeps in, there's nothing more delicious to look forward to than a warming curry for dinner.
On this episode of More than Meats the Eye, chef Holly White whips up one of her all-time favourite curry recipes, packed with chickpeas and sweet potatoes, for Wexford GAA star Lee Chin. Joining Holly in the kitchen is Knorr Student Chef of the Year 2020, Maria Dunne.
Due to his busy training schedule, Lee is all about convenient but nutritious meals he can enjoy without having to spend hours in the kitchen.
Luckily for Lee, this curry ticks all the boxes. Not only is it packed full of protein and goodness, it also freezes well for batch cooking. The perfect mid-week meal!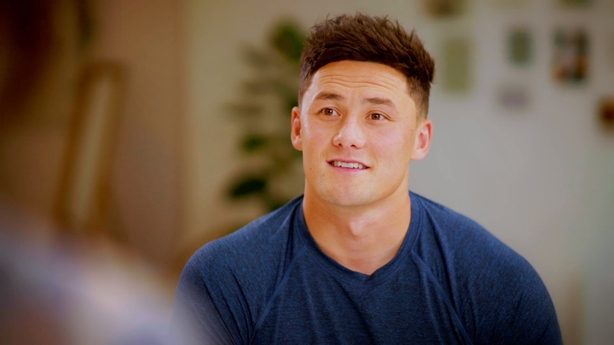 Stay tuned to the end to see what Lee thought of Holly's Chickpea and Sweet Potato Curry.
Meanwhile, here's the recipe for you to try at home...
Chickpea and Sweet Potato Curry
(Serves 4)
NOTE: If you don't have time to make curry paste a store bought curry paste can be substituted in)
Curry paste ingredients (makes enough for 2 curries)
4 lemongrass stalks, tougher outer leaves discarded
3 medium-hot green chillies, seeded and chopped
3 cloves garlic, peeled and crushed
2" piece of ginger, peeled and chopped
2 shallots, peeled and finely chopped
4 tbsp chopped fresh coriander
1 teaspoon ground cumin
1 teaspoon Knorr Chilli and Smoked Paprika Seasoning
1 teaspoon of lime zest (save the lime for serving)
1 tablespoon of tamari or soy sauce
1 tablespoon Knorr Miso & Mushroom Liquid Seasoning
½ teaspoon of ground black pepper
Pinch of salt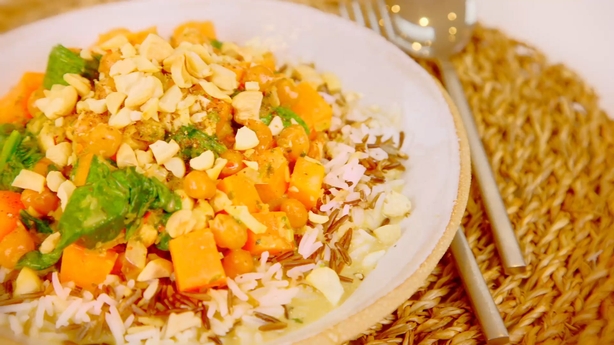 Method:
To make the curry paste, slice the lemongrass and put it with all the remaining curry paste ingredients into a food processor and blend to a thick paste. You will need to scrape down the sides to ensure it all blends well.
Transfer to a glass bowl or dish and cover it before storing in the fridge.
Curry ingredients:
1 tablespoon of coconut oil - for frying.
1 cans of chickpeas, drained and rinsed
4 tablespoons tamari
1 red onion - finely chopped
2 large sweet potatoes -Peeled and finely chopped into cubes
1 Knorr vegetable stock cube dissolved in 300 ml water
1 x 400 ml tin of coconut milk
A large handful of spinach
Fresh coriander to serve
Chopped cashews
Method:
Place your drained and rinsed chickpeas in a shallow bowl with the tamari to marinate while you prep the rest of your vegetables.
In a large wok or frying pan, heat the coconut oil. When the pan is hot add the chickpeas and place a lid on it to stop the oil from spitting. Fry for 3-4 minutes before thoroughly stirring throughout to ensure they cook evenly.
Remove the chickpeas from the pan and set aside.
Add the other vegetables to the pan and fry until tender starting with the sweet potato.
Depending on the size of your cubes they should take about 10-15 minutes to cook though.
Add 4 tablespoons of the curry paste, the stock and coconut milk and leave to simmer for 10-12 minutes.
Stir in your chickpeas and a handful of spinach and heat through.
Serve with chopped coriander, cashews and a lime wedge with a bowl of piping hot rice.
Knorr is on a mission to inspire everyone to eat better for themselves and the planet. We know everything on our plates has an impact on our health and the environment. The good news? Small changes can make a big difference. With more veg, less meat and a wider variety of flavoursome foods, you can help change the world by changing what's on your plate.
For more information on Knorr's commitment to sustainability see here. Eat for good.
To shop the ingredients for this recipe visit Tesco.ie here.
For more recipe inspiration, watch More than Meats the Eye on RTE Player.