Analysis: here are some garments that combine fashion and engineering to create interactive clothing with purpose
By Jane Hanratty and Mary Looby, TU Dublin
While the purpose of a garment is environmental protection, it has become a statement when fashion enables self-expression. Depending on the application for the garment, material choice can be detrimental to its purpose. For example, in a winter climate, you may require a material that keeps out moisture but locks in heat. What if this garment could generate heat when it was needed it and what if a garment could identify when light is required?
Thanks to the internet of things, so many items are being re-examined for their potential to have more than one use. The future possibilities of combining fashion and engineering are countless and fashion of the future will be the combination of fashion and engineering.
We need your consent to load this rte-player contentWe use rte-player to manage extra content that can set cookies on your device and collect data about your activity. Please review their details and accept them to load the content.Manage Preferences
From RTÉ Radio 1's The Business, interview with Troy Armour, the brains behind the Junk Kouture fashion competition that encourages people to express themselves by designing clothes made from junk
For example, if you're cycling a bike and left the house when it was bright, but end up cycling home in the dark, a jacket that was environmentally interactive could recognise that you require light for safety reasons. Creating a garment that is not only functional but also beneficial to society. Google's Project Jacquard is already collaborating with sports and fashion brands to create a digital technology platform for smart garments. This gives rise to the convergence of engineering, functionality and fashion.
We've launched a research group called Design Engineered Sustainable Interactive Garments Network (D.E.S.I.G.N your future) to create an "engineer and play" environment where lecturers and students work together on creating fashioneering garments that embody sustainability and innovative engineering concepts. Here are five fashioneering garments that could revolutionise the fashion industry and create interactive clothing with purpose.
The hot hands hoodie
This garment involves repurposing a jumper with a heating pad, temperature sensor, a microcontroller and LEDs to create an interactive sustainable device. This hoodie can be utilised to generate heat when you have cold hands. It can also be used to generate heat, simulating the concept of a hot water bottle, for the torso area of the body.
The advantage:
You no longer have the need to carry around hand warmers or a hot water bottle. This hoodie will be inclusive of built in heating pads and environmental temperature detection. The hoodie is designed so the user can manually engage the heating pads when they feel the need. The built in temperature sensor also enables automatic activation of the heating pad.
The in sole fan
This is a device that creates airflow within the sole of your shoe. It does this with the addition of a small fan, microcontroller, temperature and humidity sensor built into the insole of your shoe. The sensors will then communicate with the microcontroller to initiate the fan when airflow is needed. This device enables the user to keep their foot from overheating.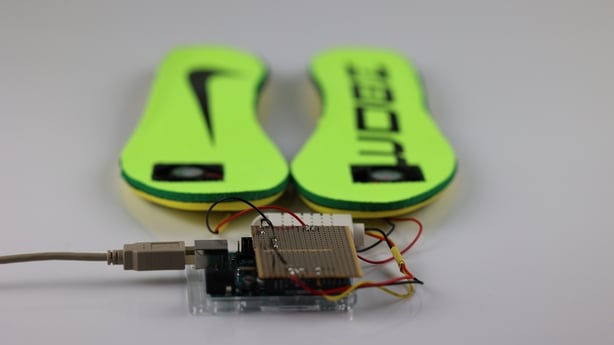 The advantage:
Fitness enthusiasts or any one suffering from excessive sweating of the feet now has a built in solution. The objective is to have a robust insole that can efficiently create air circulation within your shoe, in turn keeping the user's feet feeling fresh all day long. The sustainable design allows the user to easily switch the in sole from one shoe to another.
Light up cycling jacket
This jacket repurposed a high visibility vest to include a microcontroller, LEDs and a light sensor. The idea is to create an extra high visibility vest that can interact with its environment by identifying day from night. When light levels are reduced, the sensor will inform the microcontroller and engage the built in LEDs on the vest.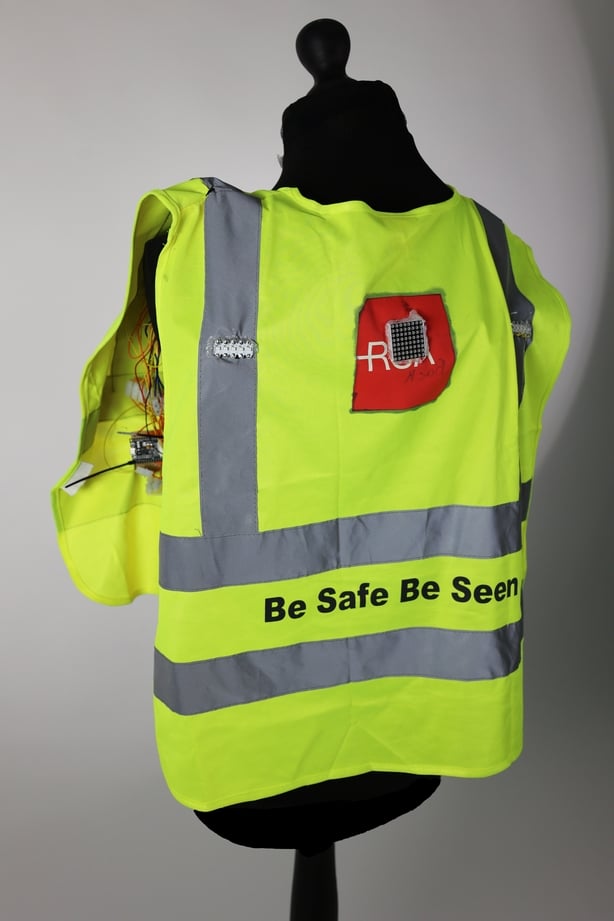 The advantage:
This jacket enables a cyclist to leave the house when light levels are high and not worry about having extra equipment for their return journey if it happens to be when light levels decrease. The electronics are integrated into a high visibility vest, making it lightweight and versatile. It can be used over a heavy or light jacket depending on weather conditions.
ECG monitoring t-shirt
The idea behind this project is to design and fabricate a robust t-shirt or sports jersey that can monitor the user's heartbeat. An electrocardiogram sensor is built into a t-shirt along with a microcontroller, which will process the data.
The advantage:
The ECG signal can determine a number of diseases and for the average person it is important to monitor the ECG health. This interactive t-shirt is envisaged to be of benefit to many disciplines, which include sports, hospitals and everyday users.
Light up suit and dress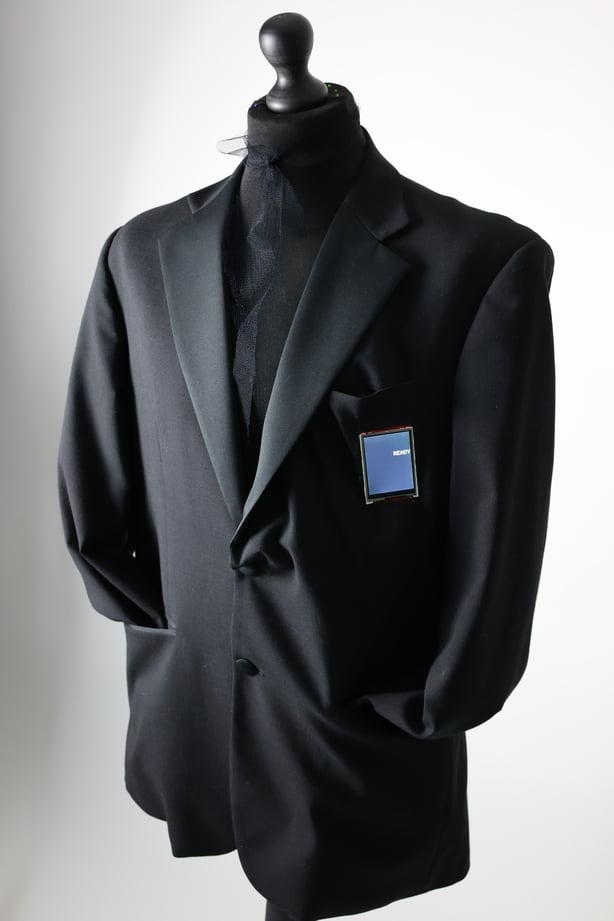 The suit and dress highlight different concepts of lighting used within engineering. They highlight the artistic take on fashioneering, integrating sustainability by repurposing old garments and electronic components. The back of the suit has a canvas of LEDs, which can output animations and text. The dress showcases a display of optical fibre lighting, where the colour alternates.
Not only is technology changing the way we shop, but it also gives rise to changes in the way we wear our everyday garments. AI, novel fabrics, IoT and data analysis are among a few of the things that are reshaping our everyday garments. Going forward, we plan to expand the D.E.S.I.G.N your future project to create an outlet in TU Dublin where these cutting edge innovative ideas can be explored in a supportive space.
Jane Hanratty is an Assistant Lecturer in mechatronic engineering in the School of Mechanical Engineering at TU Dublin. Mary Looby is a Lecturer in mechatronic engineering in the School of Mechanical Engineering at TU Dublin. Tara Campbell is an Assistant Lecturer in digital marketing in the School of Marketing & Entrepreneurship at TU Dublin.
---
The views expressed here are those of the author and do not represent or reflect the views of RTÉ
---