Analysis: many of the Irish who settled in the French city between the 1630s and 1680s prospered there as merchants and seafarers
In an old parish register from the Catholic Church of Saint-Jean-du-Perrot in the Atlantic city of La Rochelle, one can find the following entry: "The 22 October 1645 were married by me, undersigned priest, the honourable man Guillaume Lee, Irish merchant, with Madame Catherine Creagh, widow of late Mr Skiddy, also Irish, both residing in this parish, and this in the presence of Richard Creagh, Dominique Creagh, Pierre Creagh, Maurice Roche, Jacques Violé, Barthelemy Rice, and several others".
The marriage entry provides a glimpse into the world of the very small but cohesive group of Irish merchants, who began to settle in La Rochelle during the late 1630s and early 1640s. They originated from the southern part of Ireland, specifically New Ross, Waterford, Cork and Dingle, and all were in their twenties and thirties when they left Ireland.
One witness to the marriage, Richard Creagh, was resident by 1639, and his sister Catherine arrived from Cork before 1642. After the death of her first husband, Catherine Creagh remarried another Irishman, Guillaume Lee, a native of Waterford, who was resident in La Rochelle from 1643.
We need your consent to load this YouTube contentWe use YouTube to manage extra content that can set cookies on your device and collect data about your activity. Please review their details and accept them to load the content.Manage Preferences
From SandRhoman History, the story of the siege of La Rochelle in 1627 during the Anglo-French Wars
Irish migration to France is generally associated with the Flight of the Wild Geese after the Battle of the Boyne in 1690. However, mass migration from Ireland actually started much earlier, when thousands of men, women and children left for Spain, France and England in the immediate aftermath of the defeat suffered by the Gaelic forces at the Battle of Kinsale in 1602.
In the decades that followed, Irish migration to the continent continued in small and intermittent waves, mostly to France and Spain. But in the mid-1600s, following the Cromwellian military campaign and the land settlement, a large number of Irish, many of them Catholic merchants, emigrated to the Continent where they set up businesses in thriving centres of international trade. During the 1650s, for example, privateers from Wexford and merchants from Waterford settled in Ostend.
It was during the 1650s and 1660s that the Irish presence in La Rochelle grew significantly. Whole families moved to La Rochelle. The merchant Jacques Dalton and his wife Marguerite Sherlock were in their twenties and parents of young children when they migrated from Roscrea to La Rochelle before 1665. They also brought with them a relative, Nicolas Dalton, who was a child at the time.
The number of weddings between Irish men and local women increased
The couple lived in a house they rented from Richard Butler, another Irish merchant established in the city since 1647 and a prominent figure within the small group. They raised their seven children and Nicolas in La Rochelle. Nicolas went on to become a ship captain, highly regarded by his crew: he witnessed three of their weddings between 1679 and 1681.
The nascent community continued to develop during the 1670s and 1680s. Many of the newcomers had a relative already established in the city. In 1674, Thomas Lee worked as a clerk for "Monsieur Lee". Robert Butler, Richard's nephew, came to La Rochelle before 1680 to work with his uncle. As he had no intention of returning to Ireland, he applied for naturalisation as a French subject, which was granted in 1684.
He was not alone in his decision to settle permanently in the city. During the 1670s and 1680s, there are clear signs of the Irish choosing to integrate into La Rochelle's society. The number of weddings between Irish men and local women increased. Among them was Denis Hany, a master tailor born in Galway in 1652, married the daughter of a carpenter, Magdelaine Verrier, in 1675.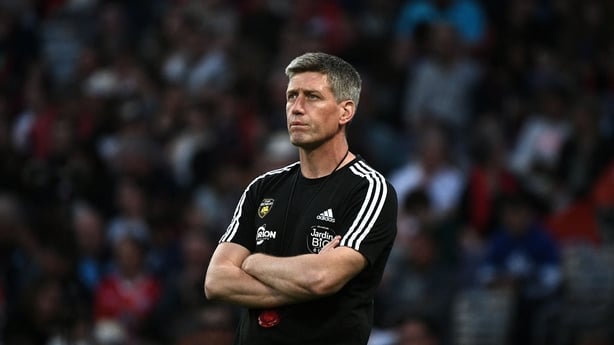 But the Irish in La Rochelle also maintained links with their compatriots elsewhere in France. Two children of Guillaume Lee and Catherine Creagh's children married into the Gerraldin family, from Waterford and established in Nantes as merchants during the early 1650s. In 1682, Daniel Arthur, an Irish banker living in Paris, stood as godfather to Marie White. Her father, Jean White Laurens, a native of Limerick, had been working as a banker and merchant in La Rochelle since 1669.
As La Rochelle was a prosperous 17th century port city, involved in Atlantic trade, it's not surprising to discover that a large number of these Irish settlers were engaged in trade-related occupations. Irish merchants, seafarers and clerks were well-established in the city and some of them thrived. In 1664, Richard Butler paid for the "embellishment" of a chapel in his parish church and, in return, received the right for him and his descendants to be buried there. Guillaume Lee was another successful merchant. We gain a sense of his wealth when he employed a valet to look after two horses which pulled his "new carriage" before his death in 1677.
However, as elsewhere, not all Irish migrants in La Rochelle had such positive experiences. Fragmentary evidence provides fleeting glimpses of the challenges experienced by individuals. In 1649, an unnamed Irishman was buried in La Rochelle, where he was recorded as a "refugee for the catholic faith".
It challenges the traditional perception of Irish migration to Europe during this period as a political and religious 'exile'
In 1661, Jeanne, a seven-year-old Irish orphan, died in a local hospital. Ten years later, in the month of September, Walter Nagle, a priest from County Meath suffering from smallpox, was admitted to the same hospital; he died two and a half months later. These are just some among the significant number of Irish in the city who were vulnerable and living in hardship.
Between 1639 and 1690, at least 107 Irish men and women, born in Ireland, took up residence in La Rochelle, a city which was predominantly Protestant until the 1660s,. This study of the Irish in La Rochelle – the first to be undertaken – is important as it challenges the traditional perception of Irish migration to Europe during the early-modern period as a political and religious 'exile'.
The author's research is funded by the Irish Research Council under award number GOIPG/2022/79.
---
The views expressed here are those of the author and do not represent or reflect the views of RTÉ
---