Analysis: the waterproof coat protected soldiers from rain, thorns and mud, but the advantage for the IRA was it also concealed weapons
By Jane Tynan, Vrije Universiteit Amsterdam
In Ken Loach's 2006 film The Wind That Shakes the Barley, Anglo-Irish landowner Sir John Hamilton reveals to British authorities his suspicions that employee Chris Reilly "takes orders from a trench coat thug." The person in question is Teddy O'Donovan, thought to be pivotal to Irish Republican Army operations and an enemy of the Crown.
My research into the history of the trench coat brought me back to the War of Independence in Ireland. By 1919, the IRA could be seen in the trench coat style worn by British officers on the western front in the First World War. Named after the trenches, the waterproof coat protected soldiers from rain, thorns and mud, but the advantage for the IRA was it also concealed weapons. Part of the (unofficial) kit of guerrilla columns in the War of Independence, trench coats can be found in various witness accounts, paintings, documentary footage and photographs from the period 1919-21.
We need your consent to load this YouTube contentWe use YouTube to manage extra content that can set cookies on your device and collect data about your activity. Please review their details and accept them to load the content.Manage Preferences
From British Pathé, guerilla warfare in Ireland
The original trench-coated bogeyman appeared in Edwardian literature in the form of the anarchist wandering the London streets with dynamite in his pockets, but trench warfare transformed the coat into a symbol of British patriotism and sacrifice. Not for long. After the war, civilians could purchase them in drapery shops, amongst them IRA members.
When policeman-turned-spy Ned Broy first met Michael Collins in 1919, he was impressed to see the IRA leader turn up in black leggings, green breeches and a trench coat. In Ernie O'Malley's autobiography On Another Man's Wound, the IRA officer recalls the wretched winter of 1920 when he led battalions in a "heavy trench coat which clung to my back and sides with rain, sweat or heavy misery." The trench coat might have been a clever disguise for O'Malley, but he can also recount instances when it caused him to be mistaken for one of the Crown Forces.
Sean Keating's On the Run, War of Independence 1921 is part of the Art of a Nation exhibition @mallgalleries pic.twitter.com/uaTsIdDwPd

— Daniel Mulhall (@DanMulhall) May 13, 2015
Why did the trench coat become the garment of choice for IRA guerrillas in this period? Its lightweight fabric allowed mobility, waterproof fabric kept out rain, flaps let in air and large pockets stored maps, but most of all it was a form of camouflage. It would have been hard to identify subversives in the crowd, given the number of men and women who wore trench coats at the time.
Writer Frank O'Connor was first attracted to the cause by a glimpse of "young rebels slouched around in trench coats with hats cocked over one eye." O'Connor had no proper equipment but managed to quickly gather up riding breeches, gaiters, a trench coat, and a soft hat. Tellingly, he recalls the period of political unrest as a safety valve, for him and for the country, when "the Irish nation and myself were both engaged in an elaborate process of improvisation."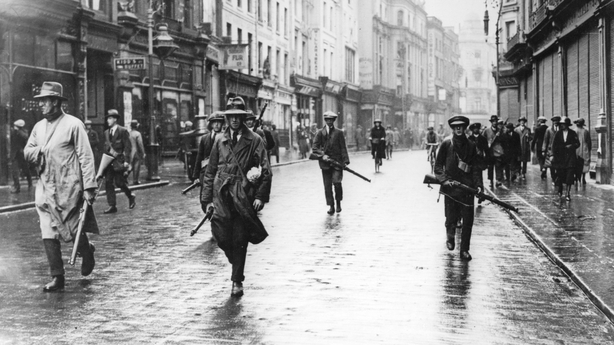 Our encounters with clothes are intimate and memorable; we can be ourselves or become someone new, we can get in the mood, but clothes also mark rites of passage to critical life events. In O'Connor's wry comment, we see how recruits prepared for the chaos —in practical and psychological terms—and the disruption the conflict caused in their young lives.
Some insurgents posed for the camera to reveal their provocative militant styles. Following an escape from Mountjoy prison in 1921, Mae Burke, Eithne Coyle and Linda Kearns pose for a photograph in a Carlow IRA training camp carrying rifles and proudly standing on a Union Jack flag. All escapees wear full length coats, but Coyle cuts a striking pose, belted up in a shiny, double breasted trench coat.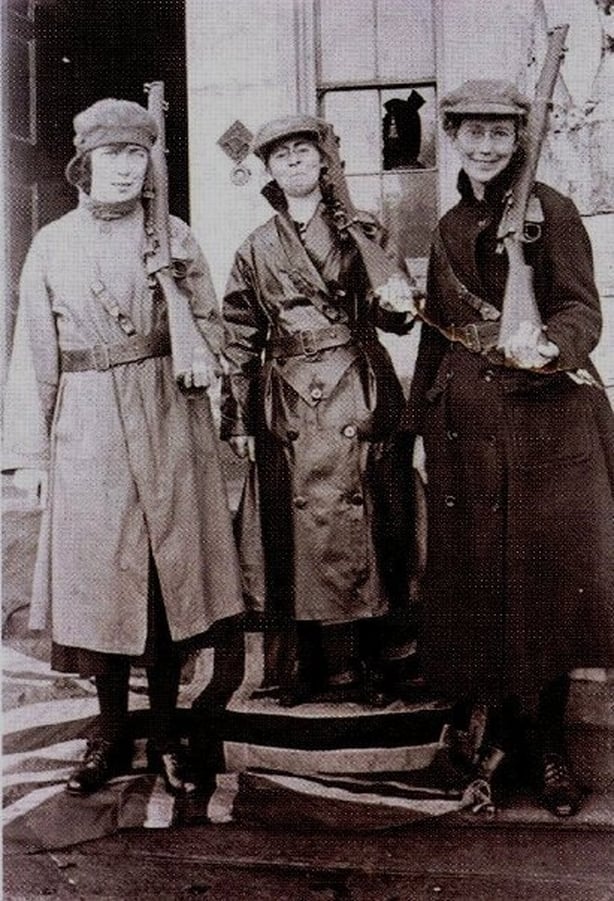 Against the backdrop of chaos, the figures of the revolution manage to look contained and composed. Improvising a uniform from the remnants of past wars illustrates how chaotic early 20th century revolutionary violence might have felt for those caught up in its deadly spiral. Part of new strategy to stay ahead of the enemy in a strange mix of civilian and military gear, the trench coat gave cover to guerrilla leaders such as Tom Barry. Having joined the 3rd West Cork Flying Column in the War of Independence, Barry describes his comrades with trench coats hung open, enduring the misery of dangerous and muddy conditions.
But trench coats meant misery for more than the IRA, especially when the Civil War saw a split in loyalties. Séan O'Casey's Civil War play Juno and the Paycock conveys the menace of the "fellah in a trench-coat" appearing unexpectedly at the door. Later, the battered war-worn trench coat became the stuff of memory popularised in the Irish rebel song, the 'Broad Black Brimmer', which accessed a revolutionary past by way of "an old trench coat that's all battle-stained and worn." Others were less indulgent, including Thomas Kinsella, who characterised the time as a "trenchcoat playground" in his poem A Country Walk.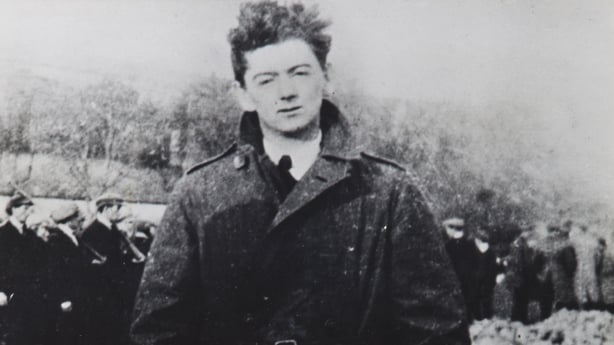 The trench coat's fearsome reputation was set in the 1920s when the excess of the First World War spilled out into other regions, spawning a new kind of threat from within. Surfacing later in Hollywood movies including Casablanca, A Foreign Affair, Blade Runner and The Matrix, amongst many others, trench coats announced characters —gangsters, detectives, reporters—inventing imaginative modes of survival as they navigated unsettled territory.
But the "trench coat thug" was more than an inconvenience for British authorities determined to subdue Irish insurgency. This seemingly banal garment tells its own story about the making of the IRA 'irregular' in the Civil War that followed, another disquieting presence hiding in plain sight.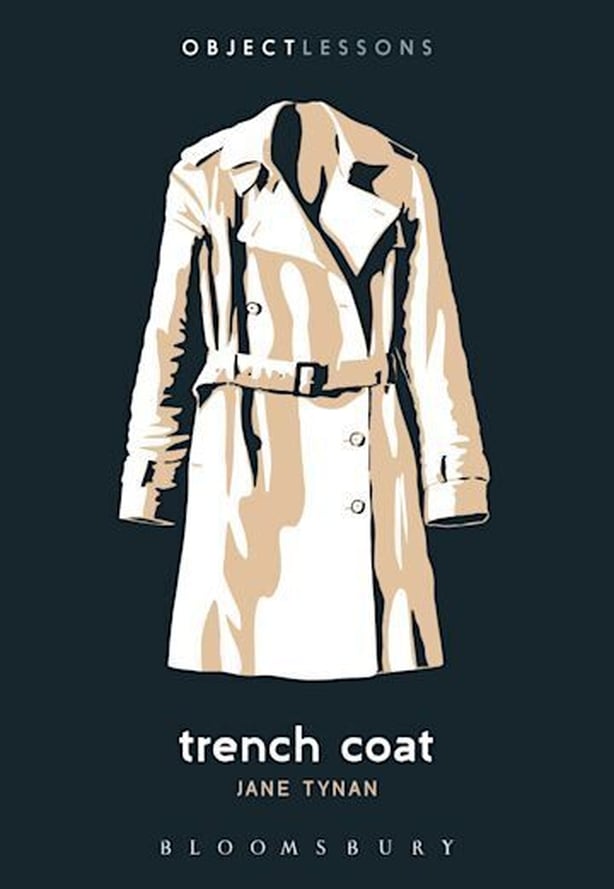 Dr Jane Tynan is Assistant Professor of Design History and Theory in the Department of Arts and Culture, History and Antiquity at Vrije Universiteit Amsterdam. Her new book Trench Coat in the Object Lessons series, is published by Bloomsbury US.
---
The views expressed here are those of the author and do not represent or reflect the views of RTÉ
---