Analysis: trees serving as natural epitaphs again and again in the stories Wordsworth told about the sufferings and hopes of ordinary people
By Brandon C. Yen, University College London
Trees are inveterately rooted in the here and now, sensitive to even the slightest fluctuations in the environment. They are home to many living organisms. Their roots help stabilise our lands; their leaves absorb carbon dioxide. They offer a glimpse of hope in our ongoing battle for survival.
Trees also remind us of things intangible, visionary, atavistic even. Why do they play such a prominent role in creation myths across the world? In John Milton's 1667 epic Paradise Lost, not only is Paradise home to the Tree of Life and the Tree of the Knowledge of Good and Evil, but it also boasts many other trees "Load'n with fairest fruit." The evergreens there—cedar, pine, fir and palm—evoke everlasting bliss. After the Fall, Adam and Eve cover their nakedness with the "broad smooth leaves" of banyans.
We need your consent to load this rte-player contentWe use rte-player to manage extra content that can set cookies on your device and collect data about your activity. Please review their details and accept them to load the content.Manage Preferences
From RTÉ Radio 1 Highlights in 2020, Niall McMonagle discusses William Wordsworth on the 250th anniversary of his birth
When it comes to the relationship between trees and humanity, the English poet William Wordsworth (1770–1850) has a great deal to offer. Trees were pervasive in Wordsworth's England. As fuel and building materials, wood was inseparable from people's daily lives, driving the "dark Satanic Mills" of industrial Britain. Wordsworth's was also an age of colonialism and international warfare. Global movements relied on sturdy ships, which required vast amounts of timber.
British culture was thick with trees. William Gilpin's Remarks on Forest Scenery (1791) continued the tradition of John Evelyn's Sylva (1664), but used the popular aesthetic of the "Picturesque" to reappraise trees. Patriotic songs such as "Heart of Oak" and "Rule, Britannia!"—together with political cartoons and books like Edmund Burke's Reflections on the Revolution in France (1790)—perpetuated the image of Britain as an oak that stood firm against foreign hostilities, while the Tree of Liberty buttressed revolutionary fervour.
Jacob George Strutt's Sylva Britannica (1822) and Henry William Burgess's Eidodendron (1827) offered fascinating depictions of individual trees. John Claudius Loudon's eight-volume Arboretum et fruticetum Britannicum (1838), with hundreds of tree portraits, contains a wealth of cultural and scientific information about trees.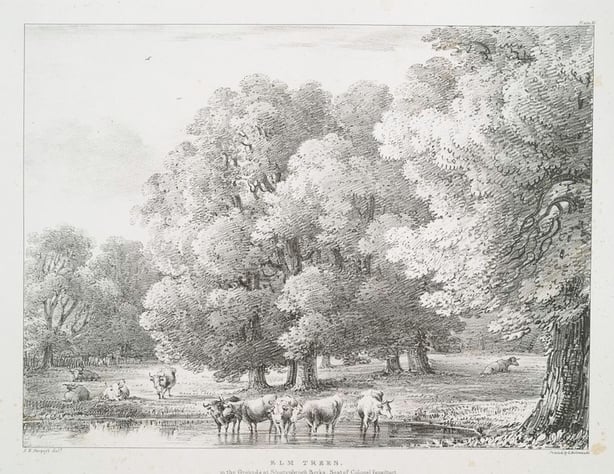 Native trees appeared in the paintings of John Constable, John Glover, Samuel Palmer, James Ward and William Henry Hunt; foreign trees graced the works of J. M. W. Turner and John Martin. Landscape gardeners and theorists assessed the architectural beauty of British and non-native trees. Travel writers and itinerant artists regaled their readers with exotic trees like coconuts, banyans, Norway spruces, cypresses and stone pines.
A keen gardener and tree planter, Wordsworth participated fully in this rich culture of trees. He owned a botanical microscope and books on botany, corresponded with scientists, gardeners and nurserymen, and exchanged plants and arboricultural knowledge with friends and neighbours. He wished to be remembered as a tree hugger. In 1830 he had a plaque fixed into a rock near his house. The inscription begins: "In these fair vales hath many a Tree/At Wordsworth's suit been spared."
The poet ascribed the origins of his creativity to a particular tree: an oak in his native Cumbria. In the "solemn evening Shadows," the lines of that tree had grown sharper and crisper, twining "its dark'ning boughs and foliage." This early encounter planted in him a "con-sciousness of the infinite variety of natural appearances which had been unnoticed by the poets of any age or country.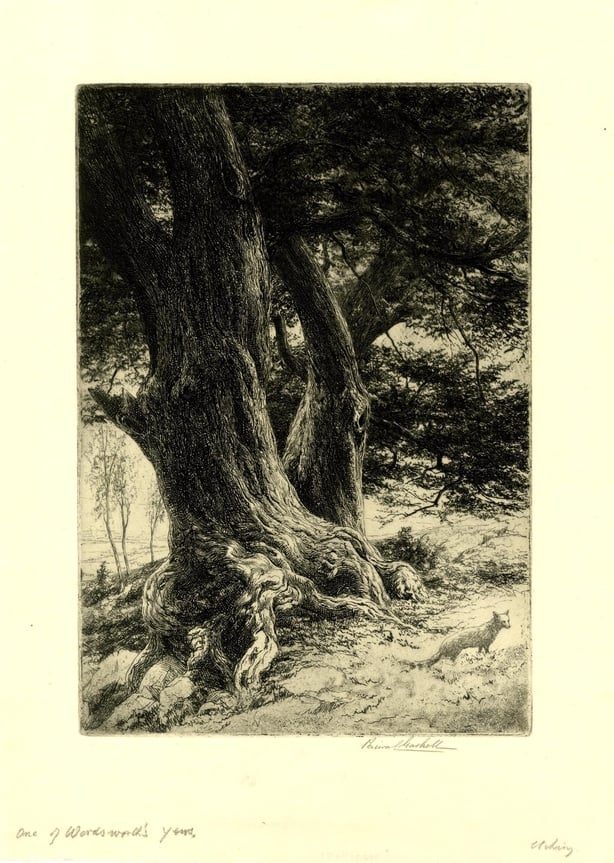 Wordsworth's Ode: Intimations of Immortality refers to another visionary tree, which helped him realise who and what he was: a "Tree, of many one," which speaks of "something that is gone". This tree intimated the passing of "the visionary gleam," "the glory and the dream," reminding the poet of his place in the post-Edenic world. It is precisely trees rooted in the here and now, rather than in Paradise, that Wordsworth's poetry and prose so movingly celebrate. As his poem Yew-Trees suggests, trees help us grapple with our post-Edenic subjugation to time and death.
Wordsworth's accounts of his travels in Ireland, Scotland and continental Europe are interspersed with trees. Touring Ireland in 1829, he was struck by the ancient yew in Muckross Abbey, and discussed it with the novelist Maria Edgeworth's half-brother Francis, who described it as "a kind of strange idol." But it was in England that Wordsworth intuited the full power of trees: the lessons trees taught about the "dignity of individual Man." He said this in Home at Grasmere:
not a tree
Sprinkles these little pastures, but the same
Hath furnished matter for a thought, perchance
To some one is as a familiar Friend.
Again and again, in the stories Wordsworth told about the sufferings and hopes of ordinary people, we see trees serving as natural epitaphs, guarding local memories. In The Ruined Cottage, Margaret's husband, Robert, fell into poverty due to events beyond their control. He joined the army, leaving Margaret to pine away. Their cottage lies in ruins now, overtopped by "a brotherhood of lofty elms." Though these trees appear indifferent to Margaret's fate, they breathe serenity into the theme of ruin and change. A sympathetic observer may trace a 'secret spirit of humanity' here in 'the calm oblivious tendencies/Of Nature."
Wordsworth's pastoral Michael is also framed by a "large old Oak." The eponymous shepherd had to send his beloved son, Luke, away to the metropolis. Before Luke left, Michael asked him to lay the cornerstone for a sheepfold—symbolic of a "covenant" between them, a reminder of their ancestral ways. Luke never returned. Michael's cottage is no more, and "great changes" have taken place in the neighbourhood. Yet the oak beside his cottage door remains, and so does the "unfinished" sheepfold by "the boisterous brook of Green-head Ghyll." Trees like Michael's oak and Margaret's elms are inscriptions on local landscapes—repositories of memories that outlive us, even though they are themselves subject to death.
Far from being merely decorative, trees give meaning to human lives in many of Wordsworth's poems: Lyrical Ballads, The Prelude, The White Doe of Rylstone, The Excursion. Powerfully, his tree writings suggest ways to re-enchant nature, to rethink our place in the world.
Dr Brandon C. Yen teaches in the History Department at University College London. He is the co-author of Versed in Living Nature: Wordsworth's Trees (Reaktion Books, 2022). He is a former Irish Research Council awardee.
---
The views expressed here are those of the author and do not represent or reflect the views of RTÉ
---