Analysis: camogie players of previous generations have had to play in floor-length wool skirts, long sleeved blouses and tweed tunics
Taking a puck-out in a corset? Scoring a goal in a full length skirt? Women's fashion in camogie has a history of discomfort, with regulations and traditions often being prioritised over athleticism. Here's how camogie kits have evolved over the years.
At the advent of camogie in the early 1900s, women who played camogie were forced to put modesty over practicality. Beyond sport, decency codes long prevented women from showing skin and body contours because they were too suggestive and dressing like men was to be avoided as because it appeared too threatening to society. It was deemed that a woman's femininity must be preserved and as such, in the early years, camogie was often played in floor-length wool skirts and long sleeved blouses.
Celebrating #WomenMW @MuseumWeek, pictured: Replica #Camogie Uniform (1904) & O'Duffy Cup (1932) - both on display @CrokePark #GAA Museum pic.twitter.com/AA1U2JkOzI

— Croke Park (@CrokePark) June 21, 2017
The first set of camogie rules drawn up on an experimental basis in 1903 stipulated that skirts should be worn no more than six inches from the ground. Cultural shifts in the early 1900s led to rising hem lengths, for which Hollywood was partly responsible. At a convention in 1913, it was agreed that the length of player's skirts be raised to 8 inches above the ground. When the first All-Ireland camogie championship was played in 1932, players lined out lined-out wearing gym frocks that covered the knee, long black stockings, canvas boots, long-sleeved blouses and a belt or sash around the waist.
It is clear from the 1950s onwards that the need for a shift to less restrictive uniforms was there from the players perspective. However, the collective will from those who could instigate these changes was not there. In 1959, the Cork County Camogie Board brought a motion to the All-Ireland Camogie Congress that teams be given the option of changing their uniforms to skirts or shorts with full length stockings. The motion was defeated a month later where it was decided by 16 votes to 4 that the uniform of tunic and blouse be retained.
Camogie tunics were often made of tweed, an adaptable fabric that gives warmth, and it was considered the optimum textile for sports and outdoor wear before the advance of high-performance textiles. The Antrim camogie team enjoyed a successful decade in the 1960s when they reached five All-Ireland senior finals, winning one title in 1967 after a replay versus Dublin. Antrim did so wearing a tweed tunic worn with a dark belt across the waist and layered over a white short-sleeved blouse. It was handwoven by Glens of Antrim tweed, a small business based in a disused schoolhouse in Cushendall which specialised in clothing, curtains and furnishing fabrics.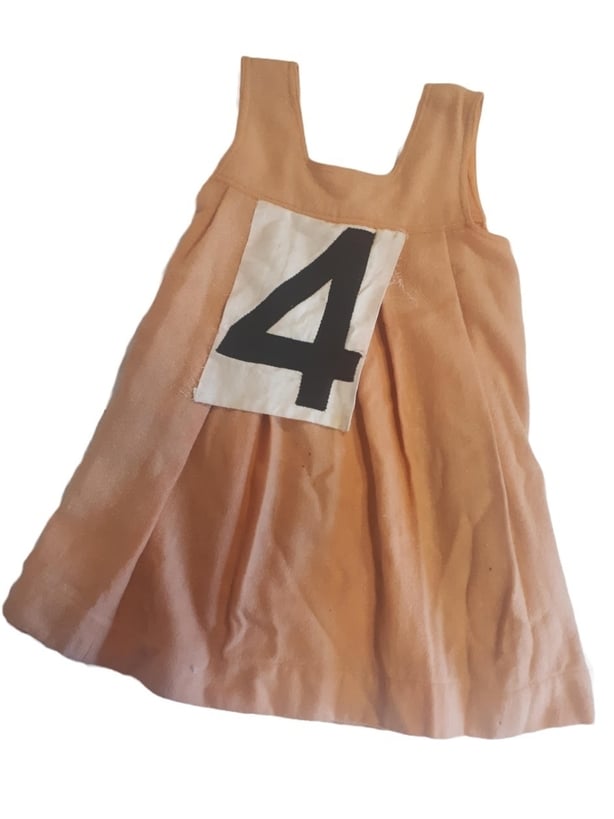 The late 1960s brought a new hope for changes to camogie uniforms, spurred by a number of different occurrences. The mini skirt, which defined the 1960s era style, was viewed as an international symbol of a youthful look and of women's liberation. Its advent allowed the Camogie Association to think differently about their uniform.
In 1968, Irish designer Neillí Mulcahy wrote in the GAA's Our Games Annual about the possibility of a new look camogie uniform. A uniform committee was set up in 1970 to invite members of the Camogie Association to make suggestions for a change of uniform. It was later decided by Congress delegates that camogie uniforms could now consist of the traditional gym slip, blouse and tights or a skirt, sports shirt, bobby socks and boots. It is difficult to determine exactly when numbers on the back of camogie uniforms first appeared, but a camogie dress worn by a member of the Donegal team in the 1950s has its number crudely sewn onto the back of it.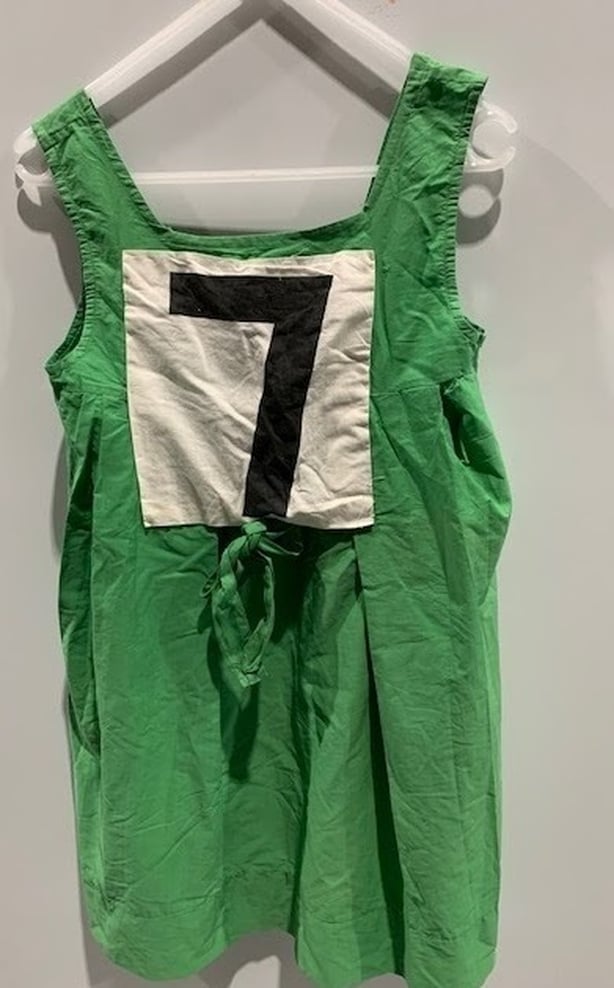 From the 1970s, camogie skirts became shorter and lighter thanks to new textile technologies. The introduction of skorts combined skirts and shorts and allowed for a better balance between femininity and athleticism.
When Cork won the All-Ireland final vs Kilkenny in 1972, they wore gym frocks for the last time. Kilkenny camogie legend Angela Downey played in her first All-Ireland senior final that day and wore the county's new uniform of a jersey and black skirt. Downey went on to win 12 All-Ireland titles, 13 Leinster titles and five National League titles - and she did so wearing a black camogie skirt, one of which is on display in the Lár na Páirce Museum in Thurles.
We need your consent to load this rte-player contentWe use rte-player to manage extra content that can set cookies on your device and collect data about your activity. Please review their details and accept them to load the content.Manage Preferences
From RTÉ Archives, Cathy Halloran reports for RTÉ News on the 1988 All Ireland victory of the Kilkenny camogie team, led by captain Angela Downey
Camogie uniforms are now designed with practicality and functionality in mind, with materials and fabrics specially developed for sportswear. Most jerseys now have the option of women's fit and many camogie teams now have player's surnames on the back of jerseys to increase marketing potential.
But that is not to say that the attitude to camogie is positive just because advances have been made in its uniforms over the years. Camogie players still have many barriers to break such as having reasonable fixture schedules for dual players, better access to venues and facilities, increased funding and more visibility in media coverage
Across 118 years of the history of the Camogie Association, player's uniforms have adapted to the changing needs of women, but change has never been immediate or in tandem with changes in wider culture and society. It is clear from the evolution of camogie uniforms that sporting attire for women is a valuable tool for self-expression and is an important path towards greater liberation and respect in our games.
The Antrim camogie dress is one of the objects that appears in Siobhán Doyle's book A History of the GAA in 100 Objects published by Merrion Press.
---
The views expressed here are those of the author and do not represent or reflect the views of RTÉ
---