Analysis: how a born-again Christian and his sign became one of the most recognisable faces in the crowd at GAA matches countrywide
There is no shortage of GAA supporters around the country, but very few become truly familiar to us on a national level. Many of them become recognisable because of the way they dress: Jonty O'Leary and Cyril Kavanagh in their Cork sombreros or Limerick's Pa Buckley in his cowboy hat and face-paints. Other supporters slip onto our radar simply because they make their presence known at so many games: Mick McDonagh behind the vacant terrace in his Offaly jersey or Buff Egan with his trusty rubber duck and powerbank so that he can capture key moments to share with his thousands of social media followers.
But arguably the most recognisable GAA supporter of them all was the late Frank Hogan and his yellow John 3:7 sign. Like many GAA supporters, Frank spent every weekend of the summer attending games around the country. Originally from Borrisokane, Co. Tipperary, he made his home in Castletroy, Co. Limerick and followed Limerick GAA for over 30 years.
What made him stand out from other supporters was the large 'John 3:7' sign he carried with him to each game. Being a devout born again Christian, Frank's mission was to bring God's message to others through his distinctive hoarding display at major GAA matches.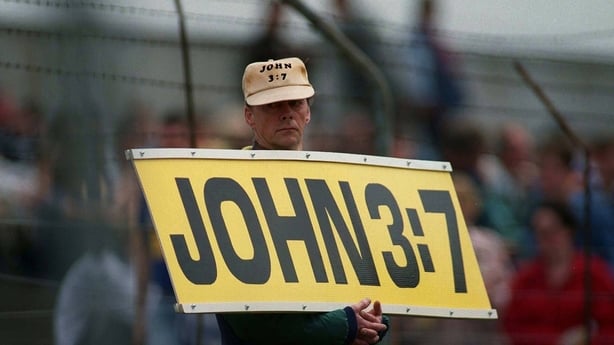 The inspiration for the sign came after Frank noticed one of similar design in the crowd as tennis player Pat Cash was presented with the trophy after winning the men's singles tournament at Wimbledon in 1987. That sign was much smaller than Frank's and read 'John 3:16', a reference to a verse from the Bible, namely 'for God so loved the world, that he gave his only begotten Son, that whosoever believeth in him should not perish, but have everlasting life.'
It's a verse which has a considerable legacy in sport. The original John 3:16 signs at sports events were primarily the work of Rollen Stewart, who was known as "Rainbow Man" for the multi-coloured wigs that he wore as he held up the signs for television cameras. During the 2009 US college football national championship, University of Florida quarterback Tim Tebow painted 'John 3:16' under his eyes. WWE wrester Stone Cold Steve Austin also appropriated it into his catchphrase 'Austin 3:16'.
Frank adopted 'John 3:16' on his sign for some time but found that the verse was too long for him to recite when people inquired as to its meaning. He then reverted to 'John 3:7', which reads: 'do not marvel that I said to you, you must be born again'.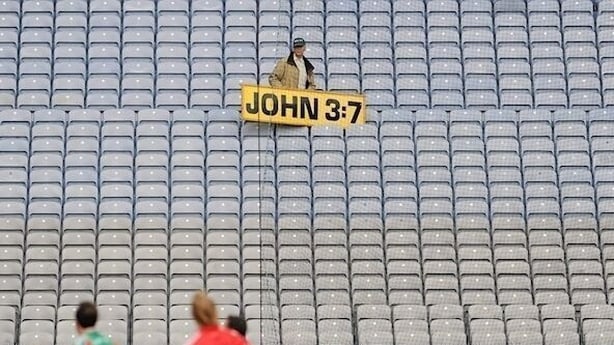 The sign, printed in black letters on a bright yellow background surrounded by a wooden frame, was understandably awkward for Frank to carry to and from matches, but he always persevered. In 2009, the sign was stolen on his train journey hime to LImerick, but later mysteriously appeared at Kildare garda station a few days later and made front-page news when it was returned. In 2003, his sign was thrown out of the Cork to Limerick train after the quarter finals of the Munster Championship, but a determined Frank replaced the preaching prop and carried on his message the following week.
The sign has been imitated and redesigned on a number of occasions. In 1994, when Offaly played Limerick in the All-Ireland hurling final, Frank was positioned in the Canal End with his sign and spotted another sign on Hill 16 that read 'John 3:7, Offaly 4:8'.
At a rugby game in Auckland in 2019 when the All Blacks played Australia in the Bledisloe Cup, a sign of similar design was held up by Irish supporters in the crowd. The supporters wore Kilkenny and Tipperary GAA jerseys, in a nod to the All-Ireland final between the two teams which was taking place the following day. Presumably, their objective was not to spread the word of God, but for the sign to draw attention, for their jerseys to be shown on TV on the eve of the All-Ireland final and for them to be spotted by eagle-eyed TV viewers. Mission accomplished.
Frank's iconic sign has transcended GAA circles as he also had it in tow when making visits to the Rose of Tralee festival, the Galway Races, fleadhanna and music concerts.. In 2009, TG4 aired a documentary called John 3:7, which focused on Frank's varied life and his status as a renowned GAA fan due to his sign.
IT'S A SIGN!

Many thanks to Frank Hogan's widow Myrna for donating the iconic John 3:7 sign to JJ Bowles. pic.twitter.com/YYUmAOhlg9

— JJ Bowles (Limerick's Oldest Pub) (@jjbowlespub) December 15, 2021
When Frank died in 2020, his signs were distributed among his many neighbours and friends. One of the recipients was Aengus D'Arcy, owner of Limerick's oldest pub JJ Bowle's at Thomondgate, who proudly displays the sign in the outdoor area of the pub overlooking the River Shannon.
One of Frank's signs went on permanent display in the Mackey Stand at TUS Gaelic Grounds in Limerick as a tribute to his dedication as a supporter. Another recipient
Frank's legacy is still recalled fondly in GAA circles. With his signs now taking on a new life and being displayed in public places, he has fulfilled John 3:7's message and is born again to new generations of GAA supporters.
Frank Hogan's John 3:7 sign is one of the objects that appears in Siobhán Doyle's book A History of the GAA in 100 Objects published by Merrion Press.
---
The views expressed here are those of the author and do not represent or reflect the views of RTÉ
---