Analysis: young onset dementia can be insidious and more often than not, many of the early signs or symptoms can go unrecognised
Dementia is an umbrella term used to describe a syndrome that progressively affects the brain resulting in deficits in cognition. What distinguishes dementia from normal cognitive decline during the ageing process is that distinct brain regions are affected, creating difficulties with the management of the activities of daily living. This can result in impairments in memory, language, speech, emotion, and behaviour with the trajectory of the condition and rate of decline often being unpredictable.
Worldwide, it is estimated that there are 55 million people living with dementia with approximately 10 million new cases each year. Numbers in Europe are projected to significantly increase from nine to eight million people in 2019, to almost 19 million people by 2050. The most common types of dementia are Alzheimer's Disease, Vascular Dementia, Dementia with Lewy Bodies, Frontotemporal Dementia, Mixed Dementia and Parkinson's Disease Dementia.
Young Onset Dementia
Dementia is typically associated with older age – i.e., people over 65 years of age, and is known as late onset dementia. However, some people develop the condition before 65 years of age, or considerably younger in many cases. This form of dementia is referred to as young onset dementia.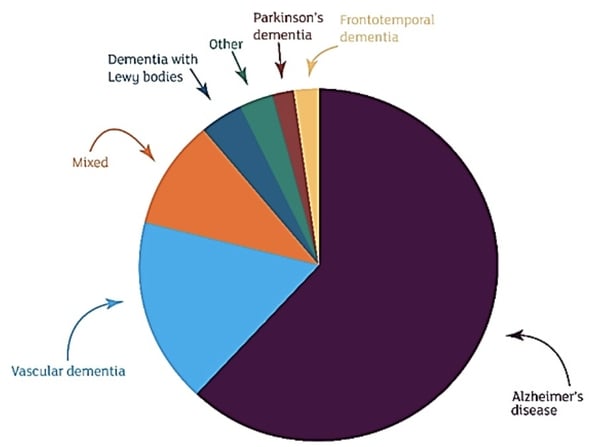 During a speaking engagement on the 4th of November 1906, Alois Alzheimer outlined, for the first time, a form of dementia that subsequently became known as Alzheimer's disease. He described a 51-year-old patient who was living with a progressive condition that resulted in cognitive impairment, delusional behaviour, hallucinations and several other psychosocial issues. This may be the first documented case of young onset Alzheimer's disease.
Specific symptoms accompanying young onset dementia may include impairment of physical function(s); aphasia (difficulties with speech and language); hallucinations and disturbances in vision; impairment in judgment and planning; lack or loss of empathy; partial/full withdrawal from society; impulsivity/disinhibition/exhibitionism; poor temperament and/or aggression; lasciviousness and obsessive-compulsive tendencies.
With such devastating symptoms, young onset dementia represents a significant health and social issue for many individuals and their families. Causes of young onset dementia can be varied with genetics; autoimmune deficiencies; nutritional or metabolic problems and potential modifiable lifestyle factors all playing a role. Traumatic brain injury and alcohol misuse may also be a prelude to young onset dementia, particularly in people younger than 45 years of age.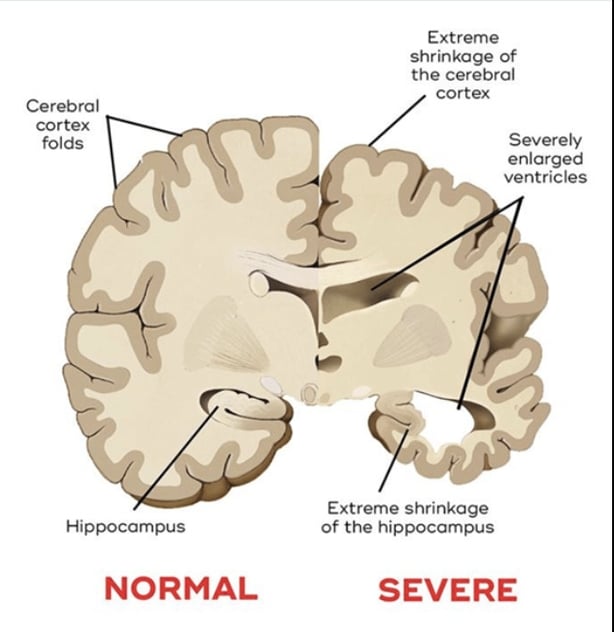 The most common types of young onset dementia are young onset Alzheimer's disease (30%-40% of cases), frontotemporal dementia (18% of cases) and vascular dementia (12% of cases), however, there are various other subtypes of the condition. Young onset dementia can be insidious and more often than not, many of the early signs or symptoms can go unrecognised or be mistakenly attributed to other conditions such as depression, stress, burn-out, employment difficulties or issues with a relationship.
As a result, a definitive diagnosis may be delayed. The condition has an impact on employment, relationships with a spouse/partner and children, various social obligations and often leaves people living with the condition with feelings of inadequacy and a lack of autonomy. For instance, ceasing employment can cause significant financial hardship for the person with young onset dementia and their family and can serve to lower an individual's sense of belonging, purpose and engagement in daily life.
Many people with young onset dementia report feeling "too young" to have dementia leading to fears about what's to come, and often have to revise their life expectations and make forced changes and adjustments to their future plans. This revision is crucial if they are to cope physically and emotionally with these new challenges and live well with the condition.
We need your consent to load this rte-player contentWe use rte-player to manage extra content that can set cookies on your device and collect data about your activity. Please review their details and accept them to load the content.Manage Preferences
From RTÉ Radio 1's News At One, NUIG's Professor Emer McGrath talks about tailored measures to reduce the risk of dementia
Added to this, people with young onset dementia may face stigma in the community which can place a significant psychological burden on them. Given the effects of young onset dementia on memory, judgement and behaviour, many people may view it as a mental health condition leading to fear and misunderstanding that is often associated with other mental illnesses.
Estimating the number of people living with young onset dementia in Ireland is difficult as there is no definitive dementia registry. According to the Alzheimer Society of Ireland, currently there are over 64,000 people living with dementia in Ireland, and 1 in 10 cases may be young onset dementia. This represents a significant cohort of the population affected, as many people living with the condition may be in a relationship and may have children. Whatever the true figures are, dementia, including young onset, represents a significant challenge to society in the future.
---
The views expressed here are those of the author and do not represent or reflect the views of RTÉ
---