Analysis: the era saw the beginnings of health improvement culture in Ireland and a focus on diet, exercise and daily habits
By Nina Holmes, TCD
In today's 'wellness'-focussed culture, the idea of striving for a healthy lifestyle has become the norm. But how did we start paying such attention to diet, exercise and daily habits?
In Western societies, the second half of the 20th century saw a significant rise in chronic illnesses associated with diet, lack of exercise, smoking and alcohol consumption. Health authorities responded by focusing on disease prevention strategies, such as new lifestyle practices, education and encouraging individual responsibility for health.
In Ireland, the emphasis shifted in health policy from treatment to prevention during the 1970s and 1980s. The Health Education Bureau was established in 1975 and undertook activities to improve health through lifestyle changes, including the publication of pamphlets and booklets. The establishment of a dedicated public health education agency demonstrated the state's impetus to encourage personal responsibility for health.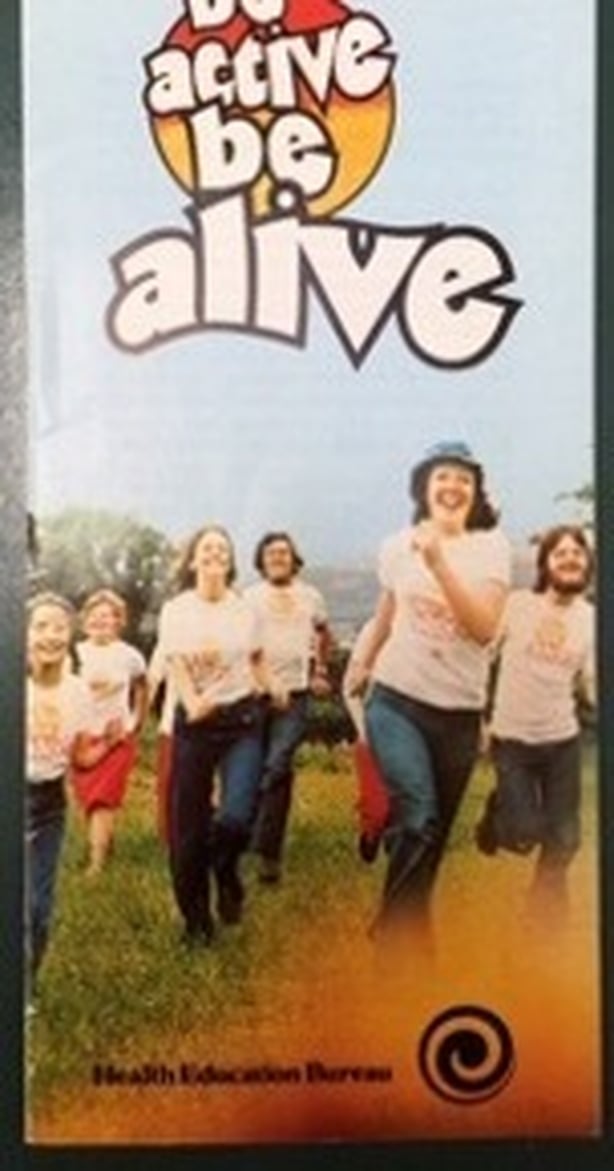 Similarly, the 1978 report of an advisory body to the Department of Health recommended that emphasis be placed on eliminating diseases 'self-imposed by the community's present life style'. A 1984 Government plan outlined that future health policy must 'reduce avoidable expenditure on alleviating the consequences of unhealthy lifestyles'. Meanwhile, the Health Education Bureau hosted several major health education conferences in Ireland in the mid-1980s – again reflecting the government's preventative strategy for public health.
How was the ideal of health sold to the Irish public?
Along with a wave of interest in health, diet and exercise in popular media and advertising, these publications and events contributed to a growing culture of health improvement in Irish society. This material defined 'good' and 'bad' health for the Irish public in the 1970s and 1980s in a variety of ways. Good health was often associated with an idealised version of nature, good moral character, and social connection. Images of nature, outdoor activity and representations of 'natural food' in its unprocessed and unpackaged form were frequently seen in health promotion material.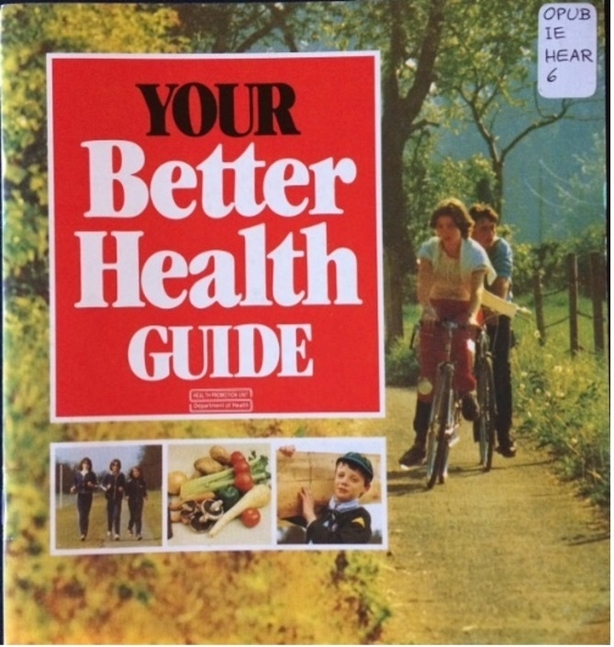 Be Active Be Alive (1978) features a group of smiling young people running through a field. The undulating lettering on the words 'active' and 'alive' echo hills and the outdoors. The pamphlet also suggests having a 'garden patch to grow vegetables', and 'exercising on a forest path'.
The Health Promotion Unit's Your Better Health Guide from around 1989 also features natural surroundings: outdoor cycling in the countryside. Inset on the cover are an array of vegetables, unpackaged and unprocessed. In the same year, the Health Promotion Unit represented Healthy Eating with an image of a single apple – the famous 'apple a day…'.
We need your consent to load this rte-player contentWe use rte-player to manage extra content that can set cookies on your device and collect data about your activity. Please review their details and accept them to load the content.Manage Preferences
From RTÉ Archives, Joe O'Brien reports for RTÉ News on the launch of Be Active Be Alive week by Tánaiste Brian Lenihan Sr in 1987
Equally, physically healthy people were also often depicted as having a favourable moral character. This is no more evident than in a page of The Better Health Pack (1978) about refined foods. The stout figure on the left standing at a table full of cakes and sweets appears to be missing some teeth and is eating cakes uncontrollably, a pair of devil horns on his head. The figure on the right is slim, and restrainedly nibbles on a carrot from the table of fruit and vegetables in front of him as a halo floats above his head. The correlation of moral character and physical health is explicitly played out in this image through the angel/ devil dichotomy.
While promoting 'Be Active Be Alive' week in 1987, the late Brian Lenihan snr (then Tánaiste and Minister for Foreign Affairs) said that exercise, a good diet, and general self-control are "good for the old moral fibre as well as everything else", gently drawing a parallel between health and morality. It wasn't just health authorities who were promoting healthy lifestyles. With an upsurge of health promotion material, healthy habits began to permeate popular culture and entertainment. A more health-conscious consumer came to the fore, and health was used as a marketing tool for advertisers.
We need your consent to load this rte-player contentWe use rte-player to manage extra content that can set cookies on your device and collect data about your activity. Please review their details and accept them to load the content.Manage Preferences
From RTÉ Archives, Keep Fit With Mary Rose from 1984 with DJ Ian Dempsey joining Carolyn Fisher and the show's host and instructor Mary Rose Doorly for an aerobic workout
A 1978 article featured in Woman's Way magazine titled Keep Walking asked 'What do you when are bored or feel blue?' It claimed that overweight women 'just sulk', whereas slender women clean and iron when bored: 'normal weight women tend to work off their blues by physical activity, fat women sit and brood'.
The same year, a health-conscious housewife was depicted in an advertisement for Flora margarine which asked 'Have you looked at your husband lately?' The instruction to 'look after him. Because he'll never look after himself' defines the woman as responsible for her husband's health. This advertisement was part of a wider rebranding of margarine as a health enhancing food, and its blatant linking of physical health (the husband) and caring moral character (the wife) aligned with the approach of state issued health material.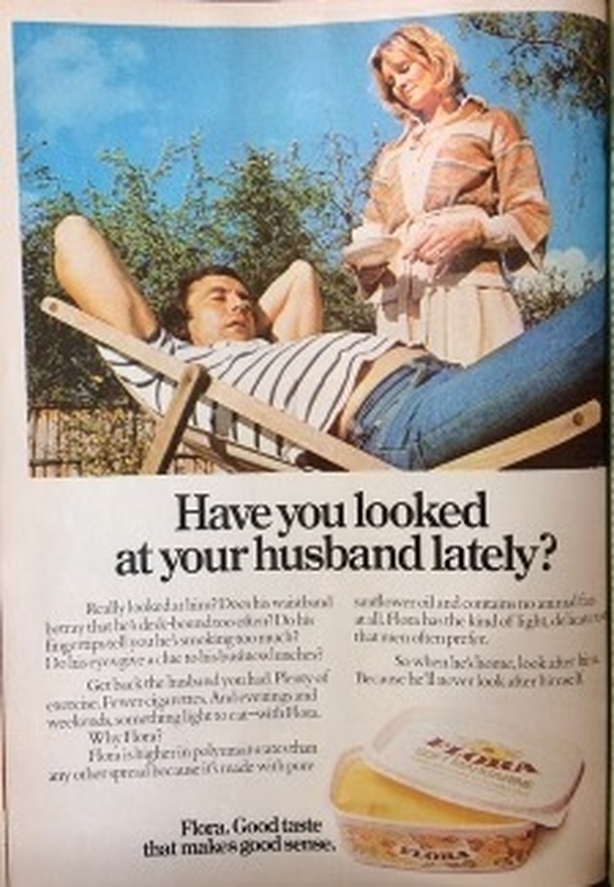 What effect did health promotion have on health?
It is difficult to measure the true impact of health promotion based on data such as death rates for this period. Issues around data collection, improved diagnostics and changing population demographics all influence measuring the health of the population.
But Health Education Bureau research indicated a growing awareness of personal responsibility for health and fitness between 1979 and 1984. The same study also indicated the growing influence of TV advertising, the Health Education Bureau and sports clubs on health practices. While a far cry from the slick aesthetics of today's wellness industry, these examples from the 1970s and 1980s indicate the beginnings of health improvement culture in Ireland.
Dr Nina Holmes is design historian who specialises in 20th century health promotion in Ireland. She is Executive Officer at Health Innovation Hub Ireland at the School of Medicine at TCD.
---
The views expressed here are those of the author and do not represent or reflect the views of RTÉ
---