Analysis: the Béal na Bláth assassination sparked the beginning of a torrent of artistic interpretations of his life and death
Visual images play an important role in helping us to interpret the past. Although they give us insight into now untenable moments, places and people that are beyond living memory, visual images are carefully constructed and without providing proper context, they risk distorting our view of history.
When Michael Collins was killed in an ambush at Béal na Bláth in August 1922, it sparked the beginning of a torrent of artistic interpretations of his death. Many of these demonstrate the inaccuracy of visual images and how we must approach them as interpretations, not as impartial evidence. How have visual images provided a distorted view of Collins?
There are many photographs of Collins in full military uniform, on a bicycle and mid-oration. These are repeatedly circulated and are images with which many of us are all-too-familiar. These images feature on a broad basis in books, documentaries, exhibitions and online, as well as in commemorative memorabilia and merchandise.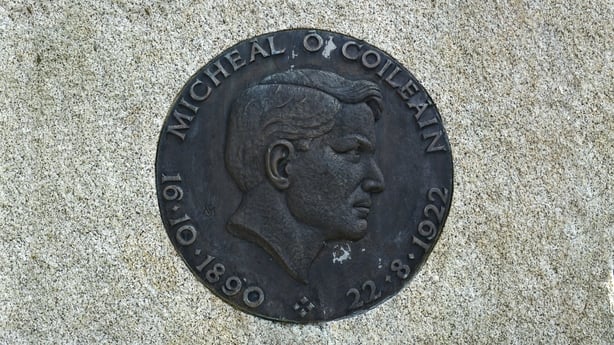 Other artistic renderings of Collins belong to different genres such as paintings, graphic drawings and cartoons. Each of these have different conventions, strengths, and weaknesses. His physical features may be altered in a painting or depictions of his death may be exaggerated in graphic drawings. In other words, visual images vary in historical accuracy, but they still form part of the visual history of Collins. Although photographs themselves are not void of manipulation and are a particular interpretation of a moment of reality, they can provide vital information that is useful when comparing them to other visual interpretations of historical events.
Sir John Lavery was a renowned artist with an international reputation for his portraits. As a friend of Collins, he painted his remains in what became Love of Ireland (Michael Collins) (1922), which is now in the Hugh Lane Gallery collection in Dublin. The painting itself emphasises the privileged access to the remains that Lavery was granted in the mortuary chapel prior to public viewing in City Hall.
There are numerous differences between Lavery's visual documentation of Collins' remains and how they were presented for public viewing. The tricolour that enveloped the body in the chapel hung on a panel that surrounded the coffin in City Hall. In the public viewing, Collins' hands were visible and grasped rosary beads, whereas a crucifix lay on his breast on top of the tricolour that draped over the corpse in the mortuary chapel and in the painting. The alteration of the flat-lying corpse, and the addition of the tricolour and velvet pillow in Lavery's portrait, puts forth an idealised, romanticised and viewer-friendly version of Collins lying in state, rather than portraying the actual experience of those who viewed his remains.
We need your consent to load this rte-player contentWe use rte-player to manage extra content that can set cookies on your device and collect data about your activity. Please review their details and accept them to load the content.Manage Preferences
From RTÉ Radio 1's Liveline, Cabrini Lynch's grandfather sculptor created the death mask of Michael Collins
Collins's death made international news including Le Petit Journal Illustré, which was a weekly illustrated supplement of a Parisian newspaper. In its issue of September 2nd 1922, the supplement carried a graphic drawing of the scene of Collins' death carrying the subtitle 'The bloody convulsions of Ireland'.
The graphic condenses the ambush into a melodramatic scene with 19 figures in military dress and Collins in the centre, falling after receiving a bullet to the forehead. While the graphic attempts to provide an eyewitness and reportorial dimension to the event, it does exaggerate many aspects including the number of casualties, the landscape of Béal na Bláth and the supposed logistics of the attack. Similarly, W.S. Rogers's depiction of the scene blurs the lines between fact, fiction and pure speculation and comprises a crowded painting that emphasises the dramatic moment of Collins's shooting.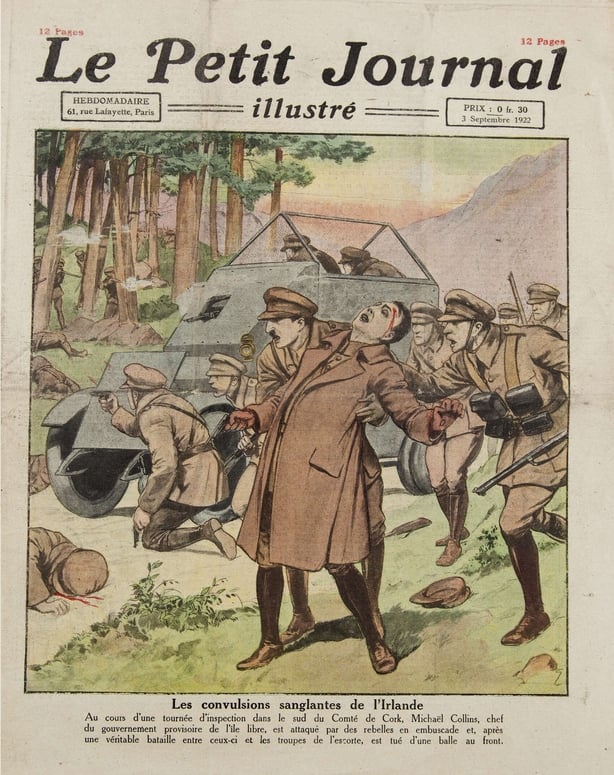 In June 2020, a painted portrait of Collins that hung in the Taoiseach's office made headlines as outgoing Taoiseach Leo Varadkar was planning to remove it as he made way for his successor. But incoming Taoiseach Micheál Martin insisted that the painting stay in place so it could be hung opposite a portrait of Éamon de Valera.
The portrait of Collins serves to underline the power of the Taoiseach's office. The decision to relocate his portrait alongside de Valera in order to 'symbolise end of Civil War politics', provides an example of an effort to manipulate the portrait's function as a symbol of jarring reconciliation. Considering that Collins lived and died as a member of Sinn Féin, the presence of the portrait overlooks present-day political affiliation in order to fixate on the romance of leadership.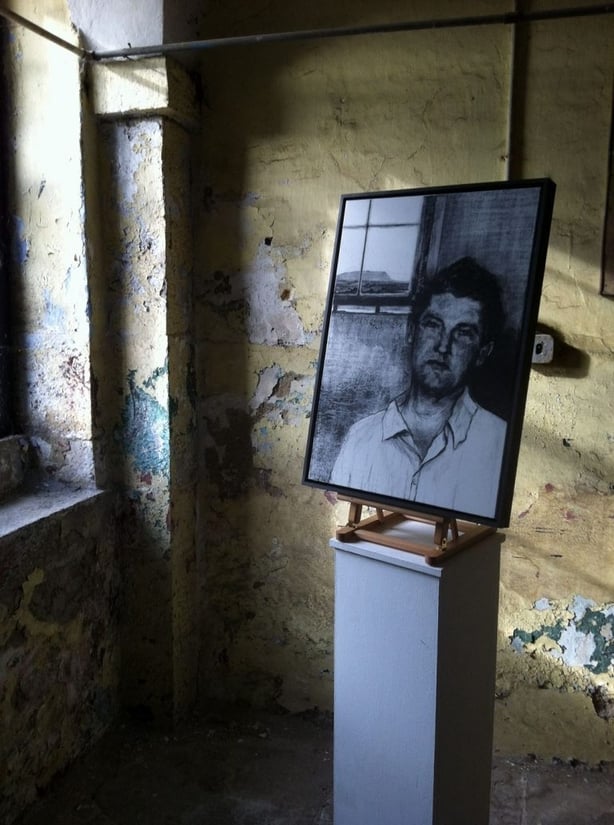 Emma Stroude's 2018 artwork commissioned to commemorate Collins's time in Sligo Gaol outdid many previous representations of the man. It depicts him in casual dress rather than in the military or formal clothing that is usually considered appropriate for the portrayal of a man of his historical prominence. This venture away from the public image of Collins was a conscious decision by the artist in order to depict a more personal side of him and to 'take a look behind the high walls of his public persona'.
Collins' image has been adorned in stained glass in Collins Barracks in Cork, a street mural in Clonakilty and even an electricity box on Dublin's Tara St. These varying depictions of Collins's image, using different mediums and aimed at diverse audiences, strengthens the symbolic power of his original image.
#OTD Irish revolutionary leader Michael Collins was born on the 16th October 1890 in Woodfield Co.Cork.
'The Big Fellow' by Andrew McCarthy (2019) is a tribute to a true Irish legend. Piece located at Tara Street/Poolbeg Street, Dublin 2. #michaelcollins pic.twitter.com/Tr5pPlGbPY

— DublinCanvas - Colour in the County! (@DublinCanvas) October 16, 2021
Visual images ensure that individuals can be represented well beyond the space and time that they actively inhabit. Rather than exhaust us with the blow-by-blow version of what really happened, visual images select captivating fragments and create a montage of moments in the past. The Collins image was carefully, precisely and thoughtfully constructed after his death. But we must be mindful that these visual images do not simply record his life and death; they intervene in shaping it as well.
---
The views expressed here are those of the author and do not represent or reflect the views of RTÉ
---