Analysis: the remarkable reverence towards Collins can be seen in crowds who come to his grave and the dedicated people who tend to it
Politicians and public representatives lay wreaths on Michael Collins' pristinely kept grave at official ceremonies on anniversaries and other State occasions. But who are the people that tend to the grave on a regular basis?
Collins was killed in an ambush at Béal na Bláth on August 22nd 1922 and was buried in Glasnevin Cemetery six days later, with a funeral that saw an estimated half a million people line the streets to pay their respects. The grave was overwhelmed with hundreds of wreaths and floral tributes.
Positioned near the front of the cemetery, Collins's grave is in a prominent location and is considered the most visited grave in Glasnevin. In fact, the nearer a plot is to this part of the cemetery, the more expensive it is to be buried there.
We need your consent to load this YouTube contentWe use YouTube to manage extra content that can set cookies on your device and collect data about your activity. Please review their details and accept them to load the content.Manage Preferences
From British Pathé, coverage of the funeral of Michael Collins in 1922
The grave itself is owned by the State, while the Collins family own the headstone, which was bought and paid for by Michael's brother Seán in 1939. The headstone itself is 10ft in height with a blue limestone cross of Latin design and an inscription in Gaelic lettering as Gaeilge. The care and maintenance of the grave is undertaken by Glasnevin Trust "without it either being asked or seeking recompense".
But it is the generosity and dedication of several individuals that demonstrates how people feel the need to care for the most concrete representation of Collins that is publicly accessible: his grave in Glasnevin Cemetery. For more than 30 years, Denis Lenihan from Sherrard Street in Dublin's north inner city tended to Collins's grave. While visiting his mother's grave in Glasnevin in 1979, Lenihan was shocked by the "shabby condition" of the grave of the revolutionary leader that he held a longstanding respect for. Since then, he made a weekly pilgrimage to Collins's grave to place fresh flowers there, which he paid for with his own money.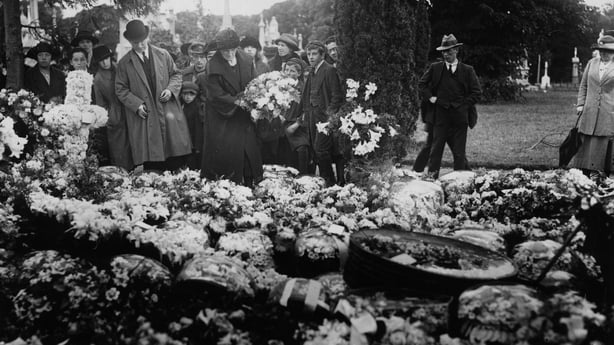 However, it was while doing this work that Lenihan fell and injured himself, leading him to pass the responsibility to members of the Collins 22 Society, It was established in 2002 to perpetuate the memory of Collins and extend his influence by promoting an interest in his life and his work. A large part of their work is regularly placing flowers on the grave. Dublin Cemeteries Trust have a fresh flowers only policy and a ban on plastic flowers on all of their graves, so regular upkeep is necessary. This incurs costs between €1,500 and €1,900 per annum, which are covered through donations, many of which come from individuals based in the Unnited States.
Many tributes are left at the graveside every day by the constant stream of visitors. These include flowers, candles, hand-written dedications, coins, hurls, balloons and even Valentine's cards. The plethora of offerings gives an idea of the considerable number of people who visit the cemetery to honour Collins's memory in their own way.
We need your consent to load this rte-player contentWe use rte-player to manage extra content that can set cookies on your device and collect data about your activity. Please review their details and accept them to load the content.Manage Preferences
From RTÉ One's Six One News in 2020, the Valentine's cards which arrives on Michael Collins' grave every year
The lure of Collins reaches far and wide with many travelling from overseas. An unknown young American woman would holiday in Ireland for a week and visit the grave every day to place roses on it. She spoke with the florists where she purchased the roses and talked about how she was in love with Collins and would never marry because nobody would reach his high standards.
Since 2000, Veronique Crombe has arranged monthly floral bouquets to be sent to Collins's grave. Having discovered the story from watching Neil Jordan's 1996 Hollywood biopic Michael Collins, she then felt the need to travel from her home in France to Ireland and visit his grave. In a 2014 documentary One Million Dubliners, which focuses on the stories and people associated with Glasnevin Cemetery, Crombe is seen sitting by the grave, sketching a picture of his grave.
She describes her trips to the grave as "like coming to visit friends" and is well known to the staff at the Cemetery. Even though Rosary Florists at Prospect Avenue, where she ordered her flowers, closed its doors in 2012, she remains their sole customer as she built up a great friendship with them.
The story behind Michael Collins' blue wolf slippers and the Big Fella's small feet. Insights from @gillianmobrien @LJMU @IrishResearch & @BrenMalone @NMIreland - read more at https://t.co/l9xRPibmG5 #RTEBrainstorm pic.twitter.com/ihb3f42Cev

— RTÉ Brainstorm (@RTEBrainstorm) July 26, 2022
As well as those who regularly place tributes on the grave, guided tours that take in Collins's burial place, as part of a route exploring famous people buried in the cemetery, have a profound effect on interactions with the grave. As one of the star attractions and often the finale of the Glasnevin Cemetery tour, a pristine and well-kept burial site is expected for one of the most prominent protagonists in modern Irish history.
Unlike the complicated paths to locate other famous people buried in the cemetery such as Luke Kelly, Christy Brown and Michael Cusack, the grave is located in a visible and easily-accessible location beside the museum. Because of the constant comings and goings prompted by the presence of the grave, curious visitors are further drawn to visit the final resting place of Collins.
The assassination of Collins remains one of the greatest unanswered questions of Irish history and his grave has become a form of outdoor sanctuary where people can pay tribute. There is a remarkable reverence towards Collins in a process which began during his lifetime and remains today, which is evidenced by the continuous flow of people to his grave and the dedicated people who tend to it.
---
The views expressed here are those of the author and do not represent or reflect the views of RTÉ
---