Analysis: the English king's controversial reign disrupted tradition, caused insecurity and triggered a massive succession crisis
When Henry VIII died 475 years ago, his legacy was secure with his son, Edward VI. However, Edward's death childless at 15 years of age kicked off the Succession Crisis of 1553 when a monarch was declared and the people of England didn't agree with the choice.
During Henry VIII's reign, there were six queens, varying religions, and ever-changing Privy Council members. Now, Mary Tudor was being denied her right to inherit for more uncertainty. Edward had declared Lady Jane Grey as queen but, after years of Henry's fickleness, the people's trust in a king's authority was destroyed because he had disrupted tradition and instilled insecurity. A Civil War and the execution of another queen was a natural by-product of that.
We need your consent to load this rte-player contentWe use rte-player to manage extra content that can set cookies on your device and collect data about your activity. Please review their details and accept them to load the content.Manage Preferences
From RTÉ Radio 1's Drivetime, Myles Dungan looks at the assumptions that the last major Brexit took place because Henry VIII rejected a corrupt, anti-Christian Roman Catholic Church
By the late 1520s, Henry VIII had decided to annul his marriage to Katherine of Aragon or the 'Great Matter'. It is not clear whether Henry simply wanted to discard the 33-year-old Katherine who, after six pregnancies, had not produced a living son or if he was truly racked with guilt and having a prospective new wife was just convenient. Either way, his resolve was strengthened by Leviticus 20:21: "and if a man shall take his brother's wife…they shall be childless." This did not convince the Pope who maintained that the marriage to Katherine was legitimate.
Henry VIII then broke with the Catholic Church and established the Church of England. He annulled his marriage to Katherine and married Anne Boleyn. Shortly after the future Elizabeth I was born, the future Mary I was legally illegitimatised in the Succession to the Crown Act 1534: "the marriage…between your Highness and the Lady Catherine…shall be…utterly void and annulled…[children] between your Highness and…Queen Anne, shall be your lawful children."
The Act Respecting the Oath to the Succession 1534 was an extension which demanded loyalty to the new heirs and to Henry as Head of the Church. This indicates a clear discontent within the Tudor court about how the beloved Catholic Katherine of Aragon had been discarded for a new Protestant queen.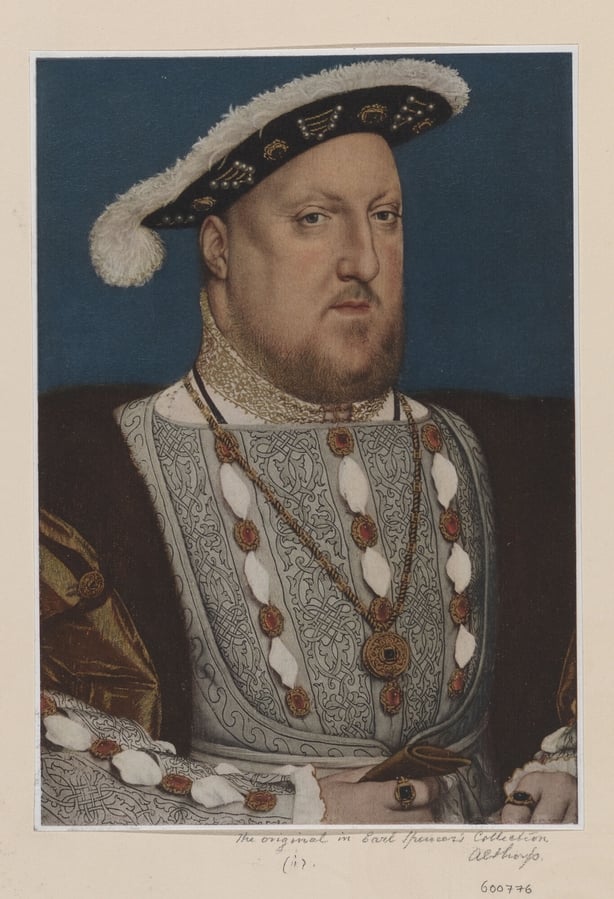 After the execution of Anne Boleyn and marriage to Jane Seymour, the Succession to the Crown Act 1536 illegitimatised both Mary and Elizabeth and bestowed Henry with the right to declare his heir in his will. It didn't specify who, as the future Edward VI was not yet born, but there was a 17-year-old illegitimate son, Henry Fitzroy, although he died a month after the act was passed.
This act made it treason to say Henry's first two marriages or daughters were legitimate, his marriage to Jane or their children were illegitimate, or to refuse the oath of allegiance. The Succession to the Crown Act 1543 was the final act during his marriage to his sixth wife, Katherine Parr. This reinstated Mary and Elizabeth back into the succession behind their brother Edward, his heirs, and any future children Henry had as they both remained illegitimate.
In Henry's will, the succession was unchanged however he made provisions for his children dying without heirs. It would move onto "the Heires of the Body of the Lady Fraunces…eldest Doughter to our late Suster the French Quene." Henry's younger sister Mary Tudor's grandchildren through her eldest daughter Frances Brandon would follow.
Two women fought for the throne and, ultimately, the previous king meant very little
The decision to remove his elder sister, Margaret, was based in inheritance law dating back to Edward III. Margaret and her children were deemed illegitimate to inherit due to their allegiance to a foreign throne. This also ruled out her great-grandson James VI of Scotland/James I of England. The law was amended upon his assent to the throne.
When it became clear that Edward VI was dying, fear of the Catholic Mary I removing Edward's reforms was prevalent. Concerningly, there was no male alternative and thus the Succession Crisis began. According to Henry VIII's wishes it went: Mary, Elizabeth, Jane Grey, Katherine Grey, Mary Grey, and Margaret Clifford. They had to rely on a future male heir which still left them with the Catholic issue.
The succession was amended by Edward's "My devise for the Succession", which never officially made it through Parliament, but was witnessed and bore the King's seal. Mary and Elizabeth were excluded due to being illegitimate. It continued, per Henry's wishes, to the heirs of Frances Brandon with the stipulation they be male, but she had three daughters.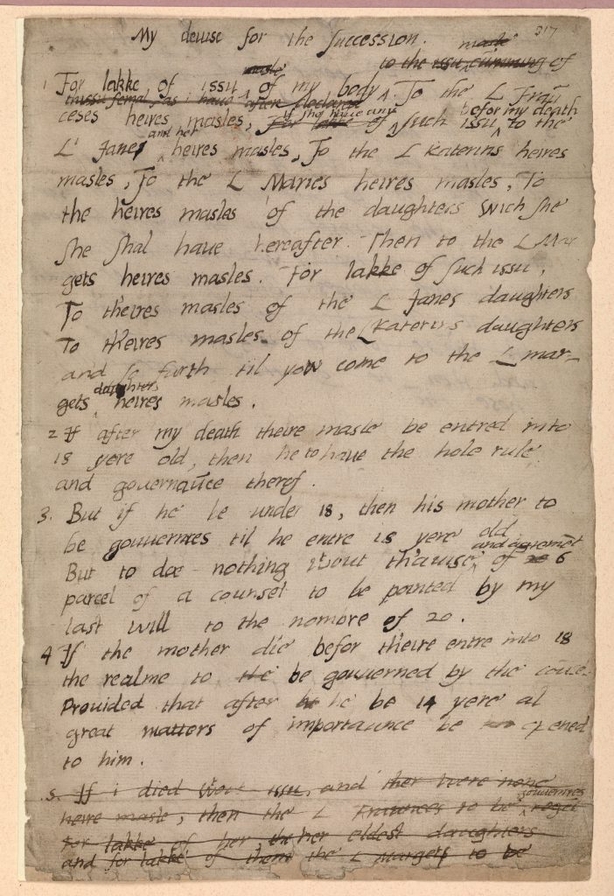 After the unlikely option of Frances' male heirs, came her first daughter Jane Grey. Jane's male heirs were originally next, but a revision was made to state "Lady Jane and her heires male" which made Jane Edward's heir. Jane was an ideal candidate: she was 16 years of age, newly married, a staunch Protestant with legitimate Tudor claims, well-educated and incorrectly assumed as easy to control. It was assumed the people of England would happily oblige and Mary I would not challenge this change. Again, a King of England died assuming his successors were secure with the king's sacrosanct wishes, and England was saved from Civil War.
Unfortunately, Queen Jane was not to be and she was imprisoned in the Tower of London 13 days after Edward's death. This turn of events was unprecedented. Two women fought for the throne and ultimately the previous king meant very little. There had been severe changes in recent times, and the people chose security. Mary was always an heir as the daughter of the beloved Katherine of Aragon and abandoning her was much the same as discarding Katherine all those years ago: sudden, unreasonable and unwarranted.
---
The views expressed here are those of the author and do not represent or reflect the views of RTÉ
---