Analysis: the National Army's seaborne landing in Co Kerry 100 years ago changed the course of the conflict
By Richard McElligott, Dundalk Institute of Technology
As the sun rose into the morning sky, 21-year-old corporal Niall Harrington stood watch on deck of the Lady Wicklow as it silently approached Fenit pier. Having endured a 24 hour sea voyage so rough it left the 'ship full of vomit', the stillness of the moment was a welcome relief. One of Harrington's shipmates, greeting the summer sun, quipped 'it was a fine day to die for Ireland'.
The National Army's seaborne landing in Co Kerry and subsequent capture of Tralee on August 2nd 1922 would indeed be one of the bloodiest single days of combat it experienced in the Civil War. Yet in the end the success of this gambit changed the course of the conflict and doomed the anti-Treaty IRA to eventual defeat.
With the fall of Limerick and Waterford cities to Government forces on July 21st, Liam Lynch's defensive line guarding the 'Munster Republic' began to collapse. Retreating south, the IRA dug in around Kilmallock and doggedly halted the National Army's advance into Cork and Kerry. Ultimately that tenacity convinced their opponents that a land invasion alone of these IRA heartlands would condemn them to a series of grim slogs of attrition.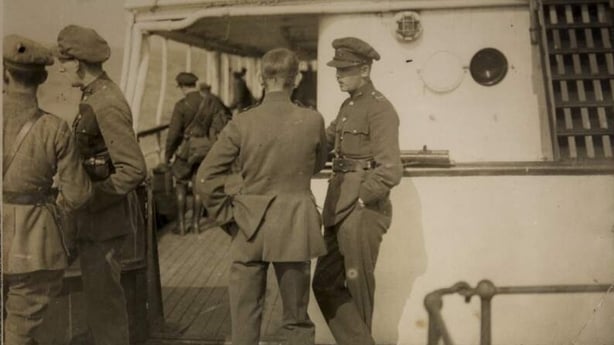 It was Major General Emmet Dalton who suggested the alternative strategy of launching a series of seaborne landings along the Kerry and Cork costs, essentially creating a second front at the rear of Republican positions. Earlier in the West, 400 troops had successfully disembarked at Westport to secure Government control of the region. Fenit was now selected as the best point from which to launch an amphibious attack on the major Republican stronghold of Tralee.
Arriving off the Kerry coast at dawn, the Lady Wicklow carried 450 soldiers of the Dublin Guards brigade under the command of Paddy O'Daly along with a field gun and an armoured car christened the 'Ex-Mutineer'. The Dublin Guards were considered the most military competent and politically reliable unit in the Army while O'Daly and his supporting officers were among Michael Collins' most trusted lieutenants. That they were handed this task was a stark indication of the importance the Army's command placed on this venture.
But for all that, the haphazard nature of the landings attempted in both Kerry and Cork was startling. Harrington, who spent his childhood there, was astounded to learn he was the only person on board with 'any knowledge of Fenit or Tralee'. As a result, O'Daly had no idea of the strength and disposition of the IRA forces opposing him. Likewise, Harrington noted the Guards carried no bridging equipment and if the 700-foot wooden viaduct connecting Fenit pier to the shoreline had been destroyed by their adversaries the entire operation would have failed.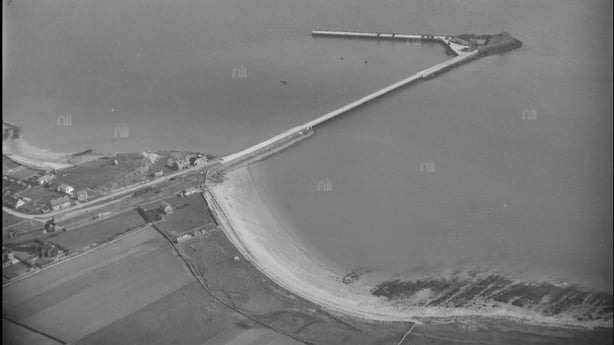 Fortunately for O'Daly, the local IRA's preparations for a seaborne invasion in Fenit, despite being made aware of such a distinct possibility, were negligent. Only one small unit was placed there at the coastguard station. P.J. McHugh who fought with the Kerry IRA recalled: 'They were at 6's and 7's planning away … There was no attempt made to prevent a landing in Kerry.' As a result, the Lady Wicklow docked without arising suspicion and the soldiers were already racing across the viaduct before any alarm was raised.
Good timing and luck also aided them. John Joe Sheehy, the commander of the Tralee IRA, later explained that hundreds of the Kerry IRA's most experienced men, 'all our best lads', were at that moment manning the Kilmallock front, leaving only a skeleton force of mostly inexperienced volunteers behind.
While the garrison in Fenit had also mined the viaduct, the cable connecting it to the detonator had been secretly cut days before by local workers fearing for their livelihoods if the pier became unusable. As a result, nothing happened when an attempt was made to blow it up. As the IRA were then obliged to make a swift retreat, the local post mistress, petrified by the gunfire, never telephoned Sheehy's headquarters in Tralee to warn them. The Army's advance on the town was already well underway when news eventually arrived.
We need your consent to load this rte-player contentWe use rte-player to manage extra content that can set cookies on your device and collect data about your activity. Please review their details and accept them to load the content.Manage Preferences
From RTÉ Radio 1's History Show, historian James Langton on the National Army soldiers who died during the Civil War and are profiled in his new book The Forgotten Fallen
A series of brief holding actions on the seven-mile road from Fenit witnessed the first fatalities of the day as two Republicans and two Army servicemen were killed. By 1.30pm, O'Daly's forces reached the outskirts of Tralee, where they split into a pre-planned three-pronged assault on the town. Sheehy decided that all that could be done was to hold off their enemy long enough to burn Ballymullen barracks and deny them this major military facility. The town would then be abandoned.
A machine gun post set up at a junction on Rock Street took a bloody toll on the main column of advancing soldiers, cutting down seven men including a Red-Cross medic who was attempting to aid the injured. More fierce fighting broke out at Moyderwell Cross on route to Ballymullen, where Sheehy's men threw up a barricade before being dislodged by the armoured car. Shortly after, with their position now untenable, the IRA evacuated the town. Though Ballymullen barracks had been set ablaze, O'Daly's troops were able to quench the fires before much serious damage had been done. By 6.30pm, the battle for Tralee was over.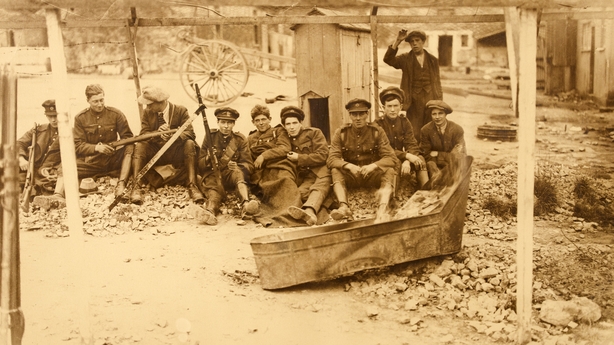 In total, 10 National Army personnel died and around 35 were wounded in that day's operation, while no IRA fatality occurred in Tralee. Yet official reports carried by the pro-Government press made extravagant claims about the scale of the battle and numbers of Republican dead. One stated 75 were killed, a number scoffed at by IRA veteran Con Casey who said 'there was hardly 75 men in all north Kerry at the time, to be killed.'
But the outrage over the shooting of Red Cross medics was genuine, with an official Army communique assuring readers that "this cowardly act was witnessed by a number of townspeople, who were loud in their condemnation of such a despicable act". The accepted rules of war were disregarded early in the conflict now raging in Kerry.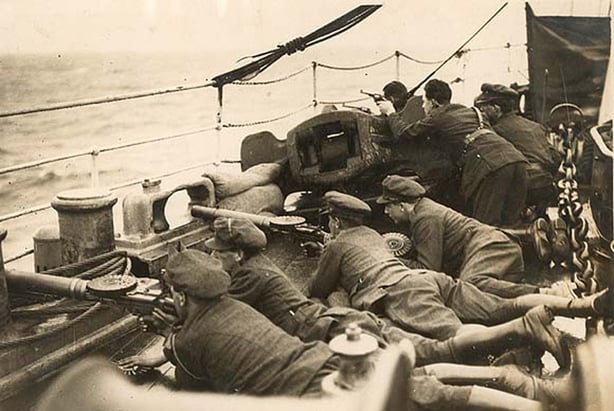 From Tralee, Army columns would advance in the coming days on Castleisland, Killarney and Killorglin occupying each without difficulty. A day after Fenit, a flotilla carrying 240 troops of the First Western Brigade crossed the Shannon to Tarbert and quickly captured Listowel before linking up with O'Daly's men.
By then, Kerry and Cork IRA units around Killmallock had received word of what was happening and had begun to disengage and turn for home. Morale had plummeted. Tom McEllistrim, in charge of one contingent, bitterly observed: "we went back to Kerry to find them near Ballymac and bringing up big guns. The fellows were fed up, "What's the use of carrying on a fight when we ran away in Limerick?" they said. I knew the war was over when we left Limerick." Killallock was finally taken without further resistance on August 5th.
Three days later, Dalton personally commanded the landing of several hundred more Government troops in south Cork, who rapidly seized Cork City and other towns after each was successively abandoned by the Republicans. Finally on August 11th, 200 men under Brigadier Tom O'Connor Scarteen landed and occupied Kenmare. O'Connor then moved throughout south Kerry securing control of Rathmore, Waterville and Cahersiveen. By mid-August, every urban centre across the 'Munster Republic' was in Government hands.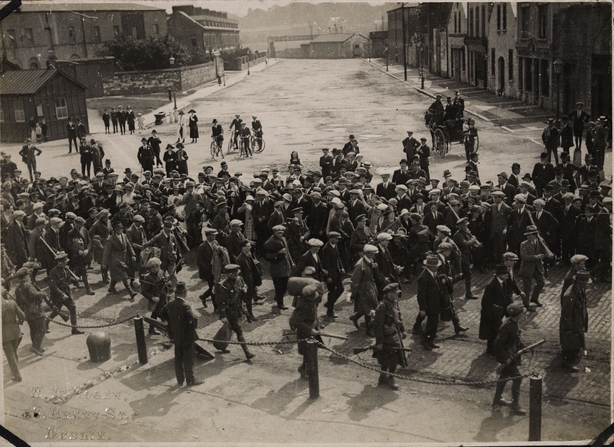 The success of the National Army landings and the failure by Republicans to mount a committed defence of towns like Tralee, let alone Cork City, had a tremendously negative psychological impact on IRA forces. These events graphically illustrated the reality that the anti-Treaty side could never hope to now win this war.
Despite this, Lynch's orders for Republican forces to switch to guerrilla tactics was dutifully obeyed by the Kerry IRA. In many areas, they retained the support of the people. Using flying columns, they launched a determined campaign against Army convoys, the local rail network and other communications infrastructure. Meanwhile near Kenmare, IRA units under John Joe Rice began preparations for an offensive to retake it and other towns in the region. The war in Kerry was destined to rage on.
Dr Richard McElligott is Lecturer in Irish and Modern History in the School of Business and Humanities at Dundalk Institute of Technology.
---
The views expressed here are those of the author and do not represent or reflect the views of RTÉ
---