Analysis: our network changes over the course of our lives, but how many friends do we really need? Here's what the research tells us
This article is now available above as a Brainstorm podcast. You can subscribe to the Brainstorm podcast via Apple Podcasts, Spotify, Stitcher or wherever you get your podcasts.
If you're thinking you ne ed to go out and make up for lost time with everyone you know, when it comes to friendship, it really is quality over quantity that matters. It turns out the Friends creators were on to something when they settled on a group of six.
There's one "magic number" that keeps coming up in the research, says Dr Jolanta Burke, Senior Lecturer at the Centre for Positive Psychology and Health at RCSI. "The one statistic that keeps coming up is about three to five close friends that we're supposed to have to enhance our wellbeing… those who have this number of friends, would be psychologically better-off."
But while there is a correlation between friendship and wellbeing, we don't actually know the causal effect. For whatever reason, three is the minimal number for high levels of wellbeing, she says. There is, of course, always a caveat: "If you have even two close friends — close friends are those we call when we have issues in our lives, they are your support, your lifeline — when people are lucky to have the very close friends, they don't need that many friends."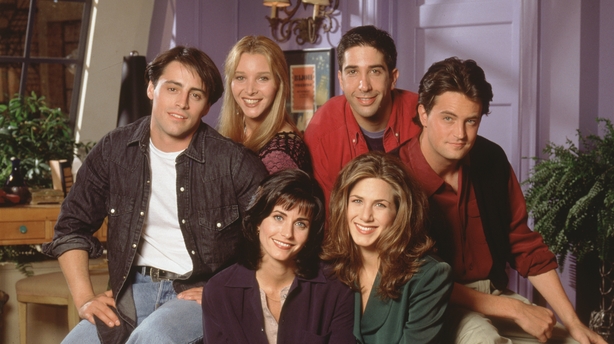 Through childhood and into our 20s, having a lot of friends allows us to explore who we are, develop a sense of our identity and figure out what life is all about. This period of our lives is when we have the most friends, Burke says. This changes as we get older and our circles become smaller, while it also becomes more difficult to make time between competing interests and responsibilities, like work and children.
"There is a very interesting U-shaped happiness curve, whereby we have the highest levels of happiness in our 20s, then our happiness starts to drop and it reaches its lower levels around the late 30s, early 40s. Then it starts going up again. Your happiness is basically at the same level more or less at the age of 55 as it is in your 20s, and it keeps going up," says Burke. Burke suggests that this could possibly be linked with feeling lower as friends drift away when we are in our 30s and 40s.
What someone needs or expects from their friendships and how they maintain them is different from person to person, depending on their values and their personalities. In that same vein, different people can fulfil different roles in your life.
We need your consent to load this rte-player contentWe use rte-player to manage extra content that can set cookies on your device and collect data about your activity. Please review their details and accept them to load the content.Manage Preferences
From RTÉ Radio 1's Drivetime, Professor of Psychology at the University of Limerick Orla Muldoon speaks to Cormac Ó hEadhra about reconnecting with old friends
"There was one particular study that looked at the expectations that people have. And it looked at things like, being loyal, reliable, trustworthy, forgiving others, sharing information, being emotionally intelligent, paying back any good things that they have done — some of these are our expectations and needs that we are getting from friends," Burke says.
"Support in times of need is another outcome of friendship. Interdependence — learning how to rely on other people, how to give and take, how to exchange." Burke mentions a study that followed participants over two decades, which showed that the impact on wellbeing was significant when it came to our friends. "If [a friend's] wellbeing went up or down, our wellbeing followed. That was especially true for friends who lived nearby. So friends give a lot, but they take away, in a way, as well."
There's no right or wrong way, but if you're thinking about the best way to maintain your intimate friendships, the good news is the answer is very simple. The bad news is that it's also very time consuming. "It is the effort and the time that you are putting in that really matters," says Burke.
We need your consent to load this rte-player contentWe use rte-player to manage extra content that can set cookies on your device and collect data about your activity. Please review their details and accept them to load the content.Manage Preferences
From RTÉ Radio 1's Today with Claire Byrne, author and Clinical Psychologist Dr Malie Coyne on recognising toxicity in relationships
Burke mentions a study that found it took 50 hours to build an acquaintance, 90 hours to turn someone into a friend, and more than 200 hours for someone to develop into a close friend. "But that is also associated with whether we enjoy the people that we are with. You wouldn't put effort into spending 200 hours with somebody you don't enjoy."
If you're an introvert, that might sound exhausting. Which brings it back to the importance of quality over quantity. "With regards to that quality bit, the first thing that springs to my mind is this concept of a "friendship bank", created by a researcher called Bergstrom," Burke says. "[Bergstrom] talks about treating friends as the "savings" that you have. You put effort in — pay it forward, keep giving, and hope that it pays back — and if we are not doing this reciprocation the relationship will slowly start falling apart."
"I think that sometimes some of our friends may serve a specific need that we have. Because there has to be an exchange at the end of the day, even though it is about giving. There is still an inherent exchange between friends: You listen, you share and there is constant giving and taking. Sometimes we may be lucky to find one or two friends that fulfil those needs that we have, other times we may not, and we might have a larger group of friends and each one of them fulfils different needs."
So if you have those friends who'll be there for you, hold on to them tight and give them the time they deserve. You'll make it back five fold.
---
The views expressed here are those of the author and do not represent or reflect the views of RTÉ
---