Analysis: the amount of retribution and atrocity in the Kingdom had as much to do with notions of loyalty as ideology
By Richard McElligott, Dundalk Institute of Technology
The bloodshed, bitterness and tragedy of the Civil War is synonymous with Kerry. There, the conflict was characterised by retribution and atrocity. It included the liberal use of booby-traps and mines to murder and maim; pitiless ambushes, vendetta style assassinations, targeting of unarmed medical personal, routine torture of Republican prisoners, official executions and over 50 examples of extrajudicial killings by Government forces.
Statistically, the county was the bloodiest theatre of the Civil War per head of population. The deaths of over 70 IRA members, 85 soldiers of the National Army and at least 12 civilians constitute the highest combined death rate after Dublin and Cork.
We need your consent to load this rte-player contentWe use rte-player to manage extra content that can set cookies on your device and collect data about your activity. Please review their details and accept them to load the content.Manage Preferences
From RTÉ Radio 1's The Uncivil War, stories from the Civil War 1922-1923
Local circumstances invariably shape the levels of violence witnessed in civil wars and the historiography of Ireland's internecine conflict has often focused on the factors that explain the ruthlessness of the struggle in Kerry. Certainly historical, geographical, and socio-economic factors contributed to a significant popular antipathy towards the Treaty with Kerry being one of only two constituencies to return a majority of Anti-Treaty TDs in the June 1922 General Election.
But how that translated into the county becoming a bastion of armed Republican resistance had as much to do with notions of loyalty as ideology. This combined with the tactics used and the distinctly 'them versus us' character the war developed there all drove its often merciless nature.
Kerry was a prime example of how opposition to the Treaty and continued championing of Republicanism tended to concentrate in the more geographically remote, poorer, and predominantly rural western regions, especially those with longstanding traditions of agrarian agitation and Fenian activity. While local support was by no means universal (areas like Listowel and Killarney often being branded as hostile to Republican aspirations), contemporaries still noted the continuity of popular backing for the IRA's campaign there once the Civil War erupted.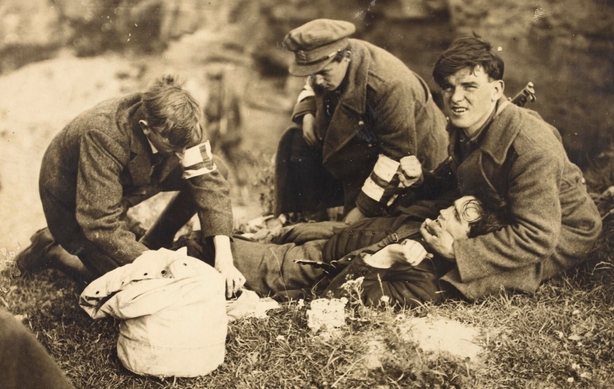 The Irish Times believed that 'alone among the counties in Ireland, Kerry has a population of whom a very large number are, covertly or openly, in favour of the irregulars.' Likewise, John Joe Rice, the O/C of Kerry No. 2 Brigade, maintained that 'even in the civil war you could go into F[ree]/S[tate] houses in the country parts and sleep there'. His colleague, Seamus O'Connor, recalled: 'Everybody helped us, even the families of people who thought we were on the wrong side.'
Considerations of personal loyalty within Kerry's Republican movement are also significant in understanding the strength of the IRA's campaign there. Austin Stack, for example, was one of the most senior political figures to vehemently denounce the Treaty, labelling it as a betrayal of the principles of someone 'nurtured in the traditions of Fenianism'. His influence and reputation in his native county meant his stance swayed many with John Joe Sheehy, commander of the Tralee IRA, describing how Stack's supporters 'secured the town, so that it stayed anti-Treaty'.
The removal of Stack's protégé, Paddy Cahill, as commander of the Kerry No. 1 Brigade has been seen as decisive in the breakdown of relations between the Kerry IRA and its Dublin based General Headquarters (GHQ). Cahill's older age and over-cautious nature were among GHQ's justifications for his replacement in the spring of 1921 by Andy Cooney.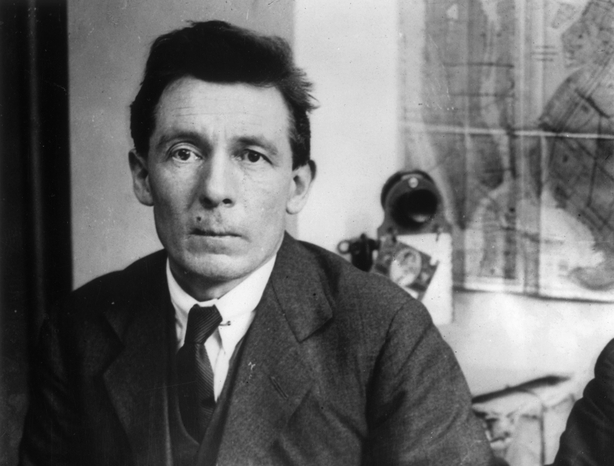 Yet many Kerry IRA felt Cahill's dismissal was more connected to the rancorous infighting that had begun to consume the leadership of GHQ which pitted Stack and Cathal Brugha against Michael Collins and Richard Mulcahy. Numerous reminiscences articulate what Con Casey described as the repugnance felt by 'a local man being succeeded by a fellow who came in from outside'.
A compromise was eventually reached whereby the entire leadership of the Kerry IRA was reorganised, with Humphrey Murphy becoming commander of Kerry No. 1 while Rice, took command of Kerry No. 2 Brigade. Yet the damage was done. Murphy, Rice and Sheehy represented a younger, more aggressive generation of Kerry IRA leaders who now 'blossomed' and 'organised to fight' in the words of Cooney. Their sense of injustice was only confirmed when Collins' supporters in GHQ endorsed the Treaty and began to establish a new National Army.
The evolving dynamics of the conflict in Kerry also powerfully shaped its ferocity. Initially, as in other regions, both sides showed reluctance to confront former comrades who took the other side. After the fighting erupted in Dublin, on 30 June a unit of local members of the National Army, who had established a garrison in Listowel, were quickly overpowered by Republican forces. Significantly, 50 of this garrison immediately switched sides and the rival commanders in a joint statement declared that as fellow Kerrymen they did not want to fight each other. While they "differed constitutionally", "the dreaded spectre of civil war now in our midst" meant "we have decided to unite in the face of the common enemy."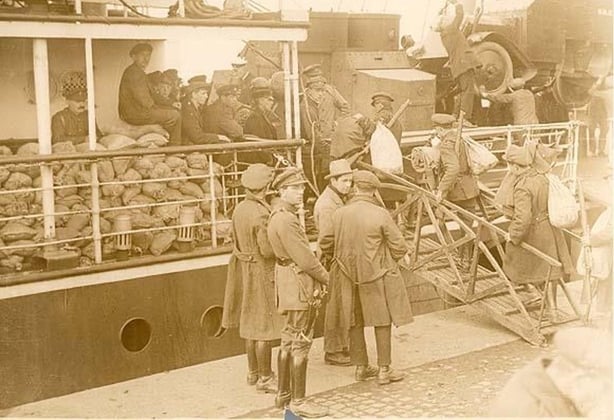 That 'common enemy' soon materialised in the form of the Dublin Guards and First Western Divisions of the National Army who landed by sea across the Kerry coast in early August. Unlike in other areas, their arrival meant that the IRA's adversaries were predominantly 'outsiders' from Connacht and the capital.
In a speech days before, Murphy argued that the IRA were fighting a defensive war that was thrust upon them by the betrayals of their opponents. Nevertheless, he warned that the conflict would only begin 'properly' once Government troops reached Kerry – then 'you will have added to principle the spirt of revenge when two or three prominent officers are killed ... there will be no use talking of peace.'
In a defiant, apocalyptic vista, he declared: 'We will defend every town to the last. You will have towns in ruins and famine finishing those who have escaped the bullet ... We will stop at nothing … and we are going to win even if it takes years.' Rice likewise believed the fight had to be carried to the bitter end – that one was either 'prepared to cut all their throats or leave them alone and go home'.
We need your consent to load this rte-player contentWe use rte-player to manage extra content that can set cookies on your device and collect data about your activity. Please review their details and accept them to load the content.Manage Preferences
From RTÉ Brainstorm, how the Civil War split an Irish republican family in two
This invader/invaded mentality which emerged from August 1922 destroyed empathy and both sides sought to demonise each other's rationale, tactics and personnel to justify their own, increasingly vicious conduct. For Republicans, the National Army were British puppets, trained and armed by London to do its bidding. Many Kerry IRA claimed that locals viewed Government forces as an 'army of occupation' and a 'second round of Black and Tans'. Those from among the Republican's own ranks that betrayed the cause were now dealt with brutally, as was the case of Kenmare's Brigadier Tom Scarteen O'Connor Scarteen, and his brother John.
Conversely, the National Army viewed Kerry Republicans as fanatics who had done little to actually win their country's independence, but now seemed determined to destroy it for, at best, an unattainable ideal. The 'Irregulars' in Kerry were described as being 'of a much lower and more brutal type than anywhere else'. The Army's leadership abhorred their readoption of guerrilla ambushes and became particularly incensed by the frequent instances of unarmed Red Cross army medics being killed. Mulcahy would tell the Dáil that the IRA in Kerry 'have stooped to outrage of every kind … [using] every ugly form of warfare which the Irregulars could think of'.
Chivalry and humanity were early causalities on both sides of the Civil War in Kerry
Yet Mulcahy's hastily commissioned and undisciplined armed forces would prove adept at surpassing their opponent's ruthlessness. Within weeks of their arrival reprisals like the murder of IRA suspects and/or prisoners were begun as the National Army strove to establish themselves (in their own words) as the 'top dog' in the county. Such tactics only incentivised resistance. The IRA veteran Jeremiah Murphy recollected how 'on numerous occasions our men fought to the finish rather than surrender' given the 'dubious prospects in store for them if captured'.
In the words of Captain Niall Harrington, 'chivalry and humanity were early causalities on both sides of the Civil War' in Kerry. As the conflict dragged on into 1923, the Army's local command felt justified in using whatever it took to eradicate Republican opposition. March 1923, the 'Terror Month', represented an inevitable end to the patterns that contoured the conflict in the county.
Dr Richard McElligott is Lecturer in Irish and Modern History in the School of Business and Humanities at Dundalk Institute of Technology
---
The views expressed here are those of the author and do not represent or reflect the views of RTÉ
---